Enjoy a Musical Interior

With a sleek stand and minimal proportions, Restio looks like a work of art. It was created by completely re-imagining the concept of a music source as part of the interior. The independent body style makes music an interior design element, and because the sides are slanted, it appears to be a thin panel. The front grille uses expanded metal, providing an attractive texture.
The striped pattern printed underneath the grille conveys a feeling of depth, giving the impression that the music is coming from within the entire front surface. Merging beautifully into the living space, this is an entirely new audio form that you can match to your lifestyle.
Freedom of Movement and Use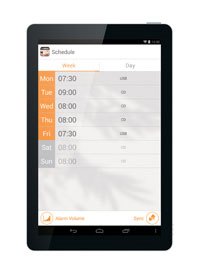 Built-in Bluetooth® means that you can enjoy all the music from your iPhone, Android or Tablets wirelessly. Put your Restio wherever you want it, and use your smartphone as you usually do to operate the playback functions. In addition to operating the main unit, you can use Yamaha's DTA Controller app to set the alarm time for each day of the week individually, as well as make detailed IntelliAlarm settings.
If you have an NFC-compatible device, simply hold it near the Restio, and the device syncs automatically. No annoying pairing settings to make—just a one-touch operation to connect or disconnect.
Minimal Design Allows Flexible Placement

With a 9cm body and a half-moon shaped stand, you can position Restio right up against a wall. What's more, the standalone style doesn't require a shelf, so there are no restrictions on where you can put it. You can even remove the stand and hang it on a wall (requires an optional bracket AT-800). It's the perfect way to match your music source to any room's decor.
Sound That Lets You Appreciate Music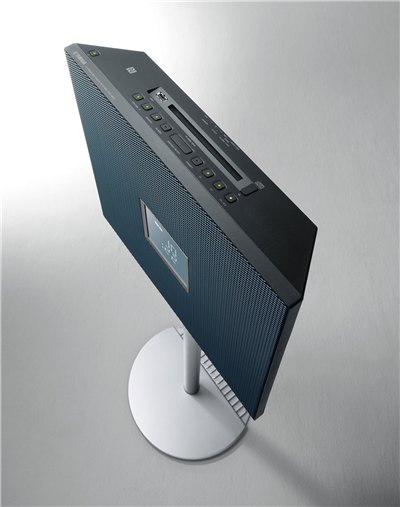 Restio is designed for premium quality sound from a wide range of input sources, including Bluetooth, CD, Radio, USB and AUX input. A two-way, four-speaker system fi nely tuned to HiFi audio standards delivers powerful, expansive bass and crisp, precisely contoured treble. It also features a three-band equaliser, so you can adjust the sound to match your own preferences.
Time — Artistically Displayed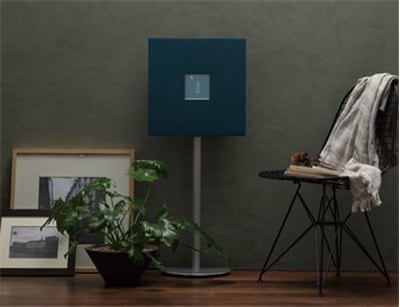 The stylish digital clock gives you a choice of two patterns: the usual number display and a unique display that combines numbers and an indicator. An auto dimmer function adjusts the brightness of the display to match the brightness of the room. It also features Yamaha's IntelliAlarm, which first gently plays the music of your choice and then beeps to ensure that you are fully awake.
Dimensions