Biography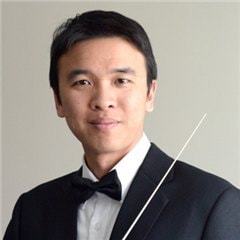 Chee Meng Low is currently the Assistant Professor of Music and Director of Band at the University of Lethbridge, Alberta where he conducts the U of L Wind Orchestra, acts as instructor of saxophone performance and teaches conducting. He is involved with the Edmonton Saxophone Quartet, U of L Faculty Wind Sextet, Symphonic Winds of NSO Malaysia, and has performed as a soloist, chamber musician and guest conduct in North America, Europe and Asia.
Mr. Low has held positions with the Thailand Philharmonic Orchestra were he developed successful education & outreach programs while managing the complex day to day operations of the orchestra. Chee Meng is a former instructor of saxophone at Mahidol University College of Music where he simultaneously held a position within the Department of Academic and Research Affairs.
A recipient of the University of Alberta FS Chia Doctoral Scholarship, Mr. Low holds a Doctor of Music degree from the University of Alberta Canada.
Chee Meng has held various committee positions with the World Saxophone Congress, the Asia Pacific Band Directors' Association, the North American Saxophone Alliance and the Alberta Band Association to name a few.
Mr. Low performs on: Yamaha YAS875EX alto saxophone Yamaha YSS875EXHG soprano saxophone
Other Brass & Woodwind Artists