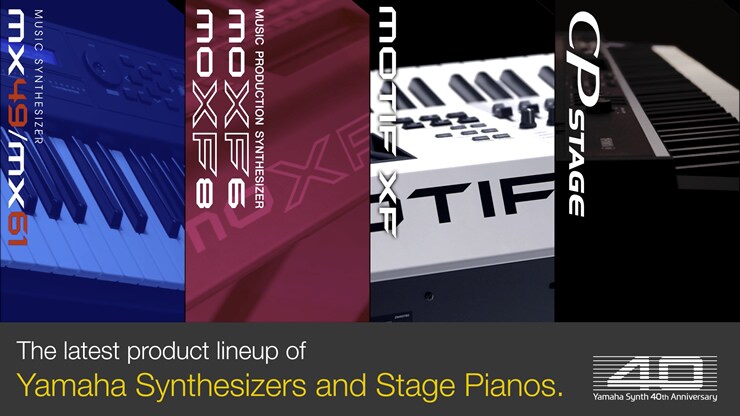 Synthesizers
MOTIF XF Series
New Generation of MOTIF line added with a flash expandability and seamless music production flow.
see the MOTIF XF WH Series details
see the MOTIF XF Series details
MOXF Series
The new MOXF series combines a MOTIF XF sound engine and Flash memory expandability, a MIDI keyboard controller with extensive DAW and VST control, USB Audio/MIDI interfacing, onboard sequencing, and an extensive DAW / VST software bundle.
see the MOXF Series details
MX Series
The MX series synthesizers feature carefully selected sounds taken from the Yamaha MOTIF XS. That powerful sonic palette is packed into sleek packages (available in 49- and 61-note versions) that fit today's on-the-go life style.
see the MX Series details
Stage Pianos
CP STAGE Series
CP4 STAGE
The CP4 STAGE is simply the best stage piano Yamaha has ever made.
see the CP4 STAGE details
CP40 STAGE
The CP40 STAGE features amazingly realistic piano sounds and touch in a incredibly compact package.
see the CP40 STAGE details