Product Concept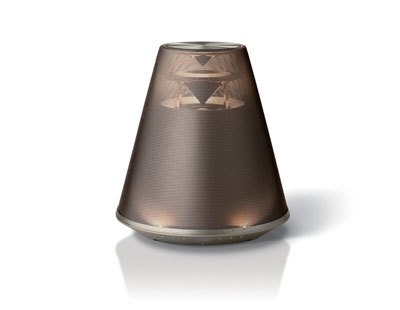 Designed for the shelf, the LSX-170 contains two speakers that point upward. Both audio and light are diffused horizontally over a 360-degree range, and this feature lends the LSX-170 its iconic form.
We designed the entire product to express this circle of light and sound. Two rings of light appear, symbolizing the widening circle of sound.
The six LEDs arranged in a circle around the base of the unit create a glowing halo effect as if the unit is lit by spotlights on a stage, resulting in an almost mystical appearance that brings out the inherent spirituality of music.
Sound & Light Reflector
Sound and light is diffused through 360 degrees with optimal efficiency by a slightly tapered cone that is aluminum coated and polished to a mirror finish. Such is the nature of the Sound & Light Reflector, that it has become a design feature in itself.

Shade
The shade of the LSX-170 is formed of two sheets of uniformly curved steel, a material that is both highly durable and acoustically beneficial. The result is a semi-transparency, so that even when the light is not switched on, the beautiful contours of the inner form are visible.

Smart Timer, Remote Control by App
The DTA Controller app lets you control basic and advanced functions for a richer experience.
[ Remote Control ] Turn lights on or off and adjust intensity across a range of ten brightness levels, as well as control volume.
[ Smart Timer ] Set timers to turn audio and lights on or off at different times, even on specific days of the week.
[ Music Player ] Select and play music right from your smartphone or tablet.