Biography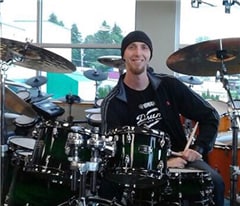 Mike "Machine" Mallais is a passionate Canadian drummer who has made a life long commitment to his craft. Having played since the age of 2, Mike so far is best known for being the Worlds Fastest Double bass player, having set 3 undefeated World Records in 2007 in the Double Bass Single stroke category with "WFD".
Mike has performed countless shows all over Canada and beyond. He is also a globally recognized teacher who is always craving more from the art of music and continues to showcase himself as a very diverse and open minded player and educator.
Mike is very strict about what products he uses and would love to have you check out his website at www.mikemachine.com and find out what products help Mike sound and look great every time!