Biography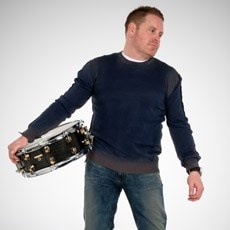 Brad King! Defined as one of the hardest working drummers in Canada. If you listen to music, watch television, go to movies, you have heard Brad! Since the 1980's he has been all over Canada and the U.S. His list of artists ranges from Juno Award winner Chester Knight to progressive metal cult favourites Morally Sound! His recording credits are immense and diverse!
Brad's love of education through 60 students weekly at his studio or via SKYPE have solidified his reputation as THE guy to help you realize your goals! His annual WhackBamThudd event has teachers lined up asking how they can adopt the same format in their own cities and studios! Brad is sought by drummers world wide for assistance with technique and development and preparing audition requirements for some of the top music colleges in North America (Humber, McGill, Grant Macewan and Berklee). Brad has received verbal and written accolades from Global drumming ambassador and friend, Dom Famularo!
A first rate clinician, chances are you will get the chance to see Brad in person at a music store or event near you and absorb his infectious enthusiasm for the drums!!Brad loves gear! Specifically YAMAHA drums. Brad states, "YAMAHA was the essential ingredient when I first started recording, that defined and shaped my drum sound! Without knowing it, every drum I got my hands on I tried to make sound like my Recording Customs. Recently I've been doing more mixing and editing of the drum tracks I am asked to do. I'm amazed at the fact that I still get asked,' how do you mix your drums to sound like that?' It's all in the drums man! And of course, tuning!"
Brad looks forward to seeing as many of you on the road as possible! Chances are he will be talking about music and how cool drums are. Brad plays the YAMAHA Maple Custom Absolute drums, Maple Custom snare drums, Birch Custom snares, Musashi Oak auxilliary snares and YAMAHA pedals and Hardware exclusively.