Biography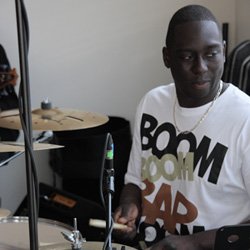 Toronto native Larnell Lewis is a musician, composer, producer, educator and clinician. One of Canada's most well-known and in-demand drummers, Lewis has garnered international status with his most recent works with the three-time Grammy Award winning band, Snarky Puppy. He is a part-time music professor at Humber College, has been featured on the cover of Modern Drummer (September 2016), and has performed with such artists as Fred Hammond, Lalah Hathaway, Lisa Fischer, and Laila Biali.
Larnell was first introduced to drums in church at a very young age. This is where he began to learn to play a variety of styles including gospel music. He worked tirelessly to not only develop his understanding of rhythm, but also studied electric bass and piano to further his knowledge of the melodic and harmonic aspects of music making.
During his time at Humber College, Larnell was the 2004 recipient of the Oscar Peterson Award for Outstanding Achievement in Music, the highest award given by the institution. Although his roots lay in gospel music, Larnell is known for his ability to accurately execute a variety of musical styles. As a result, over the last few years, he has been called upon to perform with a wide range of artists/musicians such as Fred Hammond, Michael Brecker (Verve Records), Dave Leibman, Steve Gadd, Dave Holland (LoJac Music), Tim Ries (Rolling Stones), Salome Bey, Denny Christianson (Justin Time Records, and Head of the Humber College Music Program), Phil Dwyer, Sharon Riley and Faith Chorale, Glenn Lewis, Jully Black, Matt Dusk, Andrew Craig, Laila Biali, Rinsethealgorithm, Eddie Bullen and many others.
Larnell is sponsored by Yamaha Acoustic and Electronic Drums, Yamaha Hardware, Promark Drum Sticks, Evans Drum Heads, and Zildjian Cymbals.