Biography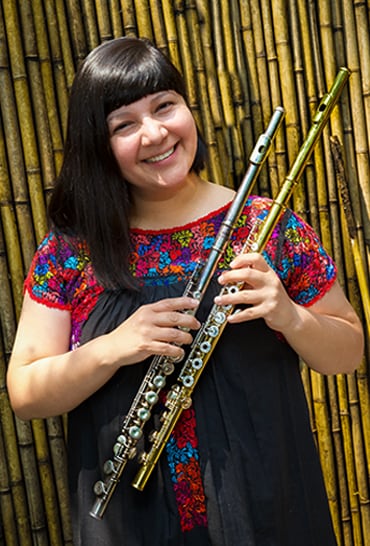 Described by the Toronto NOW Magazine as a "rising star," Mexican-born flutist Alhelí Pimienta has performed and taught in over 30 countries. Her latest recording project, "Yo Quiero Equal Opportunity," will present newly commissioned solo flute works by composers such as Juro Kim Feliz (Philippines), Icli Zitella (Venezuela), Daniel Cueto (Perú) and will be released in the Summer of 2023. Alhelí has presented lectures, conferences and masterclasses at the University of Toronto, University of Nebraska in Omaha, University of California Berkeley, the National Autonomous University of Mexico (UNAM), Puerto Rico Conservatory of Music, the National Library of Catalonia in Barcelona, Lionel Hampton School of Music, The Canadian Music Centre, The American Cathedral in Paris, amongst many others.
Alhelí has curated concert series and festivals advocating classical music diversity from an educational perspective, like the Toronto Latin American Flute Festival, the International Flute and Piccolo Convention of Monterrey, and the two international Canadian Flute Association Conventions.
Alhelí is a passionate advocate for live music and often serves as a spokesperson and panel moderator for international conferences and non-profit organizations such as the Diaz-del Moral Foundation, the Canadian Flute Association, Casta Latina, and, most recently, Global Toronto in Canada. She has a video podcast called "Pa'EducArte" (To Educate You), where she presents educational topics about the art industry in Canada every Tuesday night.
A passionate flute teacher and founder of Flute Sprint International Studio, Alhelí coaches 25 talented flutists from beginner to professional levels. Her students have won annual awards in national and international festivals worldwide, and many already enjoy fruitful teaching and performing careers. Her students RCM levels 10 and above participate in Flute Sprint's professional development program, where together, they build cultural bridges worldwide to expose young flutists and piccolo players to new career paths under the ethos of Equal Opportunity.
Alhelí earned a partial Instrumental Performance degree from the Escuela Superior de Música y Danza de Monterrey, a Bachelor's and a Master's degree in Flute Performance with a Jazz Minor from the University of Idaho, an Artist Diploma from the Glenn Gould School of Music, and has completed four years of Doctoral Studies at the University of Toronto, all under full scholarships. She has been a proud Yamaha supporter since childhood and performs on an 18K handmade gold flute. She lives in Toronto with her husband, Adrian Kostic and her two dogs, Samba and Tango, and lives with the ethos of attending at least one live music concert weekly.
Instrument: YFL994 18K Handmade
Other Brass & Woodwind Artists