Biography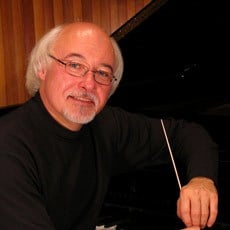 Dr. King is Professor of Music (Conducting/Music Education) at the University of Victoria where he serves as the conductor of the UVIC Wind Symphony and heads the graduate Wind Conducting program. He served as Director of the School of Music from 2004-2012.
Internationally recognized as one of Canada's most respected conductors, adjudicators, and educators, Dr. King is the recipient of numerous honors and awards, including the Order of the Phoenix by the Western International Band Clinic where he has made 5 separate conducting appearances. In March 2003 he was elected into the prestigious American Bandmasters Association and in 2004 he was formally inducted into the ABA when he served as a guest conductor for the United States Army Band "Pershing's Own" from Washington, DC. In the fall of 2012 Dr. King received the British Columbia Music Educators' Association Honorary Life Award and he was also inducted into Phi Beta Mu (International Fraternity for Wind Band Conductors).
Dr. King's background is varied. Although he is primarily recognized as a conductor he has years of performing experience as a professional clarinetist. He is a former student of internationally renowned conductor, Maestro Kazuyoshi Akiyama, and clarinetist, Ronald de Kant. Dr. King's professional career has taken him throughout Canada, the United States, Great Britain, Denmark, Sweden, Holland, Germany, Italy, France, Spain, Japan, Mexico, Hong Kong, and Australia. Dr. King's conducting appearances with Regional, National, International Honor, and Professional Ensembles have been praised for performance quality, artistry, and creativity. As a clarinetist, Dr. King has performed with numerous wind ensembles, symphony and opera orchestras, including the La Scala Opera of Milan, Italy. He has also given numerous chamber music recitals and served as clarinetist with the New Edmonton Wind Sinfonia on their European tours.
Dr. King is in great demand as a conductor, adjudicator, clinician, and keynote motivational speaker throughout Canada, the United States, Mexico, and Asia. Over the past 20 years he has worked with over 10,000 ensembles and soloists representing more than 500,000 musicians. Dr. King is an Artist Educator for the Yamaha Corporation and has been cited in numerous "Who's Who" Internationally.