Biography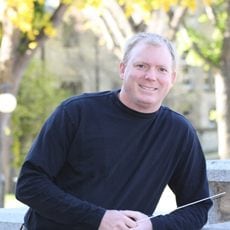 Dr. Darrin Oehlerking is Assistant Professor of Music Education and Director of Bands at the University of Saskatchewan, where he conducts the Wind Orchestra and teaches courses in Conducting and Music Education. Dr. Oehlerking earned his DMA in Wind Conducting at The University of Iowa (Welch), and a Masters in Music Performance with an emphasis in Conducting (Lonis) at the University of Manitoba, where he holds separate Bachelor degrees in both Music and Education.
In addition to experience teaching primary, secondary and post-secondary levels, Darrin has served as Director of Bands and Jazz at Bemidji State University (Bemidji, MN), and as Music Coordinator for the Louis Riel School Division in Winnipeg MB, as well as post-secondary assignments at the University of Manitoba and Iowa Wesleyan College. Dr. Oehlerking's ensembles consistently garner outstanding performance awards and showcase invitations at both the local and national levels.
Dr. Oehlerking is an active member of several other professional organizations including the Canadian Band Association, Saskatchewan Music Educators Association, Manitoba Band Association, College Band Directors National Association, WASBE, Pi Kappa Lambda and was elected to a term as President of the Saskatchewan Band Association. He continues to serve as adjudicator, workshop presenter and clinician across Western Canada, Minnesota, South Dakota and Iowa and is an authority on the history of the bands of the Royal Canadian Mounted Police.
As an instrumentalist Darrin continues to perform with various professional and community ensembles across Western Canada and the Midwestern United States