Smart Looks and Flexible Design for Custom Wireless Control Panels
ProVisionaire Touch is a software based control and display interface creation tool for customized remote control of Yamaha MTX and MRX series processors. No specialized programming skills are required. An intuitive interface makes it easy to create faders for volume control and switches for source selection, for example, and position photographs or other graphic elements on the tablet screen as required to create original control panels that are ideally suited to individual applications and users.
Remote MusicCast® control makes the most of music content
Remote volume, playback, and audio device control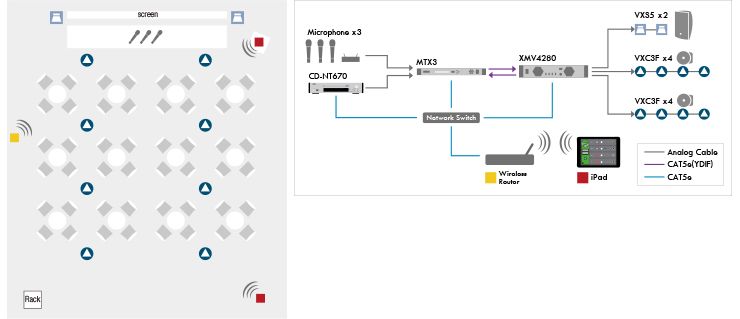 Remote control of MusicCast enabled audio devices is now supported. A MusicCast capable CD player such as the CD-NT670 could be added to an installation that is based on MTX and/or MRX series processors, with playback and track selection controlled via a WiFi network from a single iPad. This type of capability is ideal for controlling playback devices, adjusting volume, and selecting areas in restaurant and banquet hall situations.
Versatile control over a wide range of music sources
In addition to audio equipment connected to MusicCast enabled devices, ProVisionaire Touch now supports computers, networked storage, music files stored on mobile computing devices, and Internet radio. Playlists from the controlled device appear on the ProVisionaire Touch control panel, allowing easy, intuitive control of remote sources. ProVisionaire Touch V1.2 is a great way to take full advantage of a large music library stored on a computer, hard disk, or network storage device.
Supported devices
- Network compatible CD player:CD-NT670, CD-NT670D
- Wireless Streaming Amplifier: WXA-50
- Wireless Streaming PreAmp: WXC-50
Disklavier™ ENSPIRE control support
Remote entertainment control from playback to performance

ProVisionaire Touch V1.2 supports the Yamaha Disklavier™ ENSPIRE, providing wireless remote control of automated acoustic piano playback as well as DisklavierRadio streaming. Centralized control of BGM sources such as CD players as well as the Disklavier from the ProVisionaire Touch app makes it easy to switch between acoustic piano and recorded sources according to the time of day or event schedules. ProVisionaire Touch is a smooth, effortless way to remotely control a variety of entertainment programs.
Supported Pianos
- Upright Pianos: YUS1ENST, YUS1Wn-ENST, YUS1MhC-ENST, YUS3ENST, YUS3Wn-ENST, YUS3MhC-ENST, YUS5ENST, YUS5Wn-ENST, YUS5MhC-ENST
- Grand Pianos: C1X-ENST, C2X-ENST, C2XCP-ENST, C3X-ENPRO, C5X-ENPRO, C6X-ENPRO, C7X-ENPRO
Basic procedure: setup to operation
Step 1: Controller Design
- Create a layout with widgets that perform the functions of faders and switches, and assign them to the required MusicCast® and Disklavier™ ENSPIRE functions.
Step 2: MTX/MRX System Setup
- Connect all devices to a single network, and enter the IP address of each device to allow control.
Step 3: Operation
- Once the system is online, all compatible devices including MusicCast® devices and the Disklavier™ ENSPIRE can be controlled. The control panel setup data can be copied to multiple iPads to create additional control panels, as required.

Price : Free
Compatible Devices : iPad (not including the first-generation model)
iOS : 8.3 or later
ProVisionaire Touch KIOSK
This app allows the iPad to be set up to function as a dedicated touch-panel controller, preventing end users from accessing the operating system or other apps so that unintended control or design changes cannot occur.

Price : Free
Compatible Devices : iPad (not including the first-generation model)
iOS : 8.3 or later
The colors and finishes shown may vary from those on the actual products.