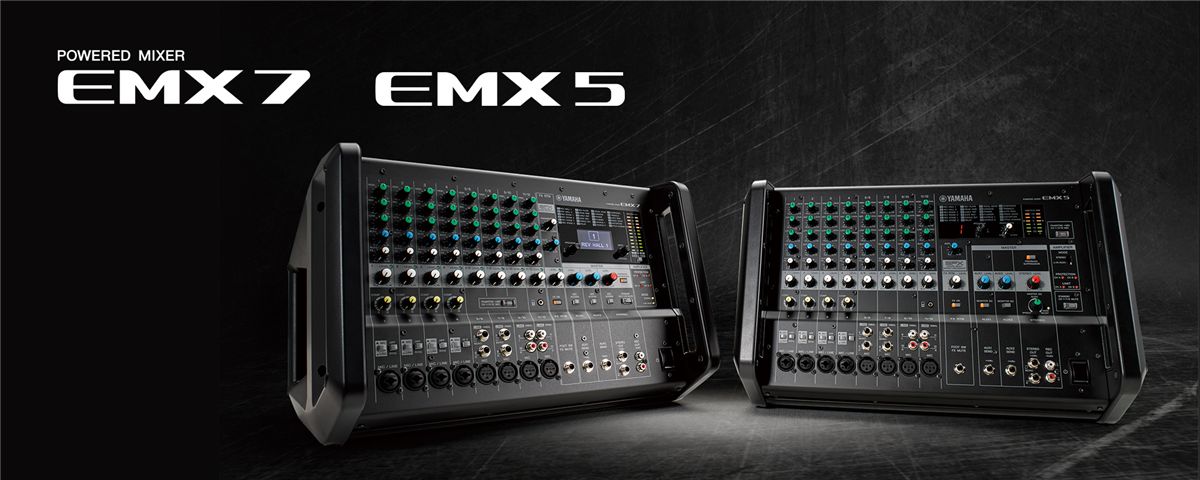 Powerful & High Efficiency Class-D Amplifier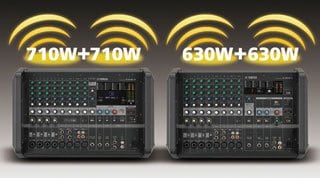 Powerful & High Efficiency Class-D Amplifier
The EMX7 and EMX5 models feature a built-in high-efficiency power amplifier of 2 x 710W, 2 x 630W of output power respectively. Despite their low power consumption, these amps are capable of very high volume output, yet still manage to remain surprisingly lightweight. Both models also come equipped with an onboard overload protection function to improve reliability and prolong component life and performance quality.
Robust But Extremely Portable Design
Robust But Extremely Portable Design
The EMX7 and EMX5 benefit from a robust and portable design with a rugged, impact-resistant, powder-coated metal chassis geared towards extended operation and road usage. Large handles on the front and back of the enclosure make it extremely portable, and also help to protect knobs and terminals on the surface of the chassis from impact or pressure during transport.
Easy Setup, Easy Operation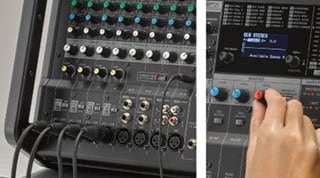 Easy Setup, Easy Operation
With their intuitive, user-friendly architecture, the EMX7 and EMX5 can be setup and operated quickly and easily by users with a fundamental understanding of sound reinforcement. Their versatile enclosure design allows users to choose from a variety of vertical or horizontal placements depending on the type of application. From a tabletop, floor, or installation environment no matter used on a tabletop or from a seated position with the mixer placed on the floor.
Complete Range of Input & Output Channels
Both the EMX7 and EMX5 are equipped with four mono input channels and four mono/stereo input channels, allowing up to 8 microphones, and line-level devices such as keyboards and portable playback device to be connected to each channel. In addition, channel 4 can be used with Hi-Z inputs to connect instruments such as guitars or basses directly. Each model is also equipped with 2 AUX SEND connections for a monitoring system or external effect devices, REC OUT unbalanced RCA pin output jacks to connect an external recorder, and STEREO OUT TRS phone jacks to output the mixed stereo signal.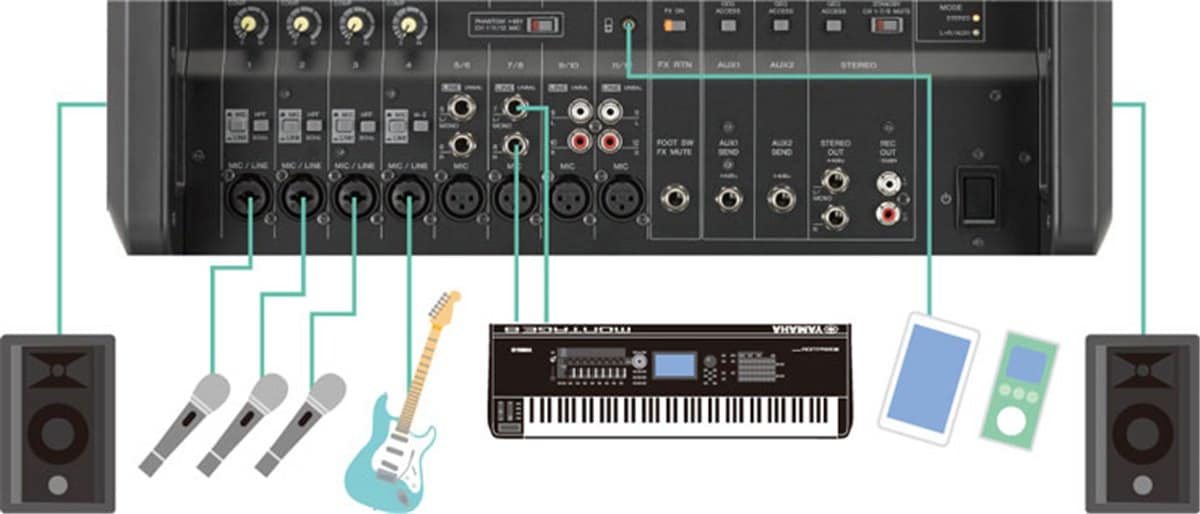 Speaker Processor and Preset (EMX7 only)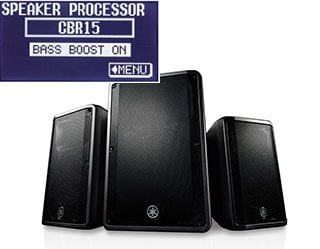 Speaker Processor and Preset (EMX7 only)
The speaker processor function allows you to select an appropriate setting to match the particular speakers you're using. It features presets specifically tuned for each model in Yamaha's extensive lineup of passive speakers, including CBR, Club, A and R series. This allows users to optimize speaker performance and save even more time during system setup. It also includes a bass boost function that can be enabled to significantly bring out the lower frequencies.
Onboard Feedback Suppressor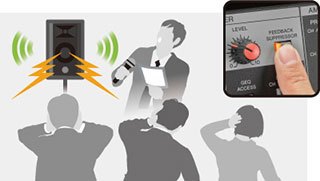 Onboard Feedback Suppressor
Few things make a live performance or speaking engagement take a negative turn like the sudden, uncomfortable, and often embarrassing howling of unwanted feedback. EMX7/5 come equipped with a Feedback Suppressor that utilizes a unique Yamaha digital technology to instantly eliminate annoying feedback with the single switch of a button, which utilizes a seven-band notch filter.
3-band Equalizer Control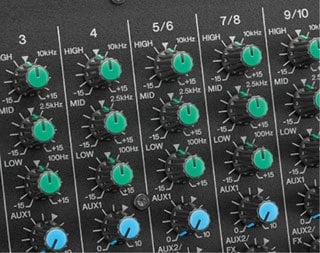 3-band Equalizer Control
With individual knobs you can adjust the [HIGH], [MID], and [LOW] audio frequencies. You can operate instantly turning the control to amplify (boost) and attenuate (cut) the corresponding frequency band.
Flex 9 Graphic Equalizer (EMX7 only)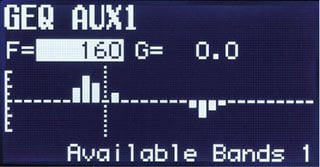 Flex 9 Graphic Equalizer (EMX7 only)
EMX7 is equipped with Flex-type graphic equalizer (Flex9GEQ) that allows you to select up to nine bands out of a total of 31 for fine tuning ±15 dB.
1-Knob Master EQ™ (EMX5 only)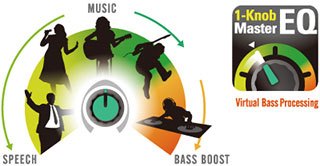 1-Knob Master EQ™ (EMX5 only)
EMX5's 1-Knob Master EQ™ lets you apply optimized EQ settings with the simple turn of a knob. The SPEECH setting is geared towards meetings, seminars, or conferences with a limited lower end for clear, defined speech; MUSIC offers a more balanced sound tailored to acoustic or band performances; and BASS BOOST is ideal for DJ performances or audio playback that puts a priority on emphasizing the base sound.
1-knob COMP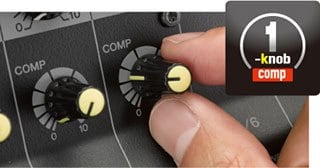 1-knob COMP
EMX7/5 is equipped with the popular 1-knob COMP function used in MGP and MG series models. By simply operating a single control, it is possible to get optimal compression for vocals and instruments. As the [COMP] control is turned to the right, the threshold, ratio, and output gain are adjusted simultaneously.
Rack-Mounting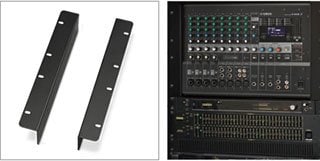 Rack-Mounting
EMX7/5 can be mounted onto a 19-inch rack by using the RK-EMX7 (rack-mount kit) sold separately.
Comprehensive, Professional Effects and Signal Processing
Comprehensive, Professional Effects and Signal Processing
EMX7/5 are equipped with a powerful, comprehensive DSP section that provides a total of 24 different effects that are in the same league as our famed SPX effect processor series used by professionals. It is possible to add reverb and delay effects that simulate the sound of different performance environments, such as concert halls and small clubs.
Flexible Speaker Connectivity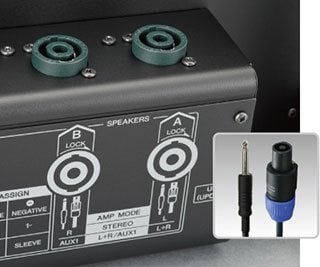 Flexible Speaker Connectivity
EMX7/5 are equipped with speaker jacks which can be used with both TS phone and speakON plugs.
Internal Universal Power Supply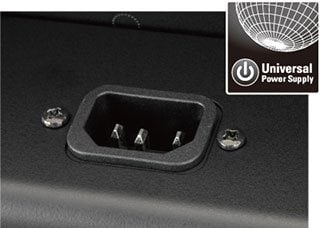 Internal Universal Power Supply
EMX7/5 have a highly-efficient internal universal power supply, then offer worry-free operation in any region around the globe - even in environments prone to potentially damaging power fluctuations. An internal power supply also simplifies rack mounting of the console for installed applications, eliminating the need for a bulky adapter or additional connections.