UD-WL01 offers new ways to enjoy your musical instrument using iOS Applications and web services.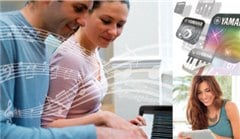 UD-WL01 is a USB wireless LAN adaptor that allows you connect your musical instrument to an iPhone/iPod touch/iPad and enjoy a range of Yamaha iOS Applications and other web services(*).
*Web services are available for Tyros5 only.
Connect your musical instrument to a wireless router with ease
WPS(Wi-Fi Protected Setup™) allows quick and easy setup and connection.
1:Insert UD-WL01 into USB TO DEVICE jack of your instrument.
2:Press and hold the WPS button on UD-WL01 for 3 seconds.
3:Press the WPS button on your wireless router.
*If your wireless router is not WPS-capable, please refer to the connection manual in the support tab.

Compatible Instruments
CLP-535/545/575/585/565GP (excluding CLP-525)
[With firmware update]
MOTIF XF6/7/8 (Ver.1.50 or later)