RD-500
Multi-Frame Xylophones
Easy assembly

This rack simply consists of 4 parts - right leg, left leg, struts and rack pipe (where optional instruments are attached). The simple assembly by clamps makes set-up easy and safe. Safety stopper prevents the YX-500FT from fall.
Setting
This multi percussion rack for YX-500FT (sold separately) can be used to upgrade YX-335 as well as fitting YX-500FT.
More freedom to attach optional instruments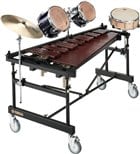 RD-500 offers you more freedom to attach optional instruments, allowing them to be attached to right and left sides of the rack in addition to audience-side.
Sturdy body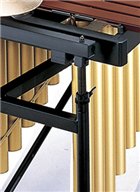 With a sturdier base than conventional ones, this model comes with increased strength. And its structure surrounding a whole instrument protects sounding bars and resonator which are the heart of the bar instrument.
Easy height adjustment by gas spring system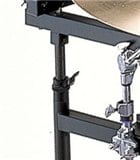 A gas spring system makes height adjustment a quick and simple operation, so they can be made easily by one person. The height adjustable range has been increased to 15cm.
Big-wheel caster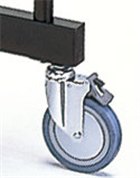 Having big-wheel casters with a diameter of 150mm lead to greater portability. The caster has a double stopper which can lock the turning of the swivel head and rolling of wheel.
Clamp specially-designed for multi percussion rack

Includes four special RDC-10 clamps. A mechanism to hold square-cross-section improves fixation. Memory clamp function rocks axial rotation.