RD-2400
Multi-Frame Marimbas
Easy Assembly

The rack is a simple structure consisting of just four components: the left and right legs, brace, and rack pipe (for attaching optional instruments). The whole assemble goes to together quickly and easily with clamps.
Gas Spring Height Adjustment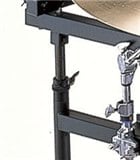 Gas spring assisted height adjustment is extremely smooth. A 15-centimeter adjustment range makes it easy to set the most comfortable height.
Large Casters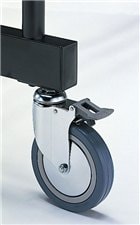 Large casters with a diameter of 150 millimeters enhance portability. Double stoppers prevent unwanted movement.
Multi-Frame Percussion Clamp RDC-10

Specifically designed to clamp securely to a square cross-section.
Rugged Design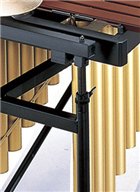 The legs and support structure have been built for maximum strength, and a design that encloses the instrument protects the instrument's vital bars and pipes.
Add Optional Instruments
Optional instruments can be attached not only to the audience side of the frame, but to the right and left sides as well for extra setup flexibility.