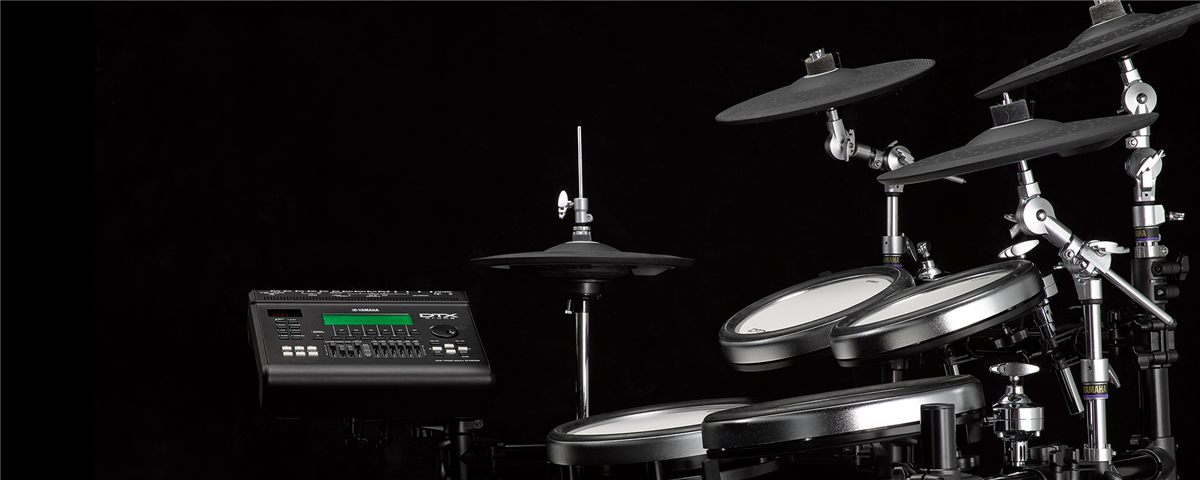 Configuration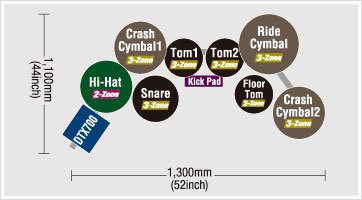 Module: DTX900
Snare : XP100SD
Tom: XP80 x 2
Floor Tom: XP80
Bass Drum : KP65
Hi-Hat : RHH135 + HS650A
Crash Cymbal: PCY135 x 2
Ride Cymbal : PCY155
Rack : RS700
DTX-PADs - For Quiet Practice that Improves Technique!

After years of designing and manufacturing the the world's finest acoustic studio drums, Yamaha knows what it means for drums to feel good and play naturally. We designed the DTX-PAD to raise the expectations of electronic drum pads, providing drummers with a pad that reacts identically to acoustic drums while remaining exceptionally quiet. Teaming up with the world's top drummers, satisfying their demanding sense of perfection was our focus. Through years of physical research matched with our advanced digital instrument technology, we created the next generation or digital drumming technology, the DTX-PAD. With greatly improved stick response and dynamic range you will see immediate results in your drumming with every practice session.
Cymbals that Deliver Realistic Expression!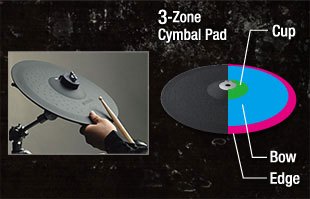 The DTX9750K Series also features our professional 3-zone cymbal pads, which can express a different sound in each of the cup, bow and edge zones. These cymbals have a good stick feel and low acoustic noise, which is essential for electronic drums when used for private practice. In addition to a very natural swaying motion, they also have the "choke" and "mute" functions, providing a high degree of expression similar to that of an actual cymbal.
Real Hi-Hat System that Reproduces Your Every Nuance!

The hi-hat system of the DTX9750K features a dual-zone trigger pad (for edge and bow sounds) that mounts to the included Yamaha hi-hat stand for realistic pedal action and versatile positioning.
Efficient Rack Systems with Real Drum Hardware!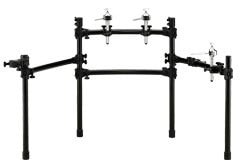 The rack system for the DTX9750K offers a wide range of settings and uses real drum hardware including a genuine Yamaha hi-hat stand that lets you freely position the hi-hat as you would on a traditional kit. Additionally, the RS700 rack features three boom-type cymbal stands. The ball clamps for the toms and floor tom provide the same superior positioning and quality as Yamaha's acoustic drums and the snare pad is placed on a high-performance adjustable snare stand. You can set the pads exactly where you want to achieve a setup that closely matches your acoustic kit.
The High-Quality Tone Generator and Superb Operability of the DTX900.
- In addition to a collection of essential Yamaha acoustic drum sounds, the DTX900 also features a broad spectrum of voices taken from the world renowned MOTIF series synthesizers for a grand total of 1326 voices. Even on a live stage, these subtle yet dynamic voices bring forth a compelling presence.
- The XA (Expanded Articulation) System, which creates subtly different samples even when you strike the drum with the same strength, can create more natural snare rolls and re-create the feel of a legato ride cymbal or staccato hi-hat.
- Equipped with rich and powerful DSP effects. In addition to reverb and chorus effects that can be used commonly throughout the whole system, there are variation effects that can be used on each drum kit to bring out the perfect sound which you need.
- Internal recordings of 87 songs from a wide variety of genres. You can mute the drum part and play along with a song, and you can also record your own performance.
- Equipped with a chain function that enables you to program drum kits freely in any order
that you please. Even during a live performance, you can switch to another drum kit easily
just by hitting a pad.
Add Original Sounds through Sampling
- Equipped with an AUX IN/SAMPLING IN connector. You can connect it to an external sound source or use a microphone and sample your own voice.
- You can load original voices from USB flash memory and assign them to different pads.
Customization Enables You to Create Your Ideal Drum Sound
- The possibilities are limitless. You can arrange the versatile drum kit as you please to create your own original drum set. You can switch to different snare or cymbal sounds, add a cowbell sound, etc., and you can save your settings.
Versatile Trigger Features
- Equipped with a stacking feature, which plays multiple drum voices when you hit a pad, and an alternation feature, which changes the voice each time you hit a pad. By combining these features, you can perform in ways that would be impossible with an acoustic drum set.
Rich Training Features for Improving Your Performance Skills
- Equipped with a metronome feature that enables you to set precise types of clicks for different types of notes. You can change the locations of the click accents.
- Equipped with a groove check function, which checks the accuracy of your timing and tells you how off-rhythm you are, and a rhythm gate function, in which the drum only produces sound for accurate shots. You can train for practice as if you were playing a game.
- Also equipped with an AUX IN connector. You can connect a CD player, portable MP3 player, or other device and practice using any song you like.
Can Be Connected to PCs and Other Devices
- Equipped with MIDI and USB connectors. Not only can you play sounds from an external sound source and use the high-quality sound of the DTX900 as a high-quality sound source, you can also add power to your music creation by using DAW software to create a MIDI recording of your own performance.
In addition, Steinberg Cubase AI 5 is included. You can use it to change the tempo, timing, tone, etc., of the performances that you make MIDI recordings of.
- By using HALion One and third-party VST plugins, you can use not just drum sounds, but other sounds that are not included in the DTX900.
- You can use the DTX900 panel switches to control Cubase AI 5. This allows for faster music creation.*
- You can use the six INDIVIDUAL OUT connectors to send the snare, tom, and other drum sounds to the mixer individually. You can record to a multi-track record easily without using the complicated miking that you would need to record from an acoustic drum set. Also, you can use the DIGITAL OUT (S/P DIF) connector to send digital quality sound from the DTX900 to an external device.
*You need to download an extension from this website.