Dance Schools / Fitness Centers

Simple PA system with a high-output powered mixer and durable, lightweight, easy-to-install loudspeakers suitable for playing music at dance schools, fitness centers, etc. that require high-quality sound despite possible budget restrictions.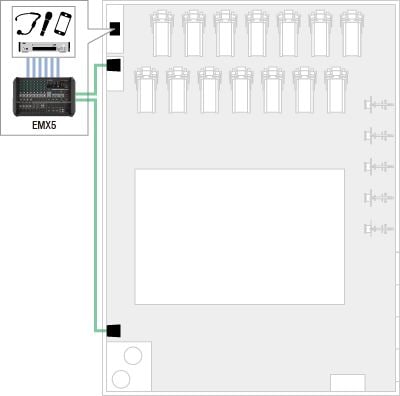 - Simple PA system to liven up dance schools, fitness centers, etc. with a powered mixer and 2x passive speakers.
- High output power 2 x 630W. [Powered Mixer EMX5]
- Durable and lightweight (13.9kg) cabinet with a highly responsive woofer and a precise 2" compression driver ensure consistent high-definition sound. [Loudspeaker CBR12]
- M8 rigging points allow for versatile installation applications. [Loudspeaker CBR12]
| Category | Model Name | Qty |
| --- | --- | --- |
| Mixing Console | EMX5 | 1 |
| Power Amplifier | - | - |
| Main Speaker | CBR12(Loudspeaker) | 2 |
| Subwoofer | - | - |
| Monitor Speaker | - | - |
System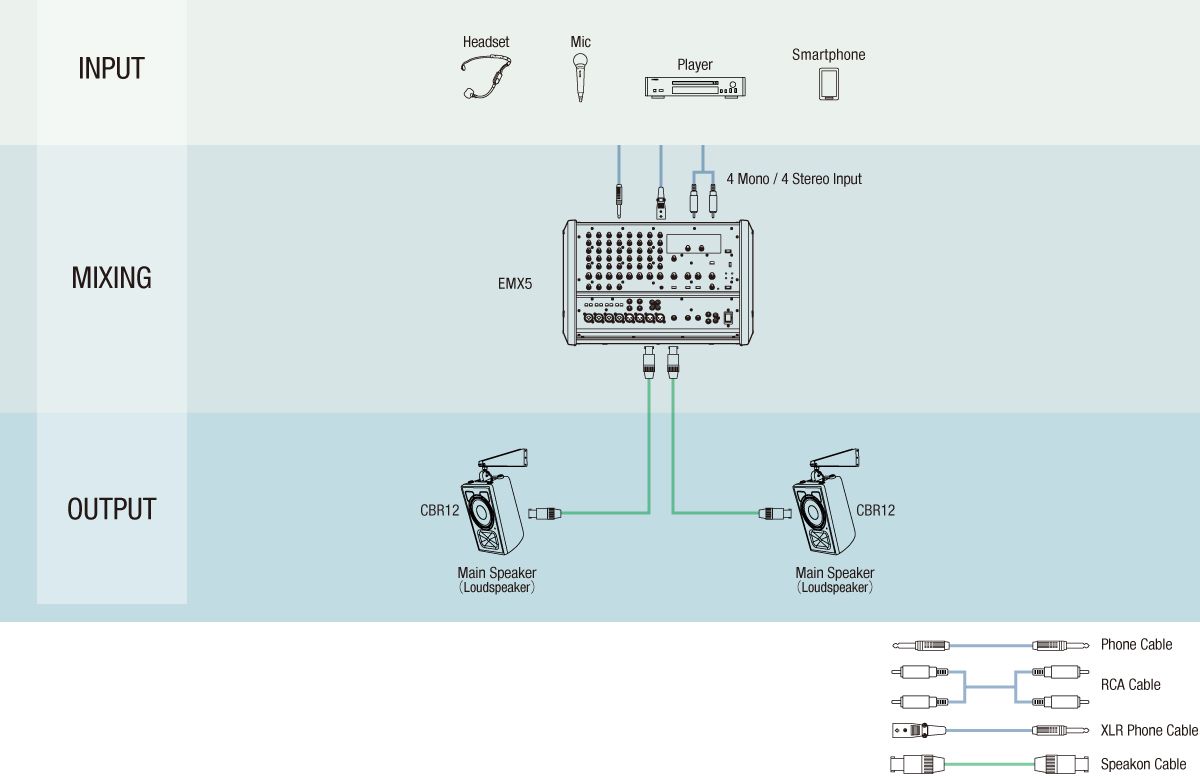 Powerful & High Efficiency Class-D Amplifier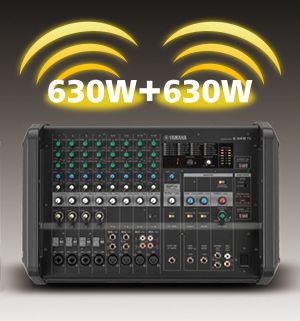 The EMX5 model features a built-in high-efficiency power amplifier of 2 x 630W of output power. Despite the low power consumption, this amp is capable of very high volume output, yet still manages to remain surprisingly lightweight. It also come equipped with an onboard overload protection function to improve reliability and prolong component life and performance quality.
Wide-Dispersion Constant Directivity Horn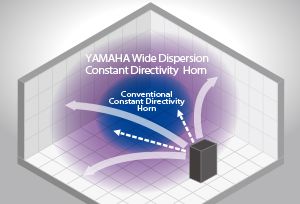 CBR Series speakers come equipped with a newly designed wide-dispersion constant directivity horn minimizes the radiation pattern deterioration in oblique directions that more conventional horns are prone to, allowing sound to expand in a more rectangular pattern, evenly dispersing wide-frequency sound to the outer-most edges of the coverage area.
Rigging Points for Installation Applications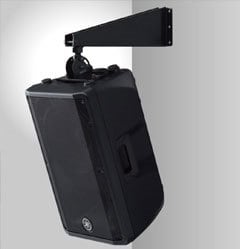 CBR loudspeakers come equipped with M8 rigging points, allowing for rigged applications with optional speaker brackets or standardized eye-bolts.
EMX5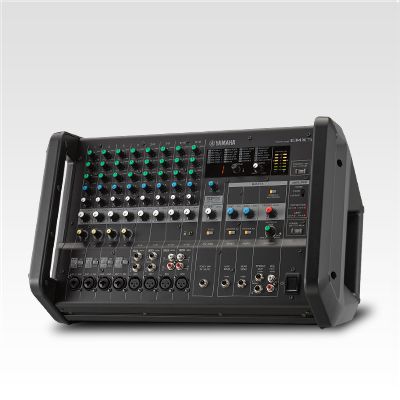 Box-type robust and portable powered mixer
630 W + 630 W (4 Ω), 460 W + 460 W (8 Ω) power output
Max. 8 Mic / 12 Line Inputs (8 mono + 4 stereo)
High-Z input (channel 4) to connect guitars or basses directly
1-Knob Master EQ™
Onboard Feedback Suppressor
High-grade effects: SPX with 24 programs
CBR12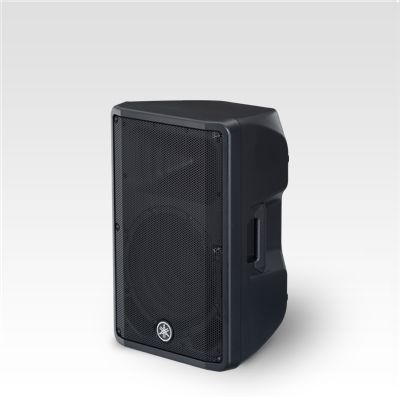 12" 2-way loudspeaker
Maximum SPL 125dB peak
Durable Plastic enclosure
Compact and lightweight 13.9 kg (30.6 lbs)
Integrated M8 rigging points for suspended applications
Optional Brackets (BBS251, BCS251, BWS215-300, BWS251-400) and Speaker Cover (SPCVR-1201)
PA Application Guide | Yamaha Commercial Audio