A compact, portable PA system with power suitable for live band music performance on a small outdoor stage for an audience of up to 100 people depending on seating/venue size.
- The system consists of a mixing console, 2x powered speakers, a powered subwoofer for front of house sound, and 6x powered speakers for monitoring.
- Studio-grade dual effect processors: high-end REV-X reverb and SPX digital multi-effect for versatile sound-shaping via simple, intuitive control. [Mixing console MGP24X]
- Speakers can reproduce consistent clarity at any output level with D-CONTOUR intelligent dynamic control feature. [Powered loudspeaker DXR12]
- High-output, versatile subwoofers deliver your bottom end with superb clarity. [Powered subwoofer DXS15]
- Floor monitor speakers feature an optimized 50° wedge angle. [Powered loudspeaker DBR12]
| Category | Model Name | Qty |
| --- | --- | --- |
| Mixing Console | MGP24X | 1 |
| Power Amplifier | - | - |
| Main Speaker | DXR12(Powered Speaker) | 2 |
| Subwoofer | DXS15(Powered Speaker) | 2 |
| Monitor Speaker | DBR12(Powered Speaker) | 5 |
System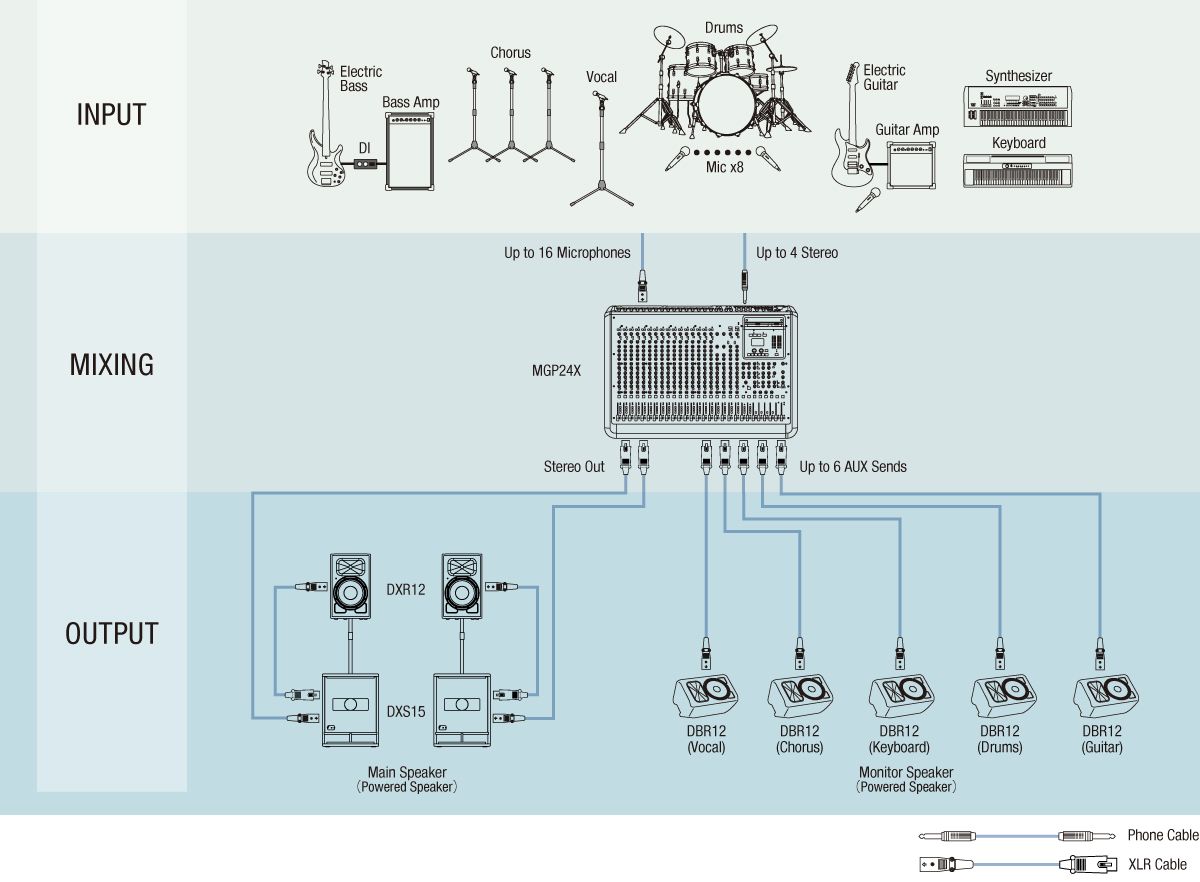 Dual Digital Effects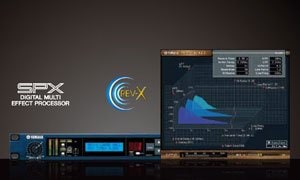 MGP mixing console offers two separate studio-grade effects processors for ultimate enhancement of your sound, with simple intuitive control. Yamaha's high-end REV-X reverb offers three very musical and natural high-resolution reverb effects: Hall, Room and Plate—a first for any Yamaha analog mixer. For more sound-shaping possibilities, Yamaha's renowned SPX digital multi-effect processor provides a useful selection of 16 advanced digital effects with editable parameters. Both processors can be used simultaneously, giving you a vast array of tools to colour your sound.
Intelligent Dynamic Control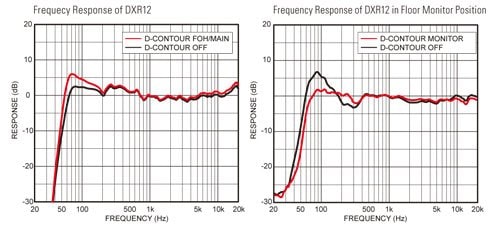 D-CONTOUR is an intelligent multi-band compressor that gives you powerful and consistent sound throughout all output levels. By constantly monitoring the output of multiple frequency bands and calculating the optimum EQ adjustments for each, even the maximum sound output maintains outstanding clarity and musicality. With the DXR Series, D-CONTOUR provides a more detailed tuning of your sound with two different settings: FOH/ MAIN mode or MONITOR mode.
Highly Portable Enclosure Design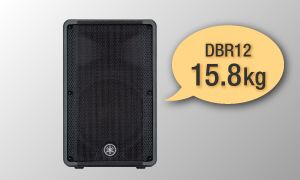 DBR Series speakers feature a compact, lightweight, and durable plastic cabinet which offers the highest level of portability of all Yamaha powered speakers.
MGP24X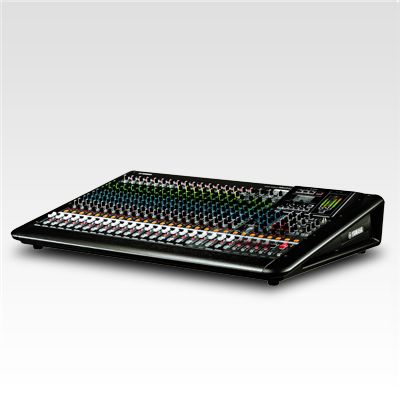 Hybrid mixer matching professional analog mixing engine with superior digital functions
Max. 16 Mic / 24 Line Inputs (16 mono and 4 stereo)
4 GROUP Buses + ST Bus / 6 AUX Sends incl. 2 FX Sends
2 Matrix out/ 1 Mono out
Dual digital effects: advanced "REV-X" reverb and 16 "SPX" effects
"X-pressive EQ" based on Yamaha's VCM (Virtual Circuit Modeling) technology
Stereo Hybrid Channel with DSP: Priority Ducker, Leveler and Stereo Image
iPod/ iPhone USB connection for high quality digital playback
"MGP Editor" App for detailed control of DSP settings with iPhone/iPod
DXR12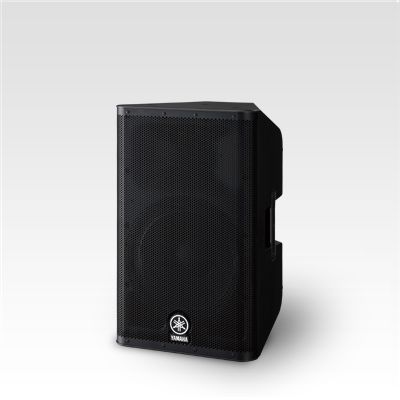 12" 2-way powered loudspeaker
1100W Class-D amplifiers
Maximum 132dB SPL (peak)
D-CONTOUR multi band dynamic processor
Intelligent Onboard 3-Channel Mixer
Compact and lightweight (19.3kg / 42.5lbs) with durable ABS enclosures
Floor monitor angle
Dual-Angle 35mm Pole Mount Socket
Integrated M10 rigging points for suspended applications
Optional U-Bracket (UB-DXR12) and Speaker Cover (SPCVR-1201)
DXS15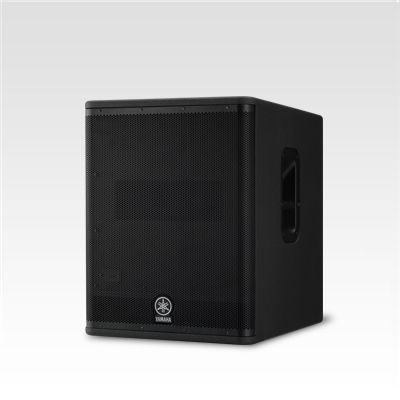 15" powered subwoofer
950W Class-D amplifiers
Maximum 132dB SPL (peak)
Frequency Range 45Hz-160Hz
D-XSUB Bass Processing
Compact and lightweight (38.0kg / 83.8lbs)
Durable wood enclosure with LINE-X® finish
35mm Pole Socket
Optional Speaker Cover (SPCVR-15S01)
DBR12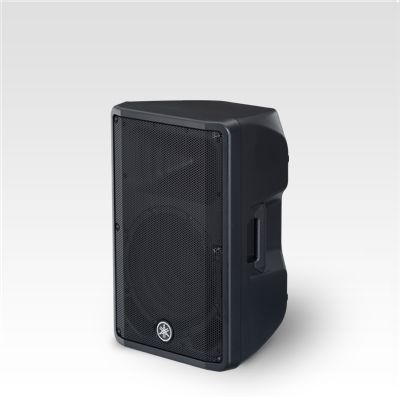 12" 2-way powered loudspeaker
1000W Class-D amplifiers
Maximum 131dB SPL (peak)
D-CONTOUR multi band dynamic processor
Easy-to-use Onboard 2-Channel Mixer
Compact and lightweight (15.8kg / 34.8lbs) with durable Plastic enchosures
Floor monitor angle
35mm Pole Mount Socket
Integrated M8 rigging points for suspended applications
Optional Brackets (BBS251, BCS251, BWS215-300, BWS251-400) and Speaker Cover (SPCVR-1201)
PA Application Guide | Yamaha Commercial Audio