Your Cinema
Your Cinema
Surround:AI
The AI technology built into the DSP analyses the scene of the entertainment content and then creates the optimal surround effect to reproduce it with the greatest effect. This AI instantaneously analyses scenes by focusing on distinct sound elements such as dialogue, background music, ambient sounds and sound effects, and automatically optimises the surround effect in real time, just as if a Yamaha sound engineer tunes the best sound specifically for you. This creates a compelling sense of realism with expressive power beyond conventional sound field effects, giving you the most profound entertainment experience possible.
Thrilling Realism in Surround Sound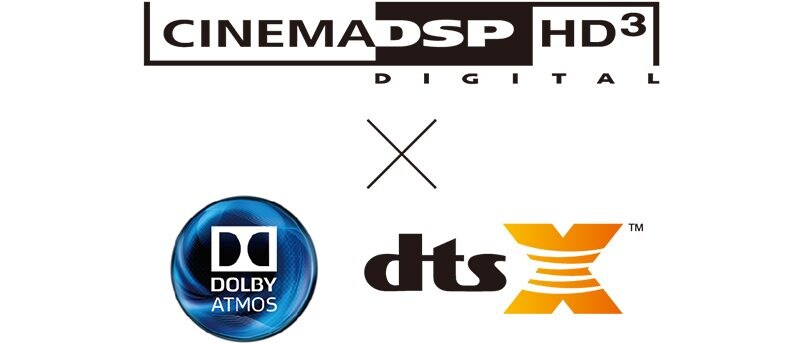 Thrilling Realism in Surround Sound
Dolby Atmos® and DTS-X™ Playback with CINEMA DSP HD3
This AV receiver supports Dolby Atmos and DTS-X playback with CINEMA DSP HD3, taking the surround sound experience to new heights. The revamped CINEMA DSP HD3 features new signal processing algorithms and three sets of high performance processors. This maximises theatre sound effects, accurately reproducing a new dimension of realism for a sound field with a rich sense of presence and no feeling of boundaries. You will experience a realistic cinema sound field with the sense of truly being immersed in the movie scene.
For Sound Purity
Highly Rigid Construction
The RX-V1085 AV receiver features a sleek, clean design, with an elegant aluminum front panel. Even more importantly, the unit is exceptionally sturdy, with an interior reinforced with cross members in an H shape and symmetrical power amplifier layout. These ensure that installation stability is improved and chassis resonance is dispersed, effectively eliminating external vibration, maintaining the highest audio quality.
Optimum Performance
High Quality Parts
Every single part in an AV receiver affects the sound quality. For the RX-V1085, extra time is taken to carefully select the most exacting, high-quality parts ― including a large-capacity power amplifier unit with damping heat sink, a custom large power transformer, high-performance DSP devices, and so on ― in order to achieve the highest performance possible. Moreover, sound technicians employ rigorous testing processes to optimally "tune" the receiver's sound.
Qualité professionnelle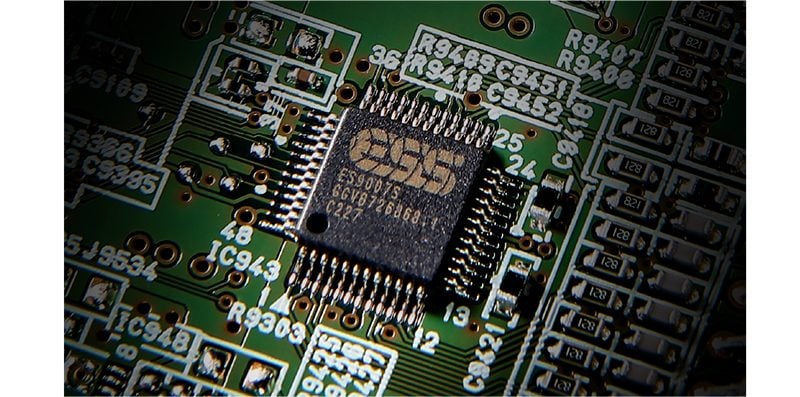 Qualité professionnelle
ESS SABER ™ PRO 9007S Premier DAC
Intégrant le DAC SABRIER 9007S Premier SABER de ESS Technology pour obtenir un rapport signal / bruit exceptionnellement bon et une plage dynamique pouvant atteindre 120 dB, cet ampli-tuner AV produit un son numérique de qualité professionnelle.
Professional-grade Sound Optimisation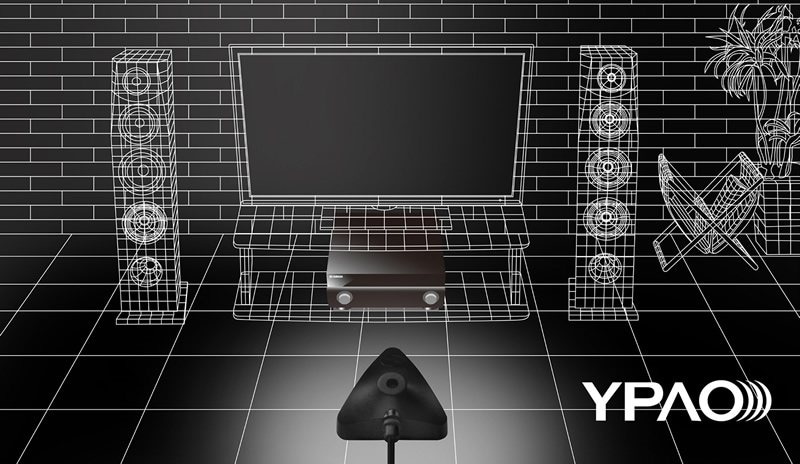 Professional-grade Sound Optimisation
YPAO™ - R.S.C. with Multi-Point Measurement and Precision EQ
YPAO-R.S.C. (Reflected Sound Control) analyses room acoustics and measures various speaker characteristics, then calibrates audio parameters to achieve optimum sound at any of eight listening positions. It uses precision EQ calculation to achieve the most natural room acoustics possible and Reflected Sound Control to correct early reflections for studio-quality sound. It also provides DSP Effect Normalisation, which varies the CINEMA DSP parameters according to the reflected sounds.
Free and Easy Placement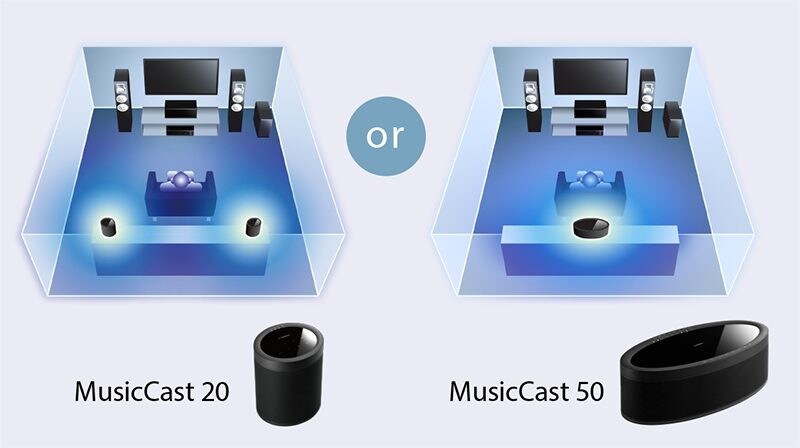 Free and Easy Placement
Wireless Surround Speakers
Combine this AV receiver with the MusicCast 50 or MusicCast 20 wireless streaming speaker and enjoy the amazing convenience of creating a home theatre with wireless rear speakers. What's more, you get stunningly realistic sound with a clean, clutter-free setup. Easily turn your current living room into a special entertainment environment where you can fully enjoy movies and music.
Audio multi-pièces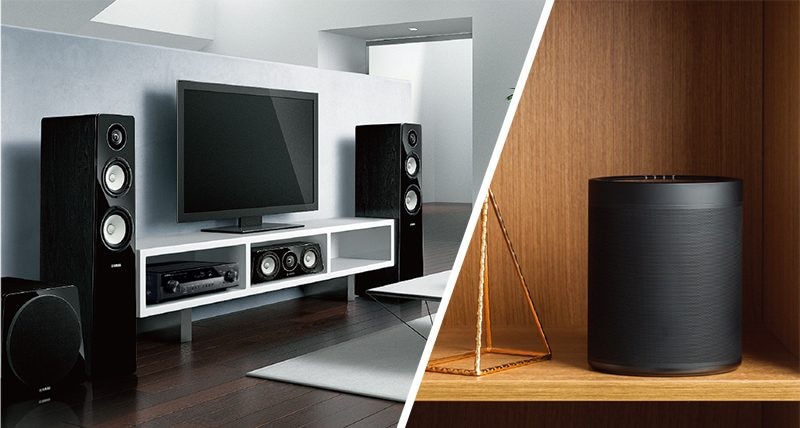 Audio multi-pièces
MusicCast
MusicCast prend le mal de tête hors de l'audio multi-pièce. Connectez simplement tous les appareils MusicCast au même réseau et commencez à partager l'audio dans toute la maison. Prenez MusicCast pour un essai routier en téléchargeant l'application gratuite MusicCast et en l'utilisant en mode démo.
Music at Your Command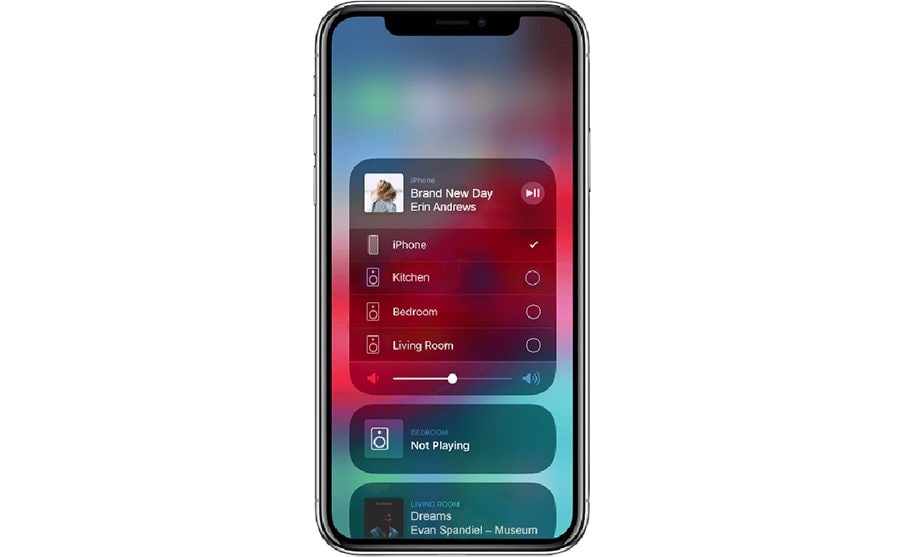 Music at Your Command
AirPlay 2
Hey Siri. Play music in the kitchen and living room.
AirPlay 2 adds the ability to stream Apple Music and other streaming services to multiple MusicCast devices throughout your home. Easily control it from your iPhone or iPad, link it with a HomePod, or simply ask Siri for an assist.
A World of Music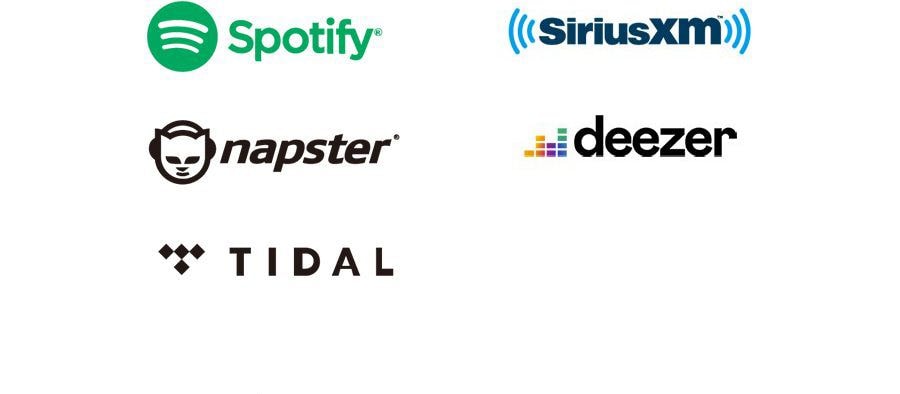 A World of Music
Streaming Services
Explore a world of music with music streaming services* built-in. Syncing your playlists and song likes from your smart phone or computer to the RX-V1085, music streaming services make it impossibly easy to either listen to your faves or discover new music.
* Music streaming service availability varies by region.
Easily Experience 11-channel Realism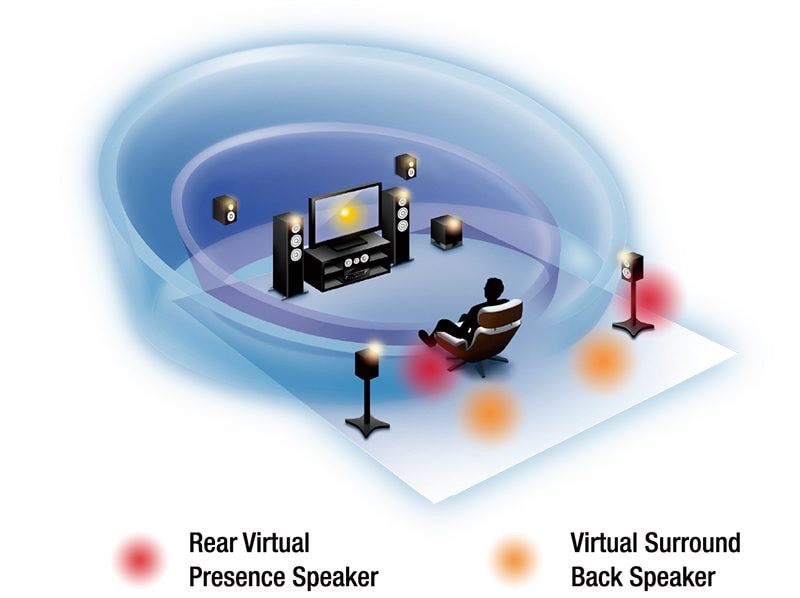 Easily Experience 11-channel Realism
Virtual Speaker Technology
The RX-V1085 is equipped with three Yamaha original high performance DSP devices, achieving high speed and large capacity audio signal processing. As a result, CINEMA DSP HD3 playback can reproduce up to 11-channel sound — on even a 7-channel system. The total reproduction of spatial data, including the vertical axis, helps create an overwhelmingly realistic sound field.
* Requires connection to a front presence speaker. Dolby Atmos and DTS: X signals cannot be used with these virtual features.
Full Resolution, Total Immersion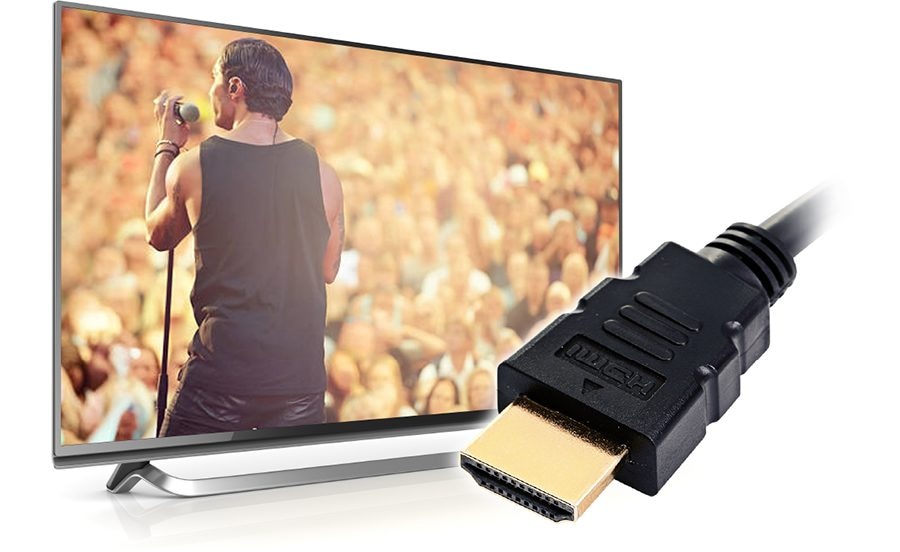 Full Resolution, Total Immersion
eARC (Enhanced Audio Return Channel)
Unlock the full potential of your 4K content. Enhanced Audio Return Channel (also known as eARC) is the next generation of ARC – available in the industry-leading AV receivers from Yamaha.
eARC delivers full-resolution, multi-channel audio formats such as Dolby® TrueHD and DTS-HD® through your existing HDMI connection, giving you the most realistic surround sound experience for immersing yourself in your favourite movies and moments.
Convenient Enjoyment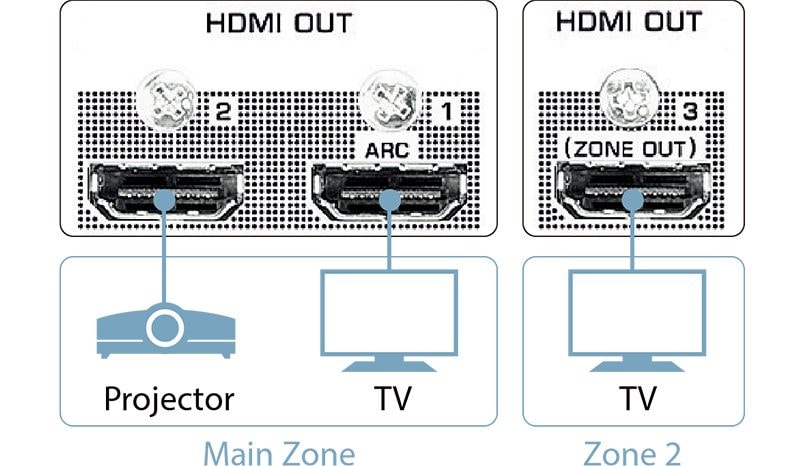 Convenient Enjoyment
Three HDMI Outputs
Since the RX-V1085 has three HDMI output terminals, simultaneous connection to the TV, LCD projector and other devices, is possible. Which means, for example, that you can use your TV as usual but use the projector for your favourite movies and special programming, or have the same main room content shown in other rooms as well — easily and without having to change any connections. Naturally, the built-in HDMI functionality is of the latest specifications, corresponding also to HDR (Dolby Vision Compatible, Hybrid Log-Gamma), 4K / 60p passthrough, 4K upscaling, and so on.
Les joies du vinyle vintage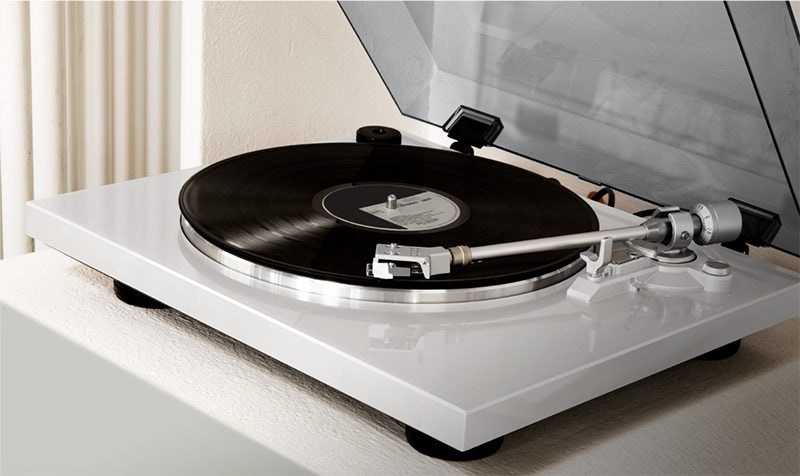 Les joies du vinyle vintage
Entrée phono
Cet ampli-tuner AV fournit des bornes d'entrée phono, vous permettant de connecter une platine vinyle et de profiter de la musique de votre collection de vinyles.
Enhanced Home Theatre Sound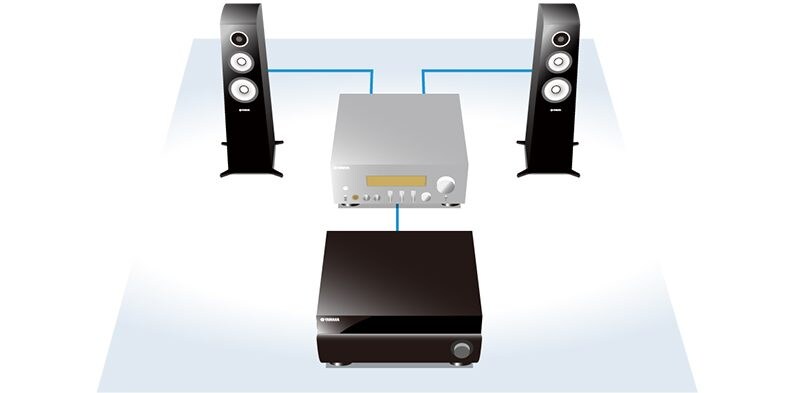 Enhanced Home Theatre Sound
7.2-channel Pre-outs
You can add an external power amplifier (pre-main amplifier) to this AV receiver to improve and enhance the sound of your speakers. For example, using a power amplifier to drive the important front channel in home theatre gives you the added flexibility of building a system with an emphasis on sound quality.
Parlons

Parlons
Amazon Alexa et Google Assistant sur MusicCast
Touchez ou contrôle vocal - le choix est le vôtre. Contrôlez intuitivement un seul produit MusicCast ou un système complet chez vous à l'aide d'Alexa ou de Google Assistant et entendez votre maison s'animer.
* La disponibilité du contrôle des commandes vocales via Amazon Alexa et Google Assistant varie selon les régions.
Easy Operation, Detailed Settings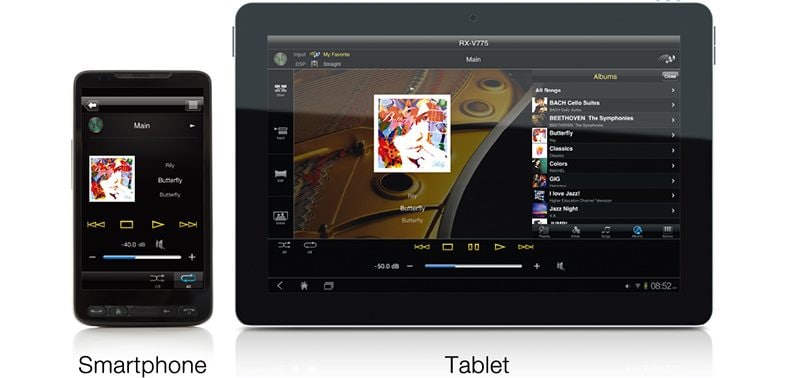 Easy Operation, Detailed Settings
AV Controller App
This easy-to-use app lets you conveniently and 'smartly' control your AV receiver's power, volume, input selections, DSP modes — and much, much more — from an iOS or Android™ device. You can also use as many as 23 different languages and customise the interface by hiding unused icons and renaming functions. A tablet version is also available.
Facile à utiliser et multilingue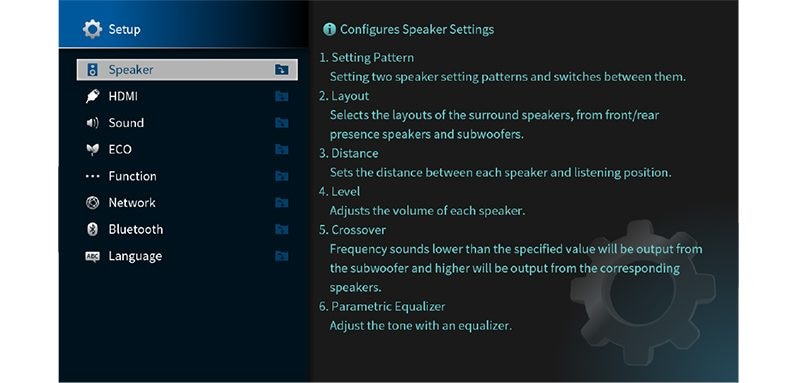 Facile à utiliser et multilingue
Interface utilisateur graphique avancée
La dernière interface utilisateur graphique de Yamaha dispose d'un affichage haute résolution avec des menus clairs et faciles à utiliser et comprend une barre d'état sélectionnable qui indique la source d'entrée, le niveau de volume, le mode DSP et le format audio. L'interface graphique fournit un choix de huit langues: anglais, français, allemand, espagnol, italien, russe, japonais et chinois et peut être affichée sur des images normales et 3D.
Playback in Different Rooms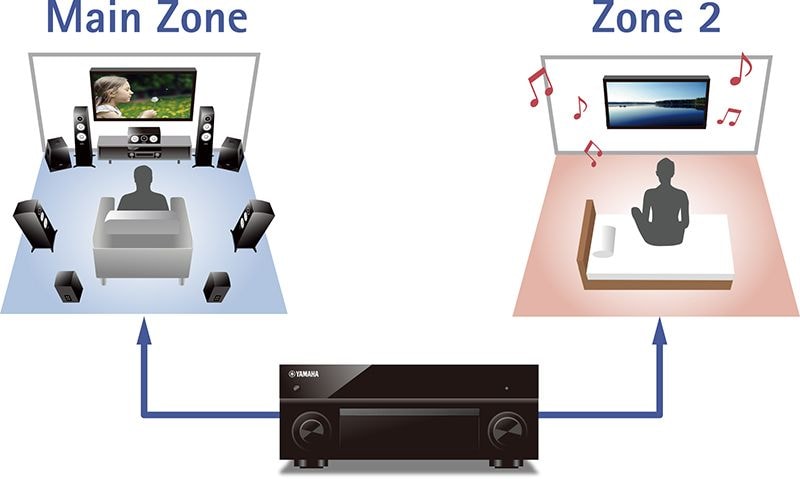 Playback in Different Rooms
HDMI Zone Switching
You can transmit the video or audio content to a TV or home theatre system in another room (Zone 2) via HDMI. This lets you enjoy viewing and listening to the same main room content (where the AV receiver is installed), or even different content.
Even Higher Quality Sound
Bi-amp Connection
This AV receiver features bi-amping capability, driving the treble and bass ranges of the front speakers (L, R) with independent amplifiers, making it possible to enjoy even higher quality sound from the front channels — an important consideration in home theatre setups.
Brilliant and Lively
Music Enhancer
The Compressed Music Enhancer from Yamaha is now optimised for Bluetooth audio transmissions to ensure that your music will have vivid, energetic sound quality during wireless playback.
Installez avec facilité
AV Guide d'installation
Cette application spéciale vous assiste avec les connexions par câble entre l'ampli-tuner AV et les appareils source. De plus, il vous guide à travers divers paramètres tels que les connexions des haut-parleurs, les connexions de téléviseur et d'appareil source et les assignations d'amplificateur de puissance.
Économisez de l'énergie de 20%
Eco Mode
Lorsque le mode ECO est activé, il peut réduire la consommation d'énergie d'environ 20% *, grâce à une conception d'économie d'énergie avancée. * Par rapport à la consommation d'énergie lorsque le mode ECO est désactivé (mesure Yamaha).