[CLP-785/775/745/795GP/765GP] How do I set up the Bluetooth Audio?
Last Update: 30-10-2020
Target products: CLP-785, CLP-775, CLP-745, CLP-795GP, CLP-765GP
*Depending on the region, some products may not be available.
The CLP-785, 775, 745, 795GP, and 765GP * feature Bluetooth audio function.
*Even these models may not support Bluetooth, depending on the country in which you purchased the product. If the Bluetooth logo is shown or printed on the control panel, this means that the product is equipped with Bluetooth functionality.
The Bluetooth audio function allows audio data from devices such as smartphones and tablets to be played wirelessly through the instrument speakers.
The specific connection methods are as follows:
Pairing with your smart device (smartphone, tablet, etc).
1. (CLP-785/775/795GP) Hold down the Bluetooth logo* for 3 seconds. (*See the picture below. )
(CLP-745/765GP) Hold down the [FUNCTION] button for 3 seconds.
The pop-up window will appear which indicates that the instrument is standing by for pairing.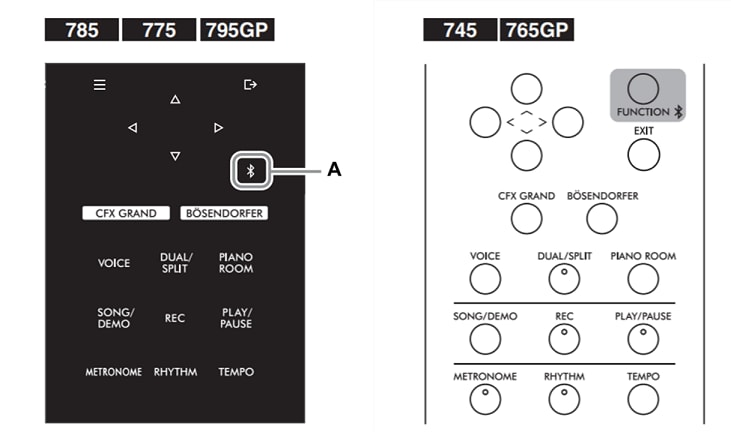 A: Bluetooth logo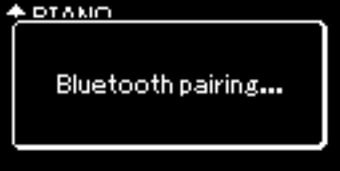 2. On the smart device, turn on the Bluetooth function in your smart device and select the model name "CLP-xxx AUDIO" (xxx is the model number) of this instrument from the connection list.
Example: Pairing CLP-785 with iPhone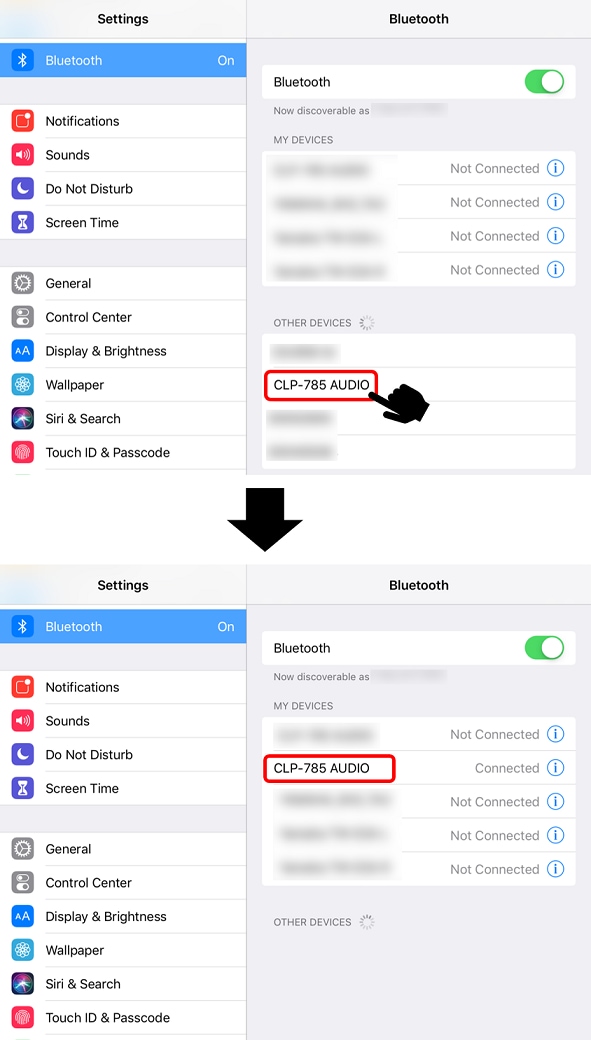 * Set up your smart device in less than 5 minutes.
* If you are prompted to enter a passkey, enter "0000" (four zeros).
* Please refer to the manual of your smart device for further instructions.
When pairing is complete, the pop-up window which indicates that the instrument is standing by for pairing disappears and the Bluetooth icon appears on the voice or song screens.

B: This icon means the instrument can receive audio data.
3. Play back audio data on your smartphone, tablet, etc., and verify that the instrument emits the sound.
* The volume of the audio data can be adjusted using the instrument's master volume slider.
* A smart device that has been paired with a instrument once does not need to be paired with the same instrument again.
* You cannot transfer the sound of your musical instrument to a smart device.
* You are not able to use Bluetooth headphones or Bluetooth speakers. For details, please see this Q&A.
Keywords for this question
Yamaha, Digital Pianos, Clavinova, CLP-745R, CLP-745B, CLP-745DW, CLP-745WA, CLP-745WH, CLP-745PE, CLP-775R, CLP-775B, CLP-775DW, CLP-775WA, CLP-775WH, CLP-775PE, CLP-785B, CLP-785PE, CLP-785PWH, CLP-765GP, CLP-765GPWH, CLP-795GP, CLP-795GPWH