[Digital Pianos] The pedals do not function.
Last Update: 15-4-2020
Target products: Digital Piano with 3-pedal unit.
The pedal cord may not be connected to the pedal jack or may be loose.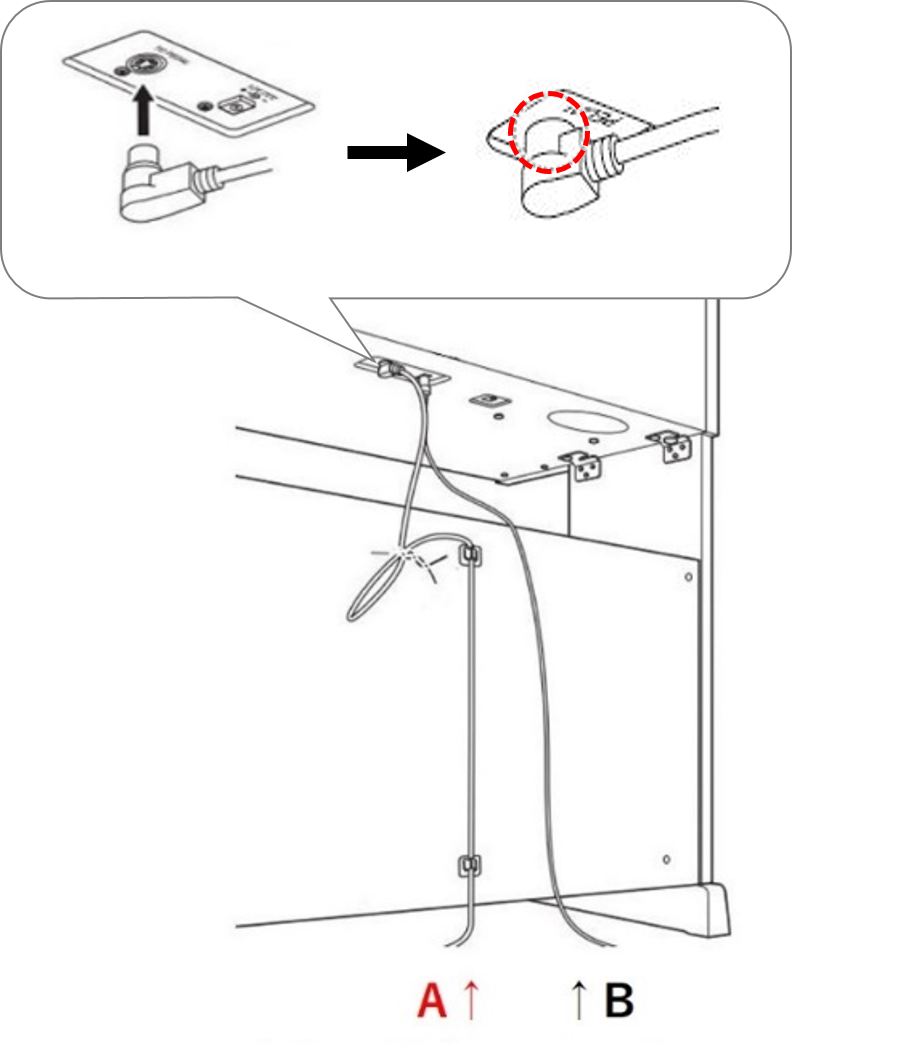 *The above figure is an example of Yamaha Digital Piano CLP/YDP series.
Pedal cord position
We recommend that you refer to the explanation of assembling in the owner's manual for the pedal cord position.
If you have lost the owner's manual, please see this Q&A.
If you can't find the pedal cord, please see this Q&A.
When the pedal cord is connected
Even if the pedal cord appears to be connected securely, disconnect the pedal cord from the jack and reconnect it.
-Operating procedure

Turn off the instrument.
Unplug the pedal cord (plug).
Insert the pedal cord securely until the metal part of the cord plug is no longer visible.
Turn on the instrument without stepping on the pedal and check the pedal operation.
Turning on the power while pressing the pedal may cause malfunction.
Keywords for this question
The sound sustains without stepping on the pedal, The sound doesn't sustain even when I step on the pedal, damper pedal not working, sustain pedal not working, digital piano pedal cable, digital piano pedal repair, does not function, cord may not be connected, Yamaha, Musical Instruments, Digital Pianos, Clavinova, CLP Series, CVP Series, CSP Series, ARIUS, CLP-625B, CLP-625PE, CLP-625R, CLP-625WH, CLP-635B, CLP-635PE, CLP-635R, CLP-635WA, CLP-635DW, CLP-635WH, CLP-645B, CLP-645PE, CLP-645R, CLP-645WA, CLP-645DW, CLP-645WH, CLP-665GP, CLP-665GPWH, CLP-675B, CLP-675PE, CLP-675R, CLP-675WA, CLP-675DW, CLP-675WH, CLP-685B, CLP-685PE, CLP-685PWH, CLP-695GP, CLP-695GPWH, CVP-701B, CVP-701PE, CVP-705B, CVP-705PE, CVP-709B, CVP-709GP, CVP-709GPWH, CVP-709PE, CVP-709PWH, CVP-805B, CVP-805PE, CVP-809B, CVP-809GP, CVP-809GPWH, CVP-809PE, CVP-809PWH, YDP-184R, YDP-164R, YDP-164B, YDP-164WH, YDP-164WA, YDP-144R, YDP-144B, YDP-144WH, YDP-S54B, YDP-S54WH