[RX-V385] How to pair with mobile (Bluetooth) device
Last Update: 28-8-2020
RX-V385 Bluetooth Pairing
1. Press the BLUETOOTH button on the remote.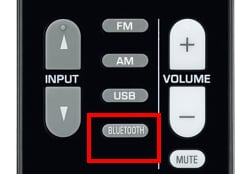 2. Press and hold the MEMORY button on the remote for 3 seconds.
"Searching..." appears on the front display.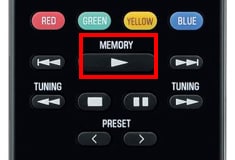 3. Access the Bluetooth function on the mobile device (phone, tablet, etc.)
4. Select the Yamaha receiver.
* If a passkey, passcode, PIN number, or similar code is required, enter the number "0000".
5. Play music on the mobile device (Bluetooth device) and check that sound is output from the speakers connected to the Yamaha AV Receiver. If there is no sound, please see the TROUBLESHOOTING section of the Online Manual from the below link.
URL: https://manual.yamaha.com/av/18/rxv385/
Section: TROUBLESHOOTING > When any problem appears > Bluetooth trouble
Keywords for this question
Yamaha, RX-V385 Bluetooth Setup Pairing, RX-V385, AV receivers, RX-series, AV amplifier