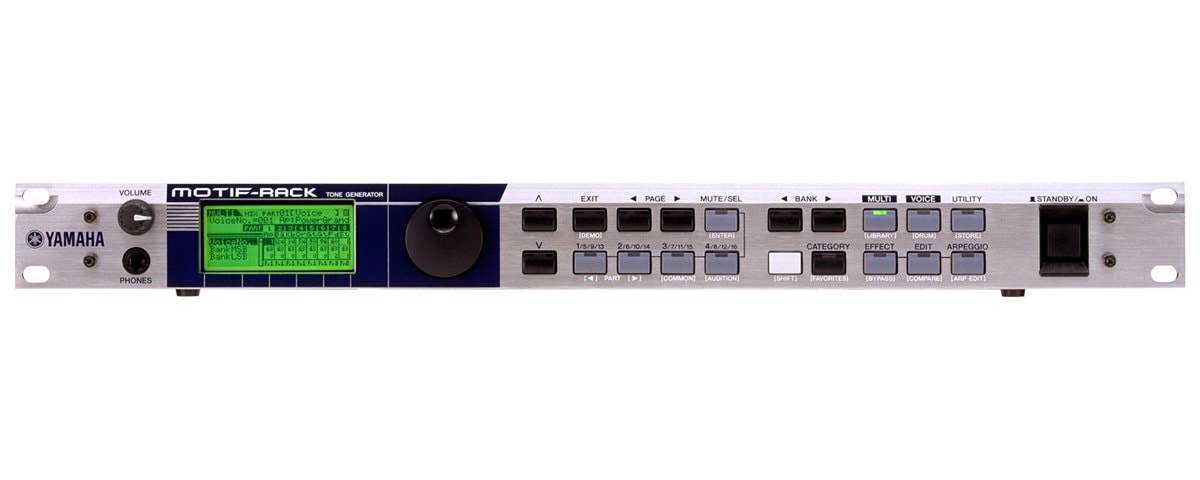 Wide Range Of Dynamic And Authentic Voices - In A Rack Mounted Tone Generator
A huge total of 896 normal voices and 59 drum kits - including most of the sounds from Yamaha's top-of-the-line Synthesizer MOTIF - give you whatever sound you need, for any musical style.Comprehensive effect processing, including Insertion effects for up to four parts, independent three-band Part Equalizers for each Part and high-quality Reverb effects, provides pro-level sound enhancement for your music creation and performance.
Large Selection Of Versatile Voice Sets For Instant Setups - Multi Library
The MOTIF-RACK also features a library of 124 different Multis, each specially programmed with its own effect, equalizer and other settings, and each designed particularly for a specific style of music or application. Since they are categorized according to music type, you can quickly and easily call up the settings you need. They also serve as convenient templates to create new, original Multis - just select a Multi, then tweak it and customize it as needed.
Simple, Intuitive Panel Layout
A detailed 160x64 dot graphic display provides comprehensive and easy-to understand control over virtually all operations. Use the PAGE buttons, cursor buttons, and the data dial to quickly and easily edit any of the parameters.
Easy, Wide- Ranging Sound Expansion - Plug-in Boards
Thanks to the two Modular Synthesis Plug-in System connectors and the optional Plug-in Boards, you can upgrade the MOTIF-RACK with completely new sound-processing engines. These Plug-in Boards give you more voices, more effects, more polyphony and more instrument parts. Plus, special Plug-in voices have already been programmed and stored to the MOTIF-RACK, ready to be played as soon as you install the proper board.
Wide Variety Of Output Terminals
Four ASSIGNABLE OUTPUT jacks let you output different Parts of the MOTIF-RACK to external devices and processors. Moreover, two digital output jacks (DIGITAL and OPTICAL) ensure completely noise-free, distortion-free sound output.Use the USB terminal to easily and directly connect the MOTIF-RACK to your computer. You can also conveniently edit the MOTIF-RACK's voices from your computer with the Voice Editor software for the MOTIF-RACK (included in the CD-ROM).