SWP1 Series Designer Interview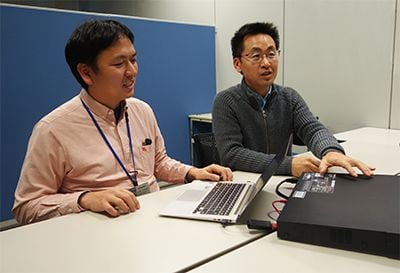 Digital audio networking is rapidly becoming an essential, convenience-enhancing element in live sound and other pro audio applications. Yamaha pro audio products with Dante audio networking capability, including the industry standard CL series digital mixing consoles, are leading the way. SWP1 series network switches are being introduced to take the evolution to the next level. The first Yamaha network router was introduced to the domestic market in 1995. Over the 20 years that followed, Yamaha brought IT and pro audio expertise together in some of the most innovative audio networking solutions available. In the following interview we discuss that background and some of the philosophy behind the SWP1 series network switches with key Yamaha pro audio designers.
Shinichi "Shaun Kamiya, Development engineer with the Yamaha Corporation PA Development Division, CA Mixer Group.
Profile: Joined Yamaha in 1998. After working in analog mixer development, was stationed in the U.S. in 2005 as technical representative for the promotion of digital mixers. Worked in amp and mixer product development after returning to Japan. In 2013 began working on product and hardware development for PA devices, specializing in digital mixers. Mr. Kamiya has been involved in development of the M2500, MX series, PM5000, MG series, M7CL48-ES, MY8-LAKE, TF series, and more.
Shunichi "Shaun" Kamiya, PA development division
Kotaro Terada, Engineer with the Yamaha Corporation PA Development Division, CA Mixer Group.
Profile: Joined Yamaha in 1999. Served as GUI design leader for a number of years. Currently oversees overall system design. Mr. Terada has been involved in the development of the PM1D, PM5D, M7CL, LS9, CL series, TF series, and more.
Kotaro Terada, PA development division
How did development of the SWP1 series begin?
Kotaro Terada:
Dante digital audio networking had been making significant inroads into the pro audio market, offering outstanding sound quality as well as convenience. But as system complexity increased, setup and operation became more difficult, and that could sometimes lead to problems. We wanted to make it easier for users to set up and operate a complex network, without requiring any specialized knowledge or skill.
Shunichi "Shaun" Kamiya:
We were also receiving numerous inquiries from customers who were considering our Dante equipped CL and QL series consoles. They wanted to know what switches to use for their systems. Although our company offers expertise in network technology as well as music and audio, Yamaha branded network switches were only marketed in selected regions at the time, and those switches were not fully configured for Dante operation. It was a frustrating situation.
Terada:
We believed that we could come up with a network switch that could be easily optimized for Dante operation while retaining the "network visibility" feature of existing Yamaha switches, plus the audio flow management functionality that is part of the Dante protocol. That would allow our customers to set up even complex Dante networks with ease and confidence.
Kamiya:
At the same time our Sound Network Division, the group that was developing our network switches, was also beginning to receive inquiries about Dante networking from customers, so their interest in how network switches were being used in pro audio applications was beginning to grow. In that sense our interest and goals began to align at an opportune time, and development of the new switches was begun.
What do you believe the role of network switches in live sound applications should be?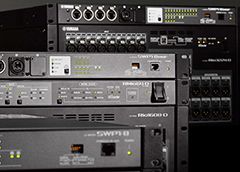 Kamiya:
Ideally, they should be seen as sort of a high-reliability cable. The people who design, set up, and operate live sound systems professionally don't want to have to think about additional devices. For them, ease of use and reliability are major factors in deciding what devices to use.
Terada:
Using the human body as an example, switches can be compared to veins and arteries. To maintain optimum health it is necessary to ensure that communication flow is unimpeded, with no bottlenecks anywhere, and to watch out for any unexpected changes.
Kamiya:
For that reason switches must offer a well-balanced set of features that allow easy setup and reliable operation. The SWP1 series switches are probably the only ones available that fulfill this requirement.
Terada:
SWP1 series switches used in conjunction with the Yamaha LAN Monitor application for Windows offer extremely versatile capabilities. You have the basis for a fully developed managed audio network.
Tell us about some of the areas you focused on in creating the SWP1 series.
Terada:
It was essential to provide initial settings or presets that would make setting up for stable Dante operation easy. The ability to monitor the communication bandwidth and other important status parameters for each port via the Yamaha LAN Monitor software was important too.
Kamiya:
On the hardware side, we used Neutrik etherCON and opticalCON connectors to ensure maximum connection reliability in demanding professional audio systems. The result was that the switches are a bit larger than similar 8-port or 16-port models, but the extra space made it possible to incorporate a +24 VDC input for power supply redundancy and use a quiet fanless design. We were able to create switches that are ideally suited for live sound applications.
Are the SWP1 switches the first network devices from Yamaha?
Kamiya:
Most of our customers know Yamaha as a musical instrument and audio equipment manufacturer, but in reality we offer a number of other product lines and services in Japan and a few other regions. Routers and other network devices are one example, having been on the market since the mid 90s. Our network devices include numerous features that facilitate network management and control. "Network visibility" is one of those features that has been inherited by the SWP1 series.
Terada:
We have been involved in the network device business for many years, but this is the first time a Yamaha network device has included easy optimization for sound systems, and the first time a Yamaha network device will be marketed worldwide. This is a new direction that we are determined to continue, with more system solutions that take advantage of Yamaha's strengths.
What was required to make network devices suitable for live sound?
Kamiya:
The Yamaha CL series consoles were the first to include Dante networking capability, and that led to a closer look at the requirements for audio networking. Soon after the CL series was released we began receiving inquiries from customers regarding the types and combinations of switches that should be used. It quickly became clear that network switches were essential to achieving maximum system reliability. There's the performance of the switches themselves, of course, but even more important is how a multitude of network switch functions and parameters need to be set up for stable operation. That normally requires some expertise. Another little known issue is that the power saving features of some switches can cause noise in audio networks. By combining the real-world audio networking needs revealed by the CL series with the "network visibility" technology that was already a feature of switches produced by our Sound Network division, a number of innovative solutions were devised. We would produce a switch that is optimized for Dante at the factory, with a preset that allows those settings to be recalled at any time. VLAN is another feature that can be a huge advantage in live sound applications, allowing Dante communication and other services to be isolated and handled on separate domains for maximum stability and reliability. VLAN setups would also be recallable via simple switch settings, and the VLAN status at each port would be indicated by panel LEDs rather than via an external computer and monitoring software. At the same time, the Yamaha LAN Monitor application for Windows computers would be available for comprehensive network monitoring as well as monitoring of the status of individual Dante devices. Many of the benefits offered by SWP1 series switches arose from the fact that they were created through the combined efforts of two dedicated teams.
Terada:
Dante communication consists primarily of a continuous audio stream for which consistent timing must be maintained. But in most LAN environments consistent timing cannot be guaranteed. To provide the necessary stability, time-critical communication must be given the highest priority and handled separately from other types of data. In SWP1 series switches the internal buffers and other functions are preset to meet Dante priority requirements, allowing stable audio transmission even when a large volume of data is involved. Since audio professionals are not necessarily network professionals, we have provided a number of VLAN presets that can simply be recalled to match specific use cases without having to deal with unfamiliar parameters or terminology.
"Network Visibility" seems to be an important feature. Please explain.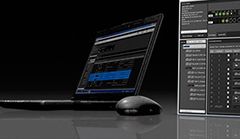 Kamiya:
The physical connections to a switch, information about the devices connected to the switch, the bandwidth utilization at each port, and other parameters can all be monitored from a single computer display. This makes it possible to see what devices are connected and where, without having to actually go to that location and check the wiring.
Terada:
Racks that contain a number of interconnected devices are a good example. It can be extremely difficult to get a clear picture of how everything is connected. Of course you can't see what's going on inside the cables either, and that can be unsettling when you need a system to run flawlessly.
Kamiya:
The snapshot function provided in the Yamaha LAN Monitor software for Windows can be used to take a snapshot of the network settings when they are properly set up. Then you can quickly compare the current settings with the snapshot settings and locate any unexpected changes. We believe that this function will be particularly valuable in sound systems. For example, you could take a snapshot of the system when everything is working perfectly during rehearsal. Then the software will alert you if a cable has been disconnected, power to a device has been turned off, or if you've made a wrong connection prior to starting the actual show on the following day. This will be a huge benefit for touring systems.
Terada:
Together, SWP1 series switches and the Yamaha LAN Monitor will allow operators to see their systems as they've never seen them before. They will have a clearer picture of overall system status, and will therefore be able to work with complete confidence.
What are the main benefits for customers?
Kamiya:
There's no need to worry about the system! (laughs)
Terada:
That's right! The most important benefit is confidence! Dante optimization and network visibility make setting up a Dante network much easier than it is when using conventional network devices, and you can be confident that your network will work as planned.
Kamiya:
Basically, any type of switch can be used in a Dante network, but we have found that a large number of customers struggle with this issue. The SWP1 series switches are perfect for them. SWP1 series switches can be used in audio networks of just about any scale, from the smallest to very large, complex systems that require optical fiber. The presets we have provided make it easy to use these switches right out of the box. And we have done extensive testing to ensure that they work flawlessly with Dante equipped Yamaha products. If a problem does occur, troubleshooting is easy.
Terada:
Unlike conventional switches, SWP1 series switches have etherCON connectors, which is another feature that makes them an excellent choice for touring live sound applications. Network redundancy, spanning tree protocol, and redundant power supply capability that reduce the risk of trouble due to cable disconnection or failure are other important features. And there's ease of use. Large, complex network setups involve a number of detailed parameters that, when conventional switches are used, must be checked and rechecked at each new venue. The SWP1 series switches include presets for commonly used VLAN settings built in. And with optical cables these switches can handle large outdoor events that require transmission over long distances. The range of potential applications is enormous.
What kind of customer response are you expecting, and do you have a message for your customers?
Terada:
We hope that our customers will find the SWP1 switches so easy to use and reliable that they become standard equipment. They are not showy products that stand out, but their contribution to ease of use and confidence will be huge. We really hope customers will try them and like them.
Kamiya:
The hardware processing capability of SWP1 series switches is at least one rank above the conventional switches currently used in Dante networks, and they are packaged with presets and software that make them easy for anyone to use in live sound networks. No specialized IT knowledge is required. We hope that, when a comparison is made with other switches, the choice is clear.