The reface development story
The reface development story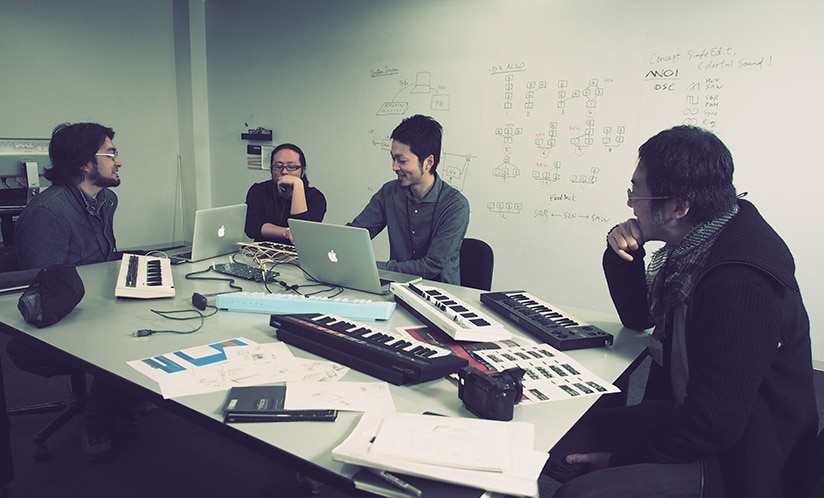 The reface development story
Hamamatsu, Japan

The reface series--acclaimed by keyboard players and music fans alike around the world for its compact size, usability, and authentic sound. What was the creative impetus that gave rise to this keyboard, which is designed around a wholly new concept? We asked the members of the development team.
Producer Yuji Yamada
Sound design Koichi Kashiwazaki
Software engineer Satoshi Morita
Product design Yoshihiro Katsumata
A story that began from a side project
* What was the inspiration for the development of the reface?
Kashiwazaki: Previously, we had had a chance to brainstorm on ideas for new products in-house, and I was called to listen to them. There weren't any other interesting people there at the time, so I called in Yamada and Morita.
Yamada: This was something vastly different to what I had been doing up until then; it was the first opportunity I had to present my own ideas, and I was able to come up with a concept for an instrument that I myself would want.
* What kind of ideas did the three of you come up with at the time?
Yamada: Well, at the time we called it "A small, casual, yet authentic instrument" which evolved to be a "casual yet authentic instrument"... then we thought about the fun in creating sound, and thereafter the ideas that were fundamental to the reface series emerged in the course of our conversations.
* Did the reface project begin from those ideas?
Kashiwazaki: All three of us had been responsible for the development of digital instruments other than synthesizers, but this idea was so interesting that we decided to start it off as a side project for ourselves.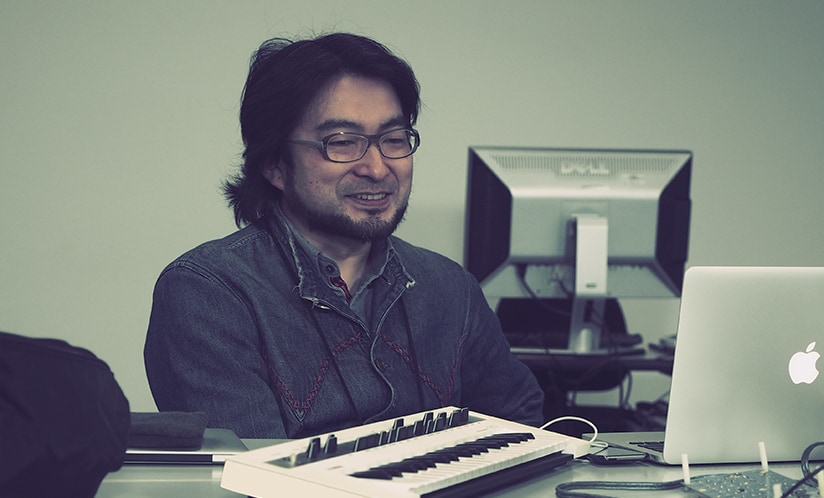 It was intriguing when we tried it.
* First, where did you begin?
Yamada: We only had vague images to begin with, so we decided to just go ahead and build a prototype that would give shape to our ideas. You see, we wanted to see if the image we had of the "small, casual, yet authentic instrument" actually had any value.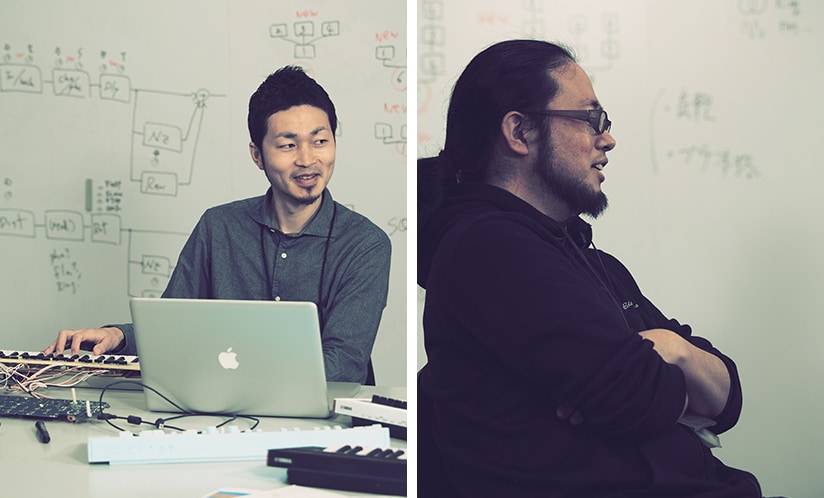 * How was the finished prototype?
Kashiwazaki: First, we created a prototype that would become the ancestor of the reface CS. We played it while doing a comparative evaluation, and really fell in love with it. The concept of using controls to create sound directly was a lot of fun.
Morita: We held evaluations with other people from inside the company who we thought would feel the same way, and since they all threw themselves into it for an extended period, we felt that we had a positive response. The CS doesn't have any presets, so each one of us was creating sounds from zero, and coming up with something completely different. That intrigued us, and led us to a range of new ideas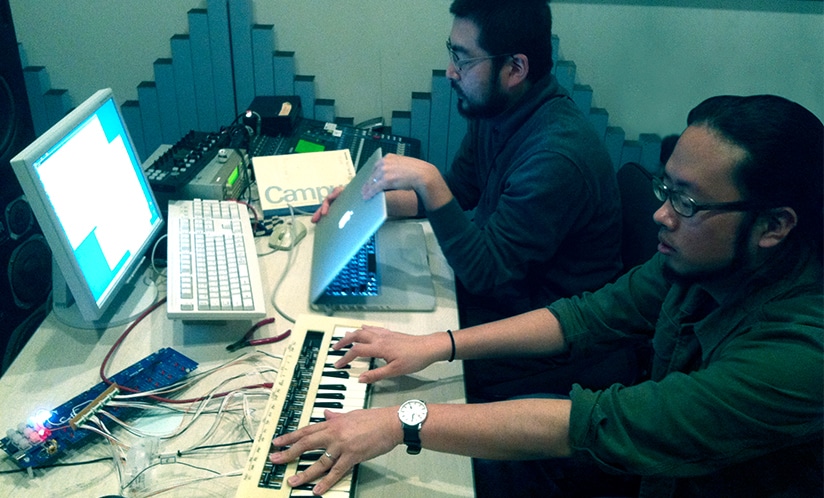 * What kind of things were you able to test in the prototype?
Yamada: The most significant thing was that we were able to see for ourselves that our "small, casual, authentic" concept would work.
Giving form to a concept
* What did you do next?
Morita: Since we had already solidified the basic concepts in the prototype, we e-mailed a friend of mine who had been working in the Design Laboratory at the same time, asking him if he could give help us out, even if only through a conversation.
Katsumata: One of the more junior staff members at the Design Laboratory came to me saying, "Hey... I've just received this email..." That was the e-mail from Morita. When I read it I was struck by how interesting the project seemed, and I immediately went to hear what they had to say. Then, when I actually got my hands on the prototype it was a lot of fun—what they were trying to do was unique, and most of all, it was really easy to figure out. I really wanted to do it.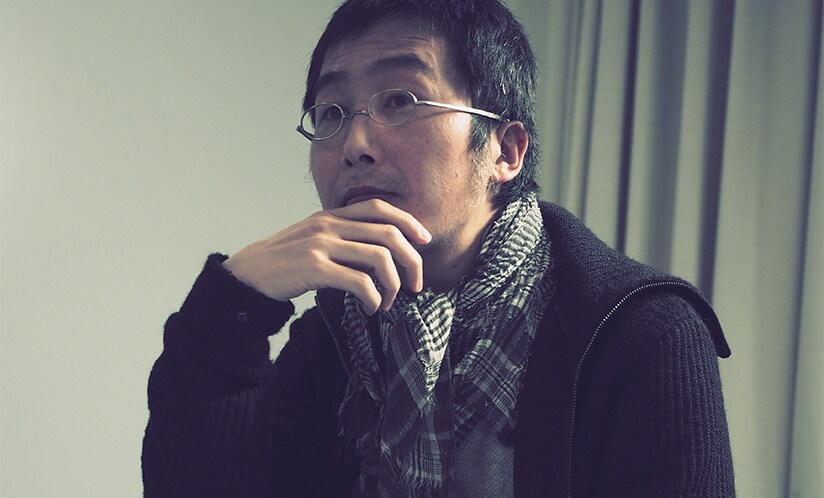 Yamada: The reason we wanted a designer on the project before the product actually took shape was because we wanted them to be involved with the reface right from the creation of the series' concept. I began my part by participating in meetings where we looked at blue mock ups shaped from polystyrene and debated what exactly a "casual size" would be. We gathered regularly for meetings until eventually the design mock up for the reface was complete. I looked forward to every meeting in the process of turning our image into something concrete.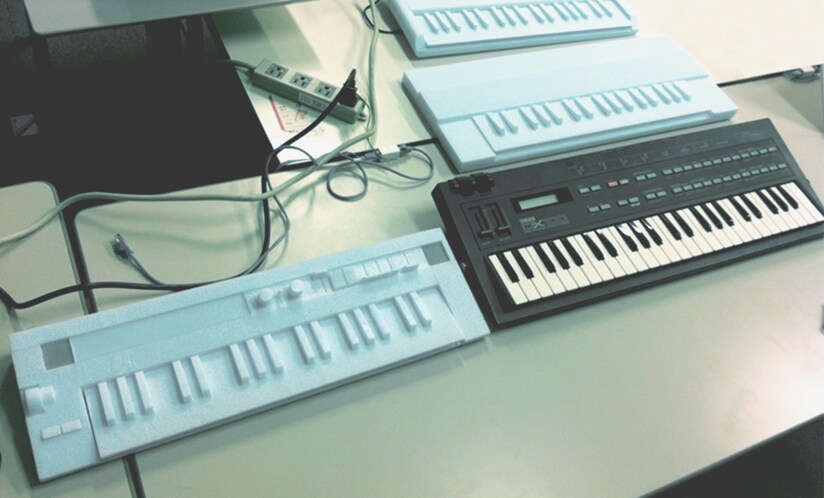 * What steps did you move on to after the design mock up?
Yamada: We had the sound, and the design was coming together, so we decided that next we had to turn that design into a form that actually worked—in other words, a working prototype. That was when we began getting other people from inside the company involved.
* What kind of things did you do?
Kashiwazaki: Around that time we were taking every chance we had to show off the reface inside the company. We made presentations at marketing meeting attended by Yamaha staff from around the world, and received some amazing reactions. At first our presentations were just standard affairs where we showed threw up some slides on a screen and talked about the reface concept, but then we began just saying, "Look, this is what we're talking about," and showing people the actual design mock ups. That would be greeted by exclamations of approval, and people would get really excited. That response gave us confidence that we were on the right track.
Making the most playable mini-keyboard in the world!
* And then you received the go-ahead?
Yamada: When you've come this far, people understand the attraction of a product. This was when we entered the phase of turning the reface into a commercial product.
* What was the most difficult thing about the commercialization process?
Yamada: There were a lot of things, but by far the most difficult was the development of a new mini-keyboard.
Kashiwazaki: The precision of the mini-keyboard was absolutely crucial in allowing us to realize the reface concept of "compact but authentic." If the first thing you feel when you touch the keyboard is disappointment, then your biggest impression is going to be that the product is just a toy. That's why we decided that the reface needed to have the most playable mini-keyboard in the world.
Morita: When we collected together some of the mini-keyboards that were on the market to try them out we found that there were both good and bad ones available. I don't play keyboards, but even so I could tell the difference immediately.
Yamada: We knew that it would take time to develop a new keyboard, so we were researching mini-keyboards from the very early stages of development. Generally, mini-keyboards are seen as being educational instruments for use by children with small hands, but there are many artists who use them for live performance, as well as a great many professional melodica players. We wanted to create a mini-keyboard of a level that that we could offer as a proposal for a "new interface" for the reface.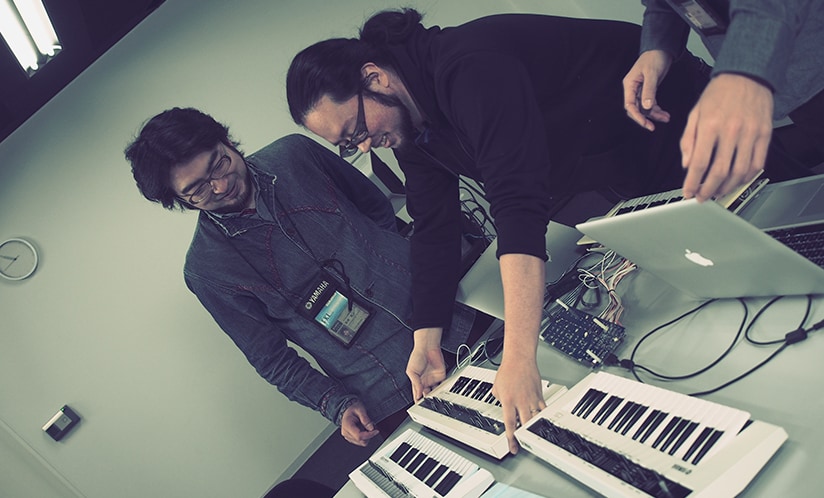 * What were the problems with the existing mini-keyboards?
Yamada: First of all, their feel. With a conventional mini-keyboard, the initial touch is light, and gets heavier the harder your press. Conversely, with keyboards such as the FSX that are said to have a good "drop," if you will, the keys sort of drop straight down when you play them. The other problem with mini-keyboards is that you can't play chords—it's difficult to play on the backs of the white keys.
* How did you overcome such problems?
Yamada: I can't really talk about this without the keyboard development team here, but I worked with them as we started our research right from zero. We put together all of the know-how that the keyboard development team had accrued thus far, and underwent a repeated cycle of trial and evaluation. Furthermore, with regard to the shape, we designed the reface without being overly influenced by the shapes of the keys of a piano or an organ, instead working with the designer to rethink them from the ground up. As a result, from the point of view of playability and design, the keys of the reface keyboard are longer than other mini-keyboards seen to date, with slightly rounded upper surfaces designed to allow techniques such as glissando.
From expectations to reality
* When it came to commercialization, did you face different challenges from those encountered before?
Yamada: At the prototype stage it was enough that the instrument exceed our expectations, so we were able to talk about how things "should be." However, when it comes to turning something into a commercial product, you have to face up to a number of realities. "Do we really need speakers?" for example. This was one opinion we ran into, but we were worried that if we simply removed the speakers from a product like the reface, which offered new and different values, the concept and message of the product would change, and indeed, it might end up offering no value at all. That's why we kept what we thought needed keeping.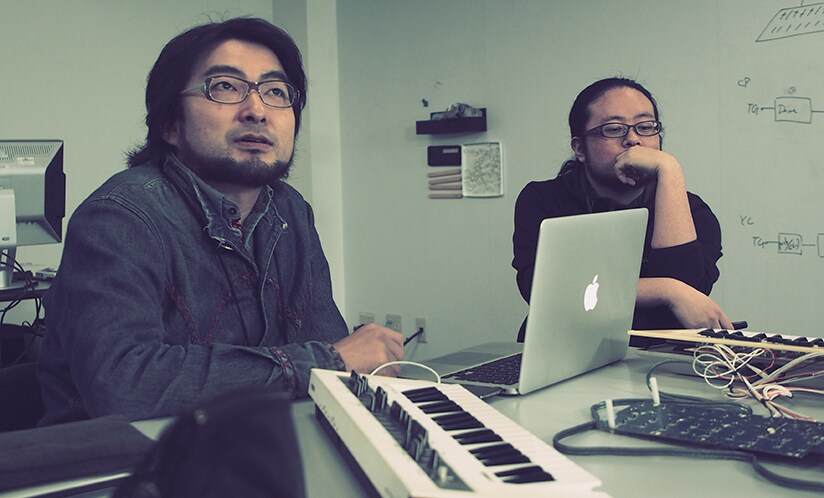 * What difficulties did you have with the design and its implementation?
Katsumata: All of the upper and lower cases of the panels used in the reface series are the same. Depending on the model, the panels feature knobs and sliders, or an LCD in the case of the DX, and we had to devote a great deal of attention to constructing cases that all of the models could use as standard. The bosses also differed for each model, and since there were many holes in the cases for these bosses, it was extremely difficult to make them in a manner that would still allow each model to use the same case—it was like a puzzle.*Bosses are the screw or nut holes that allow multiple parts to be assembled together. They are used to match part positions when using different parts in combination with each other.
Yamada: There were a variety of changes made throughout the process of commercialization, but Katsumata was at our sides every day, following up on even the finest details.
Katsumata: While it's a given for the designer responsible to be involved in the development process, it's also awkward to criticize every problem that crops up. Because at that stage, the only thing a designer can say is, "Let's start over again." But Yamada really showed me a lot.
Yamada: We felt that in a polished design like the reface, compromising on even a single part would undermine the product, and so we asked the designers to look at it so frequently that it was almost embarrassing. I think that it was because we set the initial hurdle so high that we were able to create a product that we were satisfied with.
A message to reface users
* Lastly, as the developed of this instrument, how would you like users to enjoy the reface series?
Morita: If possible, I would like people to try playing the reface while relaxing on the sofa with the instrument on their knees. The speakers are angled so they face the player's ears when the instrument held in this way, something which I think results in a high-quality sound.
Kashiwazaki: On my days off I enjoy playing while lazing on my sofa with the reface on my stomach (laughs). It's the ultimate way to relax—time that really helps be to revitalize myself.
Yamada: Since the reface can run on batteries, I'd like users to take it with them when they leave their homes, and I that the fact that these instruments all have speakers means than people can enjoy it in a similar manner to say, an acoustic guitar.
Katsumata: From the standpoint of product design, every inch of the reface series has been carefully designed, and it is this aspect that reflects the intentions of the designer. I think that the reface has turned out to be a really good design, and in fact I don't want to point out anything particular that I want people to look at—I'd rather people find out for themselves. When I look at videos on YouTube, etc., that people who bought a reface have made of themselves playing, I notice that smart people shoot their videos low and from the side, and I find myself thinking, "That's right! That's where it looks best from!" (Laughs). Whether it's the curved surfaces of the keys or the shape of the slides, we've taken care with every detail of the reface, and we hope that you'll find a lot that's cool, and a lot to love about this instrument.
Check out some of the developers' favorite sounds here on Soundmondo!
The reface development story