Tony Kanal's Dream Car BB
Tony Kanal's Dream Car BB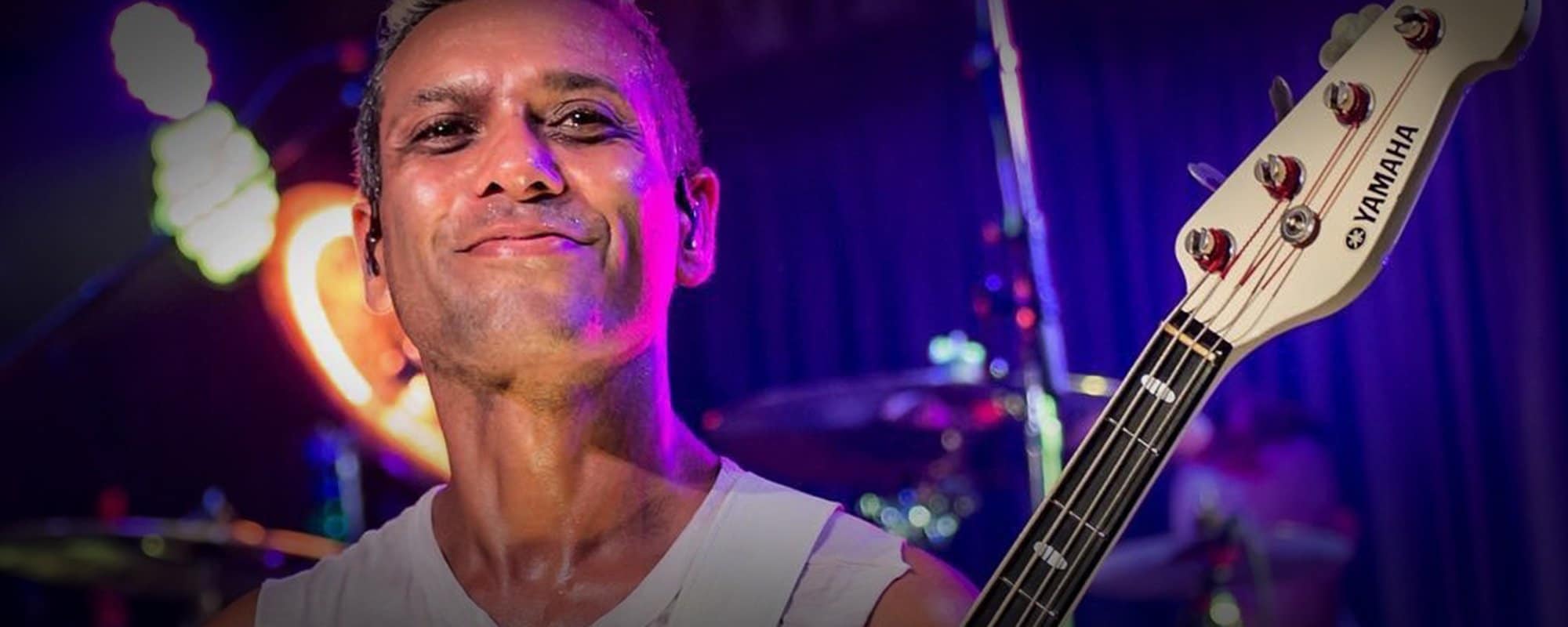 Tony Kanal's Dream Car BB
Tony Kanal's relationship with Yamaha is a special one – one that the company is sincerely proud of. In 1987 he borrowed money from his father to buy his first bass – a natural finish BB1600 – to play shows after school. Since then, Kanal has enjoyed more than two decades with legendary ska/rock band No Doubt, and currently performs with his new band DREAMCAR. From his first BB1600 to the new custom BB3000 he comissioned especially for DREAMCAR, Kanal has always been killing it with a BB series bass in hand.
DREAMCAR consists of Kanal on bass, his former No Doubt bandmates Adrian Young and Tom Dumont on drums and guitar, and Davey Havok of AFI on lead vocals.
"Davey and I would see each other in similar circles in Los Angeles – we eat at the same places and go to a lot of the same shows," said Kanal. "Our bands had crossed paths in the past, so I proposed to Tom and Adrian that we ask Davey to collaborate and they were totally into it. We invited Davey to dinner and asked if he would be interested in working on music with us. He said yes!"
"We gave him four initial ideas, and within a couple of days he sent back all four with his own ideas and we were like, 'whoa, there's something really cool here,'" continued Kanal. "So then we all went in the studio, which was a really creative and freeing experience – we had so much fun doing this."
The quartet released their 1980s-inspired debut DREAMCAR in spring 2017, followed by an intensive U.S. Tour, including spots on the Coachella and Austin City Limits bills to name a few. Starting fresh with a new band has also given the guys a chance to return to the smaller club circuit, something they're excited about.
"It's been a long time since we've played club shows," said Kanal. "We recently did a couple of shows at the Roxy in Los Angeles – the last time we were on that stage was 22 years ago! So it had been a long time. It's awesome to play big shows, but there's also something special about intimate shows with all of the energy that is contained in small venues. It's been nice to get back there again. Some of the stages are so tiny so you have to be really careful you don't knock your band mates off the stage!"
To mark this new era in his musical journey, Tony reached out to Yamaha about a special project with a vintage Yamaha bass. Yamaha was thrilled to help celebrate this new project, and worked closely with Tony to realize his vision.
The bass Tony chose for this project was a 1984 BB3000, and the goal was to match the bass's visual design to the DREAMCAR artwork, designed by Duane Diebolt, a talented artist operating under the name Master Control Program.
Kanal is absolutely thrilled with the resulting collaboration, and Yamaha is proud to bring his vision to life with a gorgeous DREAMCAR custom BB3000.
"I just love how the collaboration with Yamaha turned out," concluded Kanal. "Thanks to their awesome custom shop, not only does my BB3000 play and sound great, now it looks amazing too!"
Learn more about DREAMCAR, check out these sites:
Tony Kanal's Dream Car BB