Yamaha Expands Sound Bar Lineup with New Space-Saving Compact Sound Bar and Enhanced Fan-Favorite
Yamaha Expands Sound Bar Lineup with New Space-Saving Compact Sound Bar and Enhanced Fan-Favorite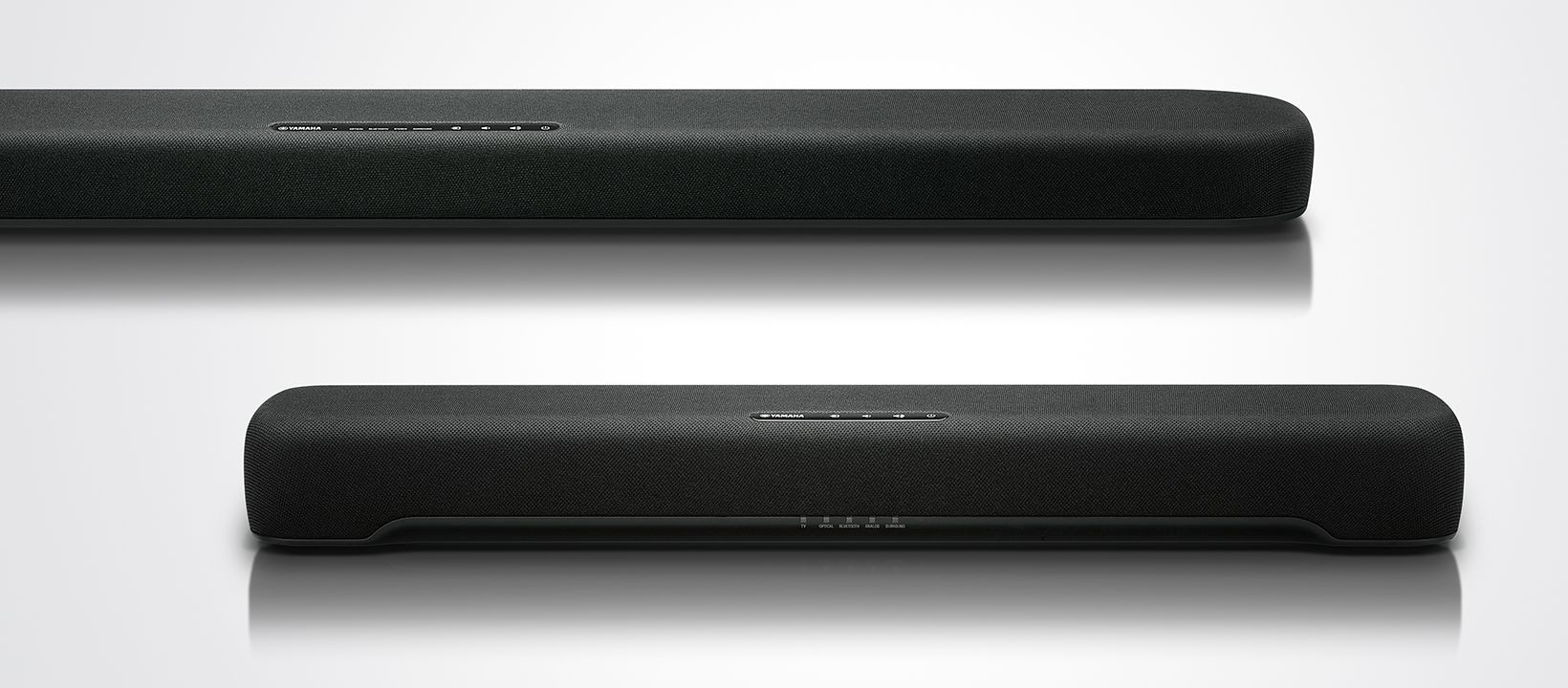 Toronto, Canada. (August 18, 2020) —Something's been missing for millions at home who are looking to unwind with their favorite movies and shows. It's the details and the dialogue, trapped inside their tiny TV speakers. Starting today, there's never been a better time to do something about it.
Yamaha is expanding its range of sound bars by adding two new models, the SR-C20A (C20A) and SR-B20A (B20A), to the start of its lineup. These new sound bars make it easy to feel every moment from home – from on-demand video and music streaming services to battle royale games and more. Each features a slim profile, simple setup and uncompromising sound to satisfy any space or budget.
Yamaha enters the compact sound bar market with the C20A, designed to fit any space without sacrificing sound or specs. At just 23" / 60cm long and 2.5" / 6.4cm high, the C20A is designed to fit modern life where space is limited, including gamer stations, bedrooms, offices, playrooms and dorms. It can discreetly fit in front of any screen without obstructing the action or be easily wall-mounted.
The C20A distinguishes itself from other compact sound bars with its focus on audio and connectivity. Powerful sound is delivered from a built-in subwoofer and dual passive radiators. The combination is a rarity in the realm of compact sound bars, exerting a surprising amount of bass, especially given its size. Four customizable sound modes (standard, stereo, game, movie) are available, in addition to a virtual surround mode. The breadth of connection options also differentiates the C20A from other compact sound bars, with HDMI ARC, optical and aux to connect and control the sound bar with your TV remote, leaving no source unconnected.
The award-winning tradition of fan-favorite sound bars from Yamaha continues with the B20A, building off of the success and admiration of the YAS-108 while incorporating enhancements to complement thin TVs and their shrinking speakers. This includes dual built-in subwoofers in the B20A, which have been redesigned for richer and clearer bass, plus DTS Virtual:X, which imparts even more realism into movies and games. Aesthetically, the B20A sports a new shape and slim profile, with sleek, deep black fabric and larger, dimmable LEDs for visibility of sound bar functions and adjustments.
adjustments. "You no longer need to break the bank or sacrifice space when you're ready to complement your 4K display with stunning sound," said Yoshi Tsugawa , Senior General Manager, Home Audio Division, Yamaha Corporation Japan. "Whether it's the C20A or the B20A, these new sound bars are more than just a first step to take you beyond your built-in TV speakers. They put you directly on the path to more immersive entertainment to feel True Sound in any room."
In addition to their numerous sound modes, including virtual surround sound, both the C20A and B20A feature Clear Voice technology, a Yamaha fan favorite, for enhanced dialogue clarity.
Along with control by an existing TV remote (when connected via HDMI), each sound bar comes with its own remote and is supported by the Sound Bar Controller App for smartphone control. Easy access buttons on top of the C20A and B20A allow for quick control of volume levels, sound modes and input selection on the units themselves.
Both sound bars can be placed on a cabinet or shelf, or wall-mounted via the built-in keyholes. No additional bracket is required.
Connections: HDMI ARC, Optical (x2), Analog stereo mini input for gaming consoles and other portable devices, Bluetooth (including multi-point functionality to switch between devices, including Alexa)
Speaker drivers: 2 full-range, 1 subwoofer, 2 passive radiators
Sound modes: Stereo, Standard, Movie, Game
Clear Voice for dialogue clarity
Dolby Digital and Virtual Surround
23"/ 600mm wide and 2.5" /64mm tall; tabletop or wall-mountable
Connections: HDMI ARC, Subwoofer Out, Optical (x2), Bluetooth (including multi-point functionality to switch between devices, including Alexa)
Speaker drivers: 2 tweeters, 2 full range, 2 subwoofers
Sound modes: Stereo, Standard, Movie, Game
Clear Voice for dialogue clarity
Dolby Digital, DTS Digital Surround, DTS Virtual:X
35 7/8" / 910mm wide and 2 1/8" /53mm tall; tabletop or wall-mountable
Yamaha Expands Sound Bar Lineup with New Space-Saving Compact Sound Bar and Enhanced Fan-Favorite