Yamaha Professional Audio Technology Does Double Duty at Winter NAMM 2020
Yamaha Professional Audio Technology Does Double Duty at Winter NAMM 2020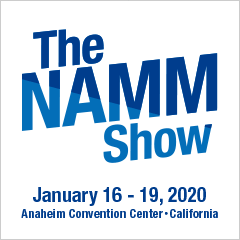 Yamaha professional audio products will be on display — and in action — at the 2020 Winter NAMM Show. Inside the Anaheim Marriott's Marquis Ballroom and Elite Lounge, more than 34,000 square feet of Yamaha exhibit space will include the company's full line of digital mixing consoles, amplifiers and loudspeakers, plus the latest audio production tools from Steinberg Media Technologies and loudspeakers from NEXO, both Yamaha companies.
NAMM 2020 marks the first time Yamaha is presenting every major event on the outdoors Grand Plaza stage. Yamaha RIVAGE PM10 consoles and NEXO amplifier and loudspeaker systems will power every aspect of the sound for the stage's three concerts featuring top artists such as acclaimed singer/songwriter Sarah McLachlan and the legendary horn ensemble Tower of Power. Yamaha commercial audio will also drive the sound for the NAMM Night of Worship, presented by Yamaha and featuring award-winning contemporary worship music artist Michael W. Smith, to be held in the Anaheim Hilton.
Yamaha will announce new products at the show and host ongoing sessions on console technology and trends. NAMM attendees will also experience demonstrations of updated existing models including the RIVAGE, CL and QL series digital mixing consoles, the STAGEPAS 1K portable PA system, the NEXO point-source P12/L15 loudspeaker systems, DZR series loudspeakers with expanded Dante audio network connectivity and the latest versions of Steinberg's Dorico, Cubase and WaveLab software.
"NAMM 2020 will give the industry a unique and up-close view of the full power of Yamaha pro audio," said Glenn Booth, director of marketing, Yamaha Professional Audio department. "They can first learn about the technologies in our exhibit space and demo rooms and then hear them live just as if they were at a concert or worship service, since these are the same systems used worldwide for every possible live and installed sound application."
The Yamaha RIVAGE PM, CL and QL series digital mixing consoles offer sound engineers the combination of features they need including comfortable ergonomics, easy-to-navigate menus, the ability to save and easily recall settings and enough inputs/outputs to support any type of performance. Ongoing firmware updates for each series continually add new features to deliver expanded routing capabilities, increased access to settings and scene parameters, wider plug-in support and enhanced control over loudspeakers and microphones.
NEXO is highlighting the P12 compact multi-purpose loudspeaker, the company's first 12-inch enclosure ideal for a diverse range of sound reinforcement applications. Users can pair the P12 with the L15 subwoofer cabinet, specially designed in a matching footprint to make it ideal for flown applications or for use as a drum fill. With a new acoustic load using a 15-inch bass horn, the L15 is designed for maximum efficiency and output, as nearly the entire front face of the cabinet is a radiating surface.
NEXO is adding the high-power NXAMP4x4mk2 controller/amplifier to its NXAMP series of power and processing solutions. The new flagship model represents the most powerful amplifier in the range, delivering 3,300 watts per channel in four Ohms and 4,500 watts per channel in two Ohms. Weighing about 55 pounds in a sleek 3U package, the 4x4mk2 is smaller and delivers 12% more power than its predecessor.
The Yamaha STAGEPAS 1K is an all-in-one portable PA system driven by a high-frequency array speaker powered by a 1000 W Class-D amplifier and packed with 10 small-diameter 1.5-inch drivers for professional-level accuracy and clarity. Unique to the STAGEPAS 1K system is a five-channel digital mixer with three channels of mono microphone/line inputs and stereo inputs. The free STAGEPAS Editor iOS/Android app lets users adjust volume and EQ remotely.
Steinberg Media Technologies recently launched new versions of Dorico, Cubase and WaveLab software, with each on display at NAMM 2020.
Dorico Pro 3 and Dorico Elements 3 add customizable playback templates and new features for automatically producing a condensed conductor's score (Pro only), and support for tablature, guitar notation and harp pedal changes.
WaveLab 10 improves its audio mastering, editing and refinement workflows with the addition of video playback support, extended external effects, reference track and enhanced undo/redo, among other features.
Cubase 10.5 combines sophisticated audio/MIDI tools with pristine audio quality to deliver one of the most advanced DAWs available today.
Steinberg is also highlighting its UR-C series USB audio interfaces featuring 32-bit/192 kHz audio resolution with connectivity via USB-C and USB 3.1 Gen. 1 SuperSpeed USB to any Windows and Mac computer, as well as to iOS devices.
Complementing the product exhibits are informational and hands-on sessions hosted by Yamaha technical specialists Chip Allen and Chris Hinson, who will cover the features, functions and design of the RIVAGE PM10, CL and QL digital mixing consoles and give attendees time to mix a project on the consoles.
Session Schedule (each held in the Anaheim Hilton's Capistrano Room)
Thursday, January 16, 2020
RIVAGE PM Series Digital Mixing Console Operational Overview
10:00 to 11:00 am — Console Layout, System Navigation and Q&A
Analog Sound in a Digital World
11:00 am to 12:00 pm — Explore the Hybrid Mic Preamplifiers, Processors, and Plug-ins of the RIVAGE PM10
RIVAGE PM Series Theatre Mode Overview
2:00 to 3:00 pm — Console Layout, System Navigation and Q&A
RIVAGE PM Series Digital Mixing Console Lab
3:00 to 5:00 pm — Open Q&A and Hands-On Session
RIVAGE PM Series Digital Mixing Console Operational Overview
10:00 to 11:00 am — Console Layout, System Navigation and Q&A
RIVAGE PM Series: Plan for Productivity
11:00 am to 12:00 pm — Mold the RIVAGE PM10 Workflows to Fit Your Needs
RIVAGE PM Series: Theatre Mode Overview
2:00 to 3:00 pm — Console Layout, System Navigation and Q&A
RIVAGE PM Series: Digital Mixing Console Lab
3:00 to 5:00 pm — Open Q&A and Hands-On Session
Saturday, January 18, 2020
CL/QL Series Digital Mixing Console Operational Overview
10:00 to 11:00 am — CL Console Layout, System Navigation and Q&A
Friday to Sunday: Practical Mixing Tips for Up and Coming Engineers
11:00 am to 12:00 pm — CL Series Digital Mixing Console Tips and Tricks
Another Round of Applause: Repeat
2:00 to 3:00 pm — Virtual Sound Check and Advanced Workflows
CL Series: Console Lab
3:00 to 5:00 pm — Open Q&A and Hands-On Session
The related events during NAMM Show
Yamaha Professional Audio Technology Does Double Duty at Winter NAMM 2020