Yamaha Announces FG Red Label Acoustic Folk Guitars
Yamaha Announces FG Red Label Acoustic Folk Guitars
Yamaha® FG Red Label folk guitars combine the essential aesthetics of the original '60s-era Yamaha FG guitars, with the innovative new AtmosfeelTM pickup system, to create instruments that are at once cutting edge and timeless.
TORONTO, Ontario.
(April 25, 2019) —

Yamaha today introduced the FG Red Label folk guitar line, expanding the award-winning FG series with eight new models in FG Western and FS Concert body sizes. Designed in response to the needs of contemporary singer/songwriters, FG Red Label guitars provide a warm and well-balanced acoustic tone, a remarkably natural-sounding pickup system, and elegant-but-understated aesthetics rooted in tradition. FG Red Label guitars were created to complement any voice and inspire any vocalist, whether played during a solo performance or with an acoustic band.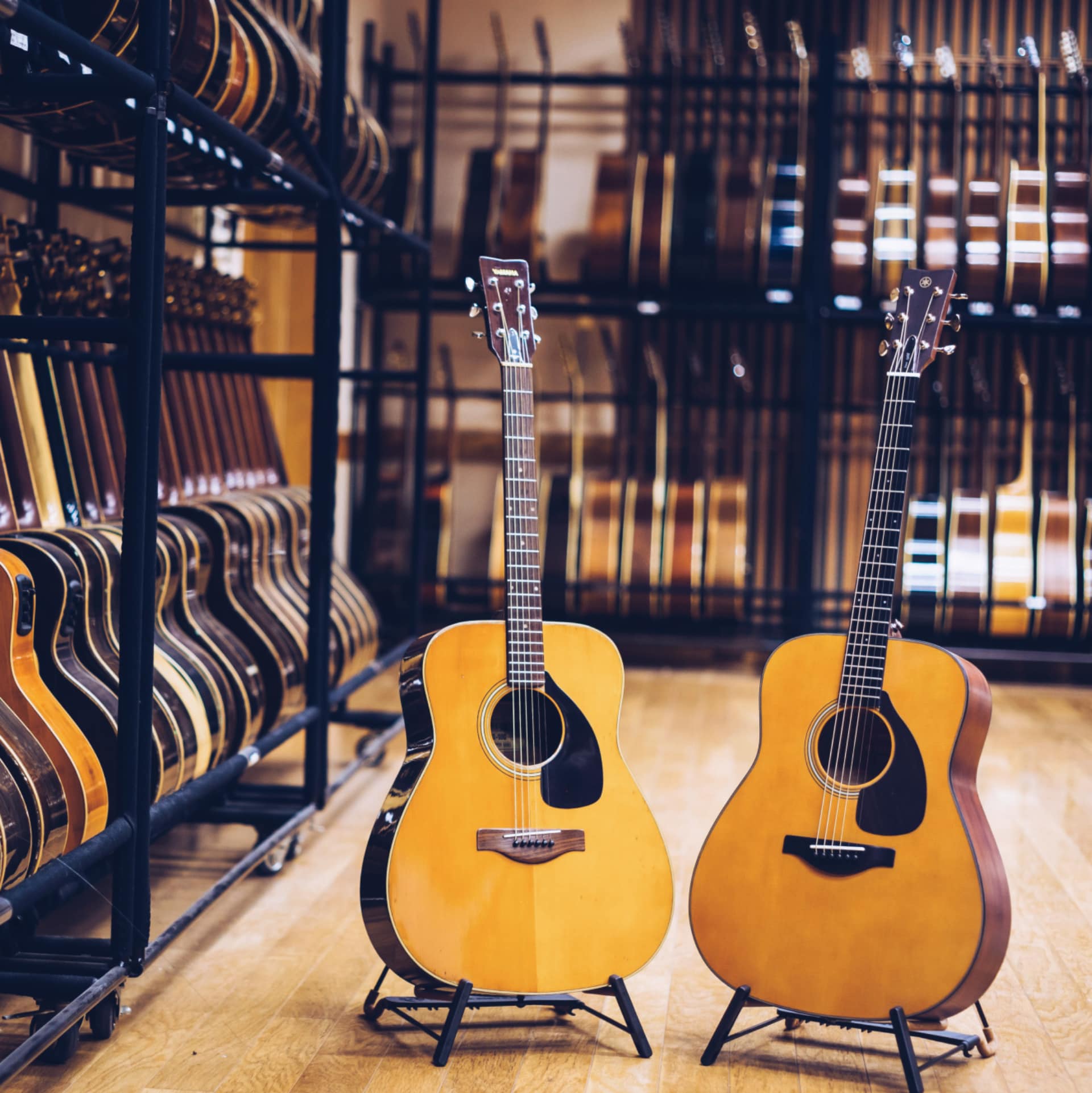 "Yamaha's 'red label' folk guitars from the 1960s have inspired countless guitarists with their warm tone and timeless design—and new FG Red Label guitars capture the essence of that iconic sound and look," said Osamu Ito, Yamaha Brand Director, Yamaha Guitar Group, Inc. "FG Red Label guitars are built using premium components, and their traditional semi-gloss finishes instantly recall the golden age of folk guitars."
FG Red Label guitars feature premium-grade Sitka spruce tops and mahogany backs and sides. The tops are treated with Yamaha's Acoustic Resonance Enhancement (A.R.E.) process, which imparts the tone and sustain characteristic of genuine aged wood. A new proprietary scalloped bracing pattern results in deeper lows and richer harmonics. Vintage-style headstocks are matched with chrome Gotoh open-gear tuning keys and fitted with custom "Since 1966" truss-rod covers. Naturally, renowned Yamaha craftsmanship is evident throughout.
FGX and FSX model FG Red Label guitars include Yamaha's unique new Atmosfeel three-element pickup and preamp system, providing uncolored natural acoustic sound when the guitars are amplified. An under-saddle piezo pickup transmits low frequencies, while high frequencies are transmitted by an innovative new top-mounted transducer that is extremely sensitive to vibration. An internal microphone captures midrange and low-mid frequencies, which may be added using the Mic Blend control. There are also controls for Bass EQ and Volume.
Grounded in tradition, yet incorporating groundbreaking Yamaha technologies, Yamaha FG Red Label guitars offer a new generation of guitarists the best of both worlds.
Pricing and Availability
The FGX5 and FSX5 (MSRP: $2,300.00), the FG5 and FS5 (MSRP: $1,950.00), the FGX3 and FSX3 (MSRP: $1,560.00), and the FG3 and FS3 (MSRP: $1,200.00) are now shipping.
For more information, visit:
ca.yamaha.com/en/products/musical_instruments/guitars_basses/ac_guitars/fg_redlabel/index.html
ABOUT YAMAHA GUITARS
—
Yamaha began manufacturing guitars in the 1940s and began exporting them to the world in 1966. First, in the 40's, came nylon-string classical acoustic guitars, but it was 1966 that proved to be a particularly impactful year for Yamaha guitars. Introduced, at that time, were SG electric guitars, SB electric basses, FG steel-string acoustics, and a guitar amp. Numerous other offerings have followed, ranging from amps and effects pedals, to an ever-growing range of high-quality guitars, such as the SG, BB, FG and Revstar® families. Over time, the brand has expanded such that that Yamaha now builds some of the best-selling acoustic guitars on earth; over a million people a year are transformed into acoustic guitar players by virtue of acquiring their first Yamaha. Yamaha is also no stranger to innovation in the guitar space. For example, 2017 saw the launch of the TransAcousticTM guitar—a unique new category of hybrid acoustic guitar offering onboard reverb effects to provide a more engaging and inspiring playing experience.
Yamaha Announces FG Red Label Acoustic Folk Guitars