2019 marks the 50th anniversary of Yamaha Canada Music
From our humble beginnings in Winnipeg to our head office in Toronto, and satellite offices across the country, Yamaha has solidified its place in Canadian music history. Be a part of celebrating this momentous milestone, and join us as we look toward the future.
Yamaha Canada Music – 50 Years of Sharing Passion and Performance
The History of Yamaha

Yamaha Canada Music 50th Anniversary News

Sign up to learn about events, promotions and contests!
Education: New Yamaha Canada Music School Grand Opening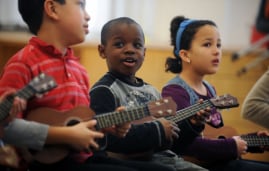 Yamaha Music School opened its brand new facility at 169 Enterprise Boulevard, Markham in September 2018. At our grand opening, the President of Yamaha Canada Music, Kenichi Matsushiro, Deputy Consul General to Japan, Satoshi Ominato and Mayor of Markham Frank Scarpitti gave their inspiring, warm welcome of the new music school.
It has been an exciting new school year for all of us. Join us at our brand new, state of the art music school for innovative music lessons and classes from beginner through advanced for children, teens, and adults.

A Message from Yamaha
When Yamaha was established in Canada in 1969, our focus was to expand the Yamaha Music Education System, introducing this unique new curriculum for anyone to learn music in a fun and innovative way. Our predecessors believed that music knows no national boundaries, so we came to Canada to share the joy that comes from music-making. It wasn't long before we opened a new head office to add sales and marketing departments, and we started selling Yamaha musical instruments and audio products through a budding network of music retailers – some of which are still our partners, fifty years later.
Reflecting on five decades of Yamaha in Canada, the musical landscape has certainly changed, and we've weathered some severe storms. But through it all, we are honoured to have employed hundreds of Canadians, and maintained relationships with local dealers that are the foundation of our business. We've worked together tirelessly to bring music to the homes of families in every corner of this great nation, with national retail chains, family businesses with a single storefront, and through our many school locations. Celebrating fifty years is a milestone for any company, and over that time, we have not only helped create a generation of new music-makers, we've contributed to the careers and hobbies of countless musicians for them to create art from the products that we make. It's a unique relationship that we share with our customers.
Since day one, we've never forgotten our roots: the Yamaha Music School has become the flagship centre for excellence and innovation in music education, where we teach music to hundreds of children, youth, and adults every year. There are also fifty independent and dealer-owned schools across Canada, delivering the world-renowned Yamaha Music Education System curriculum. Creating new musicians is at the heart of all we do, and being able to give them the tools they need as they learn and grow is something in which we take enormous pride.
Musical instruments and audio products have evolved over the past half-century, and we have led the way in meeting the needs of artists and music-lovers. Yamaha has a history of creating ground-breaking products: we set industry standards in high-fidelity stereo systems, developed state-of-the-art synthesizers that revolutionized the music business, and we offer a full range of music and audio equipment, from hand-made acoustic to portable digital instruments that suit any application. But it's not just about the things we make – it's about the people that have worked every day for fifty years to share their love of music in all its forms.
The people who give our products their musical life are the staff in our offices and distribution centres, the artists that choose Yamaha instruments to make their artistic statements, the teachers in our music schools, and the dealers that help us spread our message to our loyal customers. We wouldn't be here, five decades later, without this group of enthusiastic and committed Canadians who believe in our global message of Sharing Passion and Performance. But you, the musicians and music-lovers that choose Yamaha, make the biggest difference. You are more than our customers: you are the reason we continue to innovate in product development and the inspiration for us to keep raising the bar. While others have come and gone, we remain committed to meeting the expectations you have of us. We'll keep doing the best we can, right here in Canada.
Join Our Celebration All Year Long!
There will be concerts and events across Canada to commemorate our fiftieth year, and we want to share our success with you through promotions and discounts on a wide range of Yamaha products. It's our small way of showing you our appreciation, and to bring as many Canadians together as possible to honour the tremendous legacy that you've helped us build.
Yamaha Canada Music presents: GOING SOLO
In November 2018, we launched the GOING SOLO podcast series!
Each episode features one of Canada's top musicians as they share their story – how they got started, what inspires them, and their advice to young musicians who want to pursue their musical dreams. Each episode in the ten-part series is punctuated by a beautiful and intimate performance presented exclusively by Yamaha Canada Music.
An uncut and complete audio recording accompanies each video as a podcast – a first for Yamaha Canada Music. The GOING SOLO podcast is available on all major podcast apps including iTunes, Google Play, Stitcher and Spotify.
Music has the power to move us, inspire us, and bring meaning to our lives in surprising and unexpected ways. Random Acts of Music and the GOING SOLO podcast is our way of sharing our passion for performance with you!
| | | | | | | |
| --- | --- | --- | --- | --- | --- | --- |
| Listen: | | | | | | |