V3.6 Brings New Connectivity and Scalability to the TF Series
V3.6 Brings New Connectivity and Scalability to the TF Series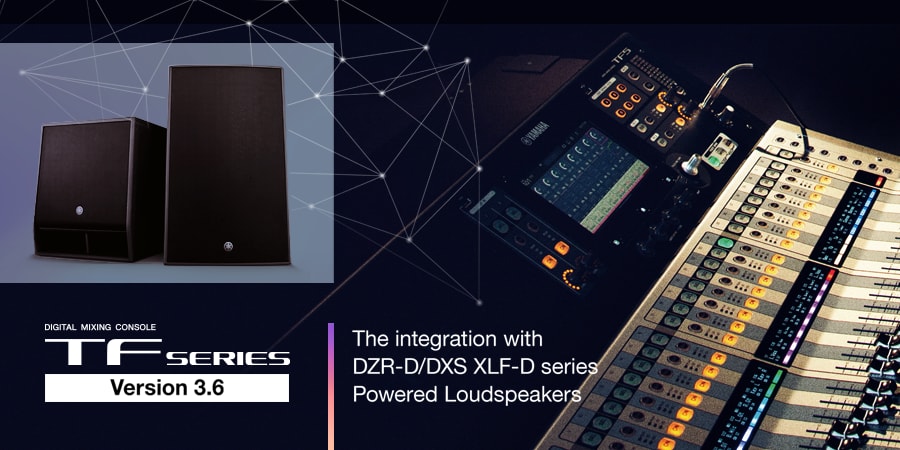 January 16, 2019. Shizuoka, Japan. – Yamaha TF series digital mixing consoles offer intuitive operation with a design that is optimized for touch panel control. Software version 3.6 expands their connectivity and scalability.
The version 3.6 update augments the QUICK CONFIG function that automates network and audio patch settings with support for DZR-D series powered speakers and DXS XLF-D series powered subwoofers. DZR-D/DXS XLF-D speakers daisy chained via Ethernet cable to an NY64-D Dante network card installed in a TF console can now be directly patched to the TF output bus from the LCD panel on the speaker rear panels. This makes it easy to create systems that use a TF console with Dante compatible powered speakers, offering an easy, flexible alternative or addition to stage-box based systems that connect via Tio1608-D I/O racks.
Dante Domain Manager from Audinate is also supported, providing even greater safety and scalability for sound systems built around TF series consoles that use Dante network infrastructure.
According to Yoshi Tsugawa, general manager of the Yamaha pro audio division, "Regular updates to the TF series have added numerous new features and control refinements that have expanded the value of these fine consoles for a wide range of applications. The improved QUICK CONFIG functionality and Dante Domain Manager support provided by the V3.6 update enhance operating ease and stability while more fully realizing the merits of Dante networking."
V3.6 Brings New Connectivity and Scalability to the TF Series