Yamaha Releases Upgraded DXS15mkII and DXS12mkII Powered Subwoofers
Yamaha Releases Upgraded DXS15mkII and DXS12mkII Powered Subwoofers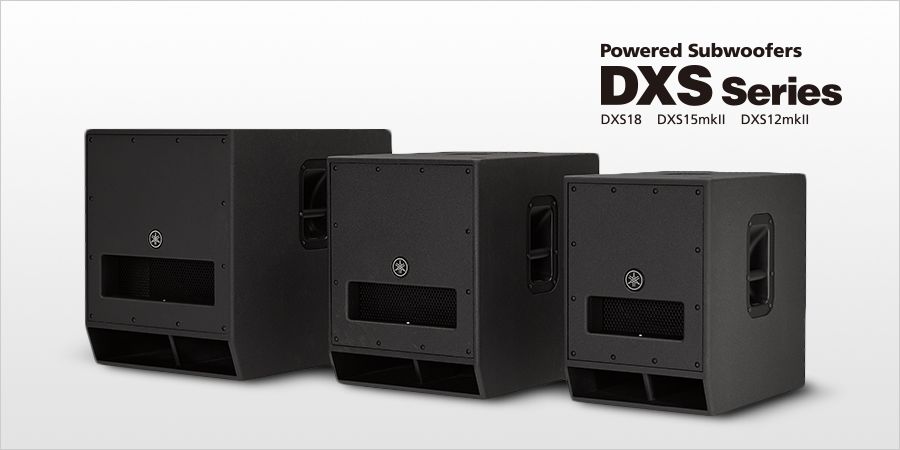 Shizuoka, Japan, Jan 25th, 2018 - Yamaha is pleased to announce the release of the newest additions to the DXS Series of powered subwoofers, the DXS15mkII and DXS12mkII. These new models offer an upgrade in performance from the previous DXS15 and DXS12, delivering higher maximum SPL from a more powerful amplifier, as well as an extended low frequency response.
The DXS Series was originally developed to complement the acclaimed DSR, DXR, and DBR Series full-range powered speakers and provide a more well-rounded sound, particularly for bass-heavy musical performances or playback applications that put a premium on very powerful, yet well-defined low frequencies. The new DXS15mkII and DXS12mkII are upgraded models of the current DXS15 and DXS12 sub-woofers that have adopted technologies developed for the DXS18, which has proven to be a very popular choice in live venues and clubs, as well as temporary applications such as outdoor music events or parties.
Both models feature an upgraded 1020W Class-D amplifier and a 15" or 12" powerful woofer, now housed in a more sturdy band-pass type plywood enclosure. Able to deliver 3dB higher SPL and 5Hz lower LF than their predecessors, the DXS15mkII can deliver an impressive 135 dB maximum SPL and an extended LF response down to 40Hz, while the DXS12mkII can produce 134 dB SPL and reach down to 42Hz with exceptional clarity and minimal distortion.
Both models feature D-XSUB original Yamaha proprietary DSP technology for additional control of the low frequency range via two selectable modes— BOOST and XTENDED LF— as well as a selectable crossover with three different options (80/100/120Hz) for various applications. For larger applications using two or more subwoofers, the DXSmkII offers a "Cardioid Mode" setting which effectively reduces the SPL of bass that reaches the stage while increasing the bass levels directed at the intended audience.
Developed with extensive road-usage and transport in mind, the DXS15mkII and DXS12mkII feature advanced protection circuits in the speaker unit, amplifier unit and power supply that ensure optimum reliability and extended component life. The durable plywood enclosure is coated with an extremely durable Polyurea finish that is used extensively in disaster protection applications, giving the speaker's exterior added protection from exposure to outside elements and duress during transport and performance.
For even more portability and versatility than the current lineup, the new models are more compact and lighter weight, with the DXS15mkII and DXS12mkII seeing a reduction of 2kg and 3kg of weight respectively. They also come equipped with both M20 and 35mm pole sockets allowing for more flexible set up options, as well as an optional wheel kit for more efficient portability and set-up. Yamaha also offers the optional speaker covers with a functional design that provides added protection from unfavorable weather conditions during outdoor performances, dusty and dirty warehouse storage, or the rigors of road travel.
"Live sound reinforcement can present a broad range of challenges for live sound beginners and professionals alike, so we are always paying strict attention to the needs of our customers and how to improve their live audio experiences." said Yoshi Tsugawa, General Manager of Yamaha Pro Audio Division. "Working with our sister company Nexo, these new additions to the DXS Series add performance, flexibility and reliability, enabling them to exceed the demands of wider ranges of environments requiring high-quality bass performance and versatility in compact packages."
Yamaha Releases Upgraded DXS15mkII and DXS12mkII Powered Subwoofers