Casual Wind Instrument Venova™ Receives Good Design Grand Award
Casual Wind Instrument Venova™ Receives Good Design Grand Award
Yamaha Wins Its First Top Good Design Award for Musical Instruments

Yamaha's casual musical instrument Venova, which has a unique shape, won the Good Design Grand Award in the "Good Design Award 2017" competition. In addition, Yamaha's "New Song Creation Method for Pupils of Elementary/Junior High Schools with 'VOCALOID for Education' and Worksheets" received the Good Design Special Award—Design for the Future.
Since 1957 through last year, 280 Yamaha-designed items have received many awards in the Good Design Awards competitions. This was the first time for Yamaha to win the top Good Design Grand Award. Moreover, this was the first time for the musical instruments to receive the top award.
All of award-winning designs have the same fundamental Yamaha design philosophy behind them. This philosophy calls for creating products that realize the goals of "being loved and used for the long term", "gradually increasing in value over time", "having simple designs", and "achieving a balance between carefully selected materials and a beautiful finish".
Good Design Grand Award Casual Wind Instrument Venova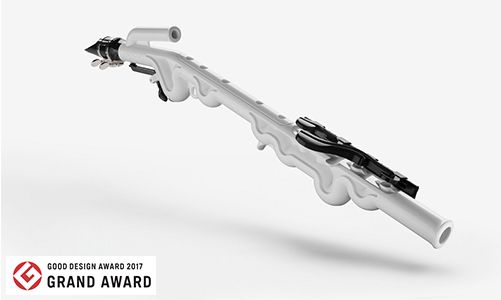 This instrument is a completely new type of acoustic wind instrument, with an innovative branched pipe structure and meandering shape, developed to enable players to enjoy an authentic sound and rich expressiveness with relative ease. Yamaha's Venova is easy to begin to play even for persons with no previous wind instrument experience and makes possible performances with simple fingering like a recorder. At the same time, Venova also gives satisfaction to experienced wind instrument players because it provides the expressiveness of a single-reed instrument like a saxophone and has a full two-octave range. The body of the instrument, made with ABS plastic, is light in weight, excels in durability, and can be washed and cleaned with water. Because of its compact size, the Venova can be taken virtually anywhere, allowing players to enjoy music easily in many scenes, including the outdoors and in casual music sessions.
Good Design Special Award—Design for the Future
New Song Creation method for pupils of Elementary/Junior High schools with "VOCALOID for Education" and Worksheets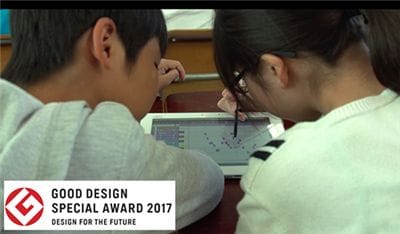 The new song creation method, using digital musical software "VOCALOID for Education," enables pupils to input their songs and melodies just as they like, and, with a bit of trial and error, compose music. With the goal of enabling children to compose, sing, and present their own music, this method allows pupils to work independently and interactively through the use of "VOCALOID for Education" and an original teaching model.
Comment by Mr.Manabu Kawada, Head of the Yamaha Design Research Center
Designers at Yamaha think constantly about "creating products and services that will be loved by customers as lifelong companions." I believe these design awards are evidence of the success of Yamaha's design philosophy, which aims to focus intently on pursuing the true nature of its products and services.
This was a first time not only for Yamaha but also a musical instrument to receive the Good Design Grand Award. We are truly delighted and honored to receive such a high evaluation. Also, the new education method using VOCALOID for Education received the Good Design Special Award Design for the Future. Today, as design of services, and not just products, is becoming more and more important, we believe winning this award is a very significant and history-making event for us.
Looking ahead, we will confront our design work with renewed passion and continue to create and deliver products and services that will bring joy to our customers for many years to come.
About Good Design Award
The Good Design Award has been a sole comprehensive design evaluation and commendation system in Japan since 1957. Submissions come from a wide range of fields, and roughly 1200 designs are recognized every year. Over 60 years, around 44,000 designs have been recognized by the awards.
Casual Wind Instrument Venova™ Receives Good Design Grand Award