Yamaha's Electric Violin YEV Receives the Top Design Award In the Design For Asia Awards
Yamaha's Electric Violin YEV Receives the Top Design Award In the Design For Asia Awards
Yamaha's electric violin YEV won the top Grand Award in this year's Design For Asia Awards competition. Design awards presented to the YEV is the fifth in a series of prizes received by YEV following the iF Design Award Gold Award (in 2017), the German Design Award (in 2017), the Red Dot Design Award (in 2017), and the Good Design Award (in 2016). The Grand Award this time marks the second time that Yamaha has received this design award, after receipt of a Grand Award for its Silent Brass instruments in 2015.
Electric Violin "YEV"
The Electric Violin YEV Series combines superb playability on concert stages with a design that is beautiful from every angle point. Based on Yamaha's superlative woodworking technology, the design successfully draws on the beautiful appearance of the wooden surfaces to realize a 3D arched body and a unique frame like a mobius loop. The lightweight design, natural touch, and graceful curves allow players who are accustomed to playing acoustic violins to switch effortlessly to the YEV. This is clearly a next-generation violin that makes free expression in any musical genre possible at any time.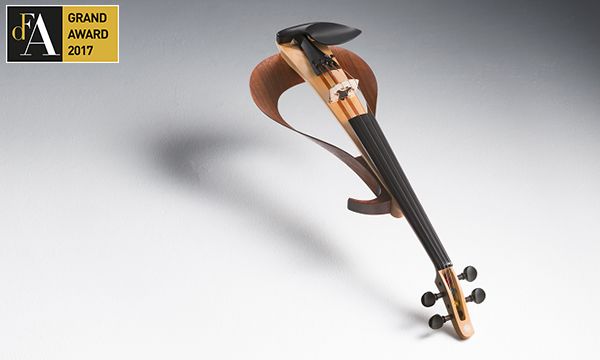 Comment by Mr.Manabu Kawada, Head of the Yamaha Design Research Center
Designers at Yamaha think constantly about "creating products and services that will be loved by customers as lifelong companions." I believe this design award is evidence of the success of Yamaha's design philosophy, which aims to focus intently on pursuing the true nature of its products and services. This is a very meaningful honor for Yamaha, that is developing its activities worldwide. Looking ahead, we will confront our design work with renewed passion and continue to create and deliver products and services that will bring joy to our customers for many years to come.
DFA Asia Design Award
The Design for Asia Awards (sponsored by the Hong Kong Design Centre) is a design prize program that was instituted in Hong Kong in 2003 to celebrate design excellence and acknowledge outstanding designs with Asian perspectives. DFA awards are presented to companies and designers whose superior work reflects Asian lifestyles and are influential in the design field. Awards presented comprise Grand Awards, three Special Awards, and Division Awards that are presented in the four categories of "Apparel & Accessory Design," "Communication Design, "Product & Industrial Design," and "Environmental Design." In each of these divisions, a range of awards are made, including Gold Awards, Silver Awards, Bronze Awards, and Merit Recognitions.
Yamaha's Electric Violin YEV Receives the Top Design Award In the Design For Asia Awards