Gustav Klimt's "The Kiss"Limited Edition Piano Comes to Canada
Gustav Klimt's "The Kiss"Limited Edition Piano Comes to Canada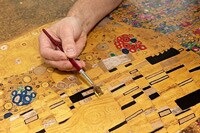 Bösendorfer pianos are world famous fort heir legendary and distinctive sound, as well as outstanding quality. They are one of the oldest piano manufacturers in the world, rich in tradition and well-known for innovation, always pursuing quality rather than quantity. In celebration of one of the most famous Austrian painters, Bösendorfer has chosen to dedicate the first of their new "Artist Series" pianos to Gustav Klimt.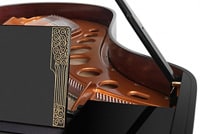 The Klimt model is a limited edition model with only 25 units in the world. Each unit has an individually numbered solid brass plate. Bösendorfer Canada is proud to announce that they have acquired one of the Gustav Klimt models and is currently showcasing the piano in Vancouver.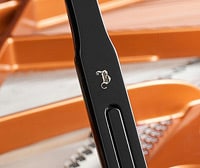 The Klimt model is being made in cooperation with the Belvedere Museum in Vienna, who has the most extensive collection of Klimt paintings in the world, including the world famous "Kiss". Bösendorfer has used the museum's own very high resolution image of the Kiss and through advanced reprographic techniques, have succeeded in reproducing it onto the inside of the lid of their best selling 200 piano model. Prior to spraying a high gloss finish onto the image, Bösendorfer craftsmen further customized it by applying additional elements of real gold leaf.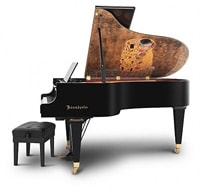 As a homage to Klimt, and his love of using gold, Bösendorfer has added further "Klimt" design elements to the piano. Inspired by his use of asymmetrical organic lines, Bösendorfer has created special lines in the music desk and top of the legs. These lines are carefully inlaid with gold leaf by our experts. Each purchaser will receive a signed copy of the book Alfred Weidinger co-edited on the current highly successful exhibition at the Belvedere Museum – "Gustav Klimt/Josef Hoffmann, Pioneers of Modernism." Weidinger is Vice Director at the Belvedere Museum and an acknowledged world expert on Klimt. The exhibition of Gustav Klimt and Josef Hoffmann is especially important to Bösendorfer as Josef Hoffmann worked with Bösendorfer and designed a Bösendorfer grand piano.
Gustav Klimt's "The Kiss"Limited Edition Piano Comes to Canada