Hiromi at the Night of the Proms
Hiromi at the Night of the Proms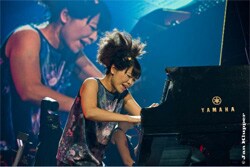 Jazz artist Hiromi has recently completed a 31-date European tour taking in Belgium, the Netherlands and Germany as a part of the hugely popular Night of the Proms series.
Hiromi joined a stellar cast including, Wyclef Jean, Gloria Estefan, Amy Macdonald, and John Miles. And for all these Night of the Proms tour concerts, Hiromi used a Yamaha CF6 piano.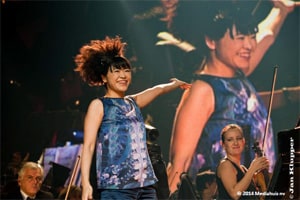 The Night of the Proms series was developed in 1984 and has continued to grow in popularity year-on-year. Since their inception the spectacular Proms concerts have attracted over 7 million music fans and starred some of the most influential musicians of a generation including Joe Cocker Simple Minds, James Brown, Art Garfunkel, Sting and Al Jarreau, to name just a few.
Yamaha artist Hiromi is one of the world's most explosive and creative pianists and composers. She is renowned for her virtuosic technique, which seamlessly blends her musical influences and styles, spanning rock, classical, progressive, fusion and jazz.
Coincidentally hailing from Hamamatsu in Japan – the home of Yamaha pianos - Hiromi has enjoyed a long standing and fruitful relationship with the company and it's staff.
For a video interview with Hiromi: http://uk.yamaha.com/en/products/musical-instruments/keyboards/grandpianos/premium_pianos/artists/video/
Hiromi at the Night of the Proms