Yamaha Featured in Olympic City Sochi
Yamaha Featured in Olympic City Sochi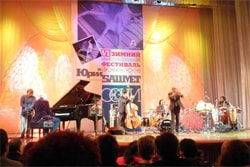 Yamaha CFIIIS grand piano at the VI Sochi Winter International Festival of Arts.
Yuri Bashmet is a world renowned Russian violist, violinist, and conductor. While still a student, he attained international recognition by winning the Grand Prix at the ARD International Music Competition in Munich (1976).

Bashmet developed an outstanding career as a soloist and was the first violist to perform solo recitals in such halls as New York's Carnegie Hall, the Amsterdam Concertgebouw, the Barbican in London, the Berlin Philharmonic, and many other important venues. He has performed with most of the great conductors, and was especially noted for his chamber music together with Sviatoslav Richter and Mstislav Rostropovich.
Yamaha Pianos featured prominently at two major events tied to the XXII Olympic Winter Games which were held in the Russian resort city of Sochi earlier this year. The first was a special ceremony scheduled exactly one before the opening of the Games to officially begin the Olympic Games Year. Thousands flocked to the Bolshoi Ice Palace to witness the ceremony and among the dignitaries were Vladimir Putin, President of the Russian Federation, and IOC President Jacques Rogge.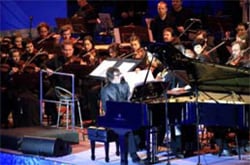 Yuri Bashmet on a Yamaha C7 with the Novaya Rossiya State Symphony Orchestra to commence the countdown to the XXIIOlympic Winter Games in Sochi.
Following this opening was an eye-catching ice show, broadcast on all Russian and many international TV channels. The music was provided by the Novaya Rossiya State Symphony Orchestra, conducted by the Sochi 2014 Cultural Ambassador, Yuri Bashmet. And Bashmet performed the piano solos himself on a Yamaha C7 grand piano.
The other important event was the VI Sochi Winter International Festival of Arts under artistic direction of Yuri Bashmet, bringing together leading musicians, artists, and filmmakers from all over the world. Yamaha Music Russia has been the festival's official partner since 2009, and this year, the festival featured Yamaha CFIIIS and C7 grand pianos.
Yamaha Featured in Olympic City Sochi