Rashkovskiy's Successful Winner's Debut
Rashkovskiy's Successful Winner's Debut
Rashkovskiy's Successful Winner's Debut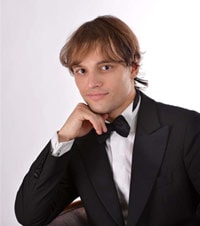 Ilya Rashkovskiy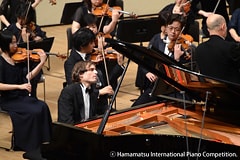 Rashkovskiy playing the CFX during his final concerto
Ilya Rashkovskiy was born in Irkutsk, Russia, in 1984. He debuted with Irkutsk Chamber Orchestra at the age of eight. From 1993 to 2000 he studied in Novosibirsk with Prof.M.Lebenzon, from 2000 to 2009 in Hannover with Prof.V.Krainev and finally with Prof.M.Rybicki in Paris.
Before awarded the 1st Prize at the 8th Hamamtsu International Piano Competition in 2012, he was among top prizewinners at International Piano Competitions such as M.Long-J.Thibaud in Paris, Queen Elisabeth in Brussels, A.Rubinstein in Tel Aviv, and Gold Prize winner of the 1st Hong Kong International Piano Competition under Vladimir Ashkenazy.
Feb. 27th, Tokyo Japan - Ilya Rashkovskiy returned to Japan to perform his debut recital as winner of both Gold Prize and the Audience Award at the 2012 Hamamatsu International Piano Competition. Ilya performed with the New Japan Philharmonic conducted by Michiyoshi Inoue, at the Tokyo Metropolitan Theatre in Ikebukuro. And as in Hamamatsu Ilya selected Yamaha's CFX concert grand for this important performance.
He played an outstanding Tchaikovsky Concerto #1, and conductor Inoue had been so impressed with Ilya's prize winning Prokofiev 3rd Concerto in Hamamatsu, that he insisted Ilya play the third movement of that concerto as an encore. Finally Ilya finished with a moving Rachmaninoff arrangement of a Tchaikovsky piece and the orchestra had to clear the stage to stop the applause—it was an outstanding concert.
When describing Ilya's beautiful phrasing and rich toneal colors, critics frequently use the term "poetic", and Ilya showed such a strong combination of technique and musicality it was clear why he won the competition. And the CFX allowed him to be at his most expressive – after the performance Ilya described the piano as "sugoi" (Japanese for "amazing").
Rashkovskiy's Successful Winner's Debut