Yamaha's RemoteLiveTM Technology and DisklavierTM Used to Present Elton John Live Streaming
Yamaha's RemoteLiveTM Technology and DisklavierTM Used to Present Elton John Live Streaming
Yamaha's RemoteLive™ Technology and Disklavier™ Used to Present Elton John Live Streaming

-From Anaheim, California to 11 Countries around the World-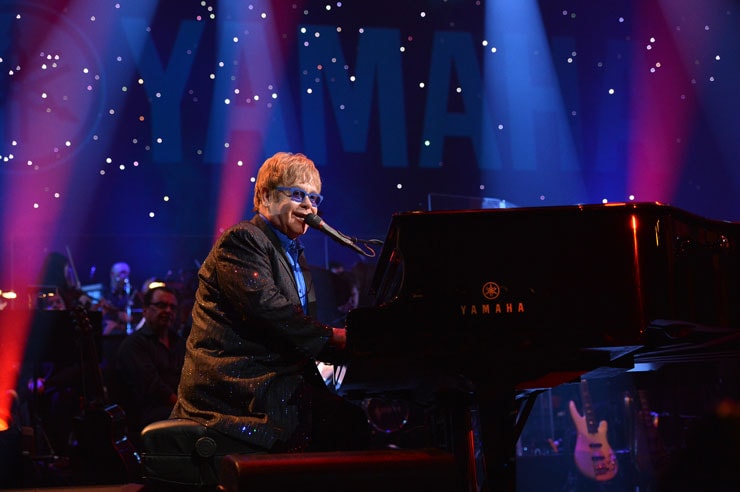 Toronto, Canada, January 26, 2013, Yamaha Canada Music announced that as part of Yamaha's 125th anniversary activities, on Friday, January 25, Pacific Standard Time (PST), a live performance by world-renowned artist Elton John was streamed from Anaheim, California to various venues in 11 countries using Yamaha's original RemoteLive™ technology1 and Disklavier™ advanced player piano2.
RemoteLive™ technology, developed by Yamaha, makes it possible to stream visual, audio, and other information related to performance content (through a musical instrument digital interface (MIDI)) from the concert hall where live performances are held to many other locations via the Internet. Keyboards of pianos in remote locations automatically play simultaneously with the performer's instrument, giving the impression to audiences in remote locations that they are hearing and enjoying a live performance.
Disklavier™ is an advanced acoustic player piano developed by Yamaha. The instrument incorporates a digital control system that records and reproduces performances with high precision by moving the keys and pedals in exact accord with input digital information. By uploading music content to the Internet via Yamaha's DisklavierRadio, digital information on the performance can be streamed and reproduced automatically for listeners' enjoyment.
Yamaha has also announced that its U.S. subsidiary, Yamaha Corporation of America, will begin to make available performance streaming services in the United States, such as those provided for the Elton John concert on a commercial basis in April 2013 using its RemoteLive™ technology and Disklavier™.
Outline of the Elton John Live Streaming
| | |
| --- | --- |
| Time: | Friday, January 25, 2013, from 22:25(PST) |
| Streaming source: | Hyperion Theater, Disney California Adventure (Anaheim, California) |
| Received in venues located in: | The United States, Canada, the United Kingdom, Germany, France, Russia, South Korea, Japan, Malaysia, Singapore, and Australia |
| Content streamed: | The performance by Elton John on the piano was streamed for about 30 minutes, including five vocals, in the Hyperion Theater as a special guest in one of Yamaha's concerts to commemorate the 125th anniversary of the commencement of its operations. |
Profile of Elton John
World-renowned artist Elton John has released 40 albums over a period of 34 years and has received the Grammy Award five times as well as many other awards. Today, he is admired and taken as a model by many musicians. He was knighted by Her Majesty the Queen in 1998, becoming Sir Elton John, and has worked together with many big names in the musical profession. Since 1990, proceeds from his recordings have been used to fund AIDS research in the United Kingdom and since 1992 in the United States. Even today, he has an active tour schedule and supports many humanitarian activities. Elton and Yamaha have a long history of cooperation, and this relationship led to his recent performance in Yamaha's 125th anniversary concert and its live streaming to countries around the world.
About Yamaha Corporation
Since its founding in 1887, the Yamaha Group has developed its business activities focusing on musical instruments, audio products, Yamaha music schools, and other products and services related to sound and music. We are pleased, indeed, that Yamaha touches on the lives of and brings joy to so many people around the world.
For more information, please visit: http://www.yamaha.com/about_yamaha/corporate/
Yamaha's RemoteLiveTM Technology and DisklavierTM Used to Present Elton John Live Streaming