Renowned Pianist-Composer Chick Corea Wins Two Grammys
Renowned Pianist-Composer Chick Corea Wins Two Grammys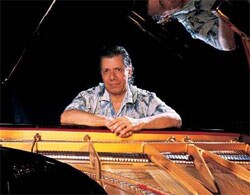 "I've enjoyed playing many different brands and models of pianos through the years. Each maker seems to have a particular idea of how to make a piano and they're all interesting. But the brands that have made their mark on the world and are mostly available as I tour around are Yamaha, Steinway and sometimes Bosendorfer. Since the '70s Yamaha has been my personal preference—at first because of the reliable service, but then, after the advent of the CF3, I preferred the touch and sound of Yamaha concert grands over all other brands."
February 10, 2013 – At the 55th Grammy Awards Ceremony, prolific award winner Chick Corea, who was competing against himself in two of the five categories he was nominated in, won in the improvised jazz solo category for "Hot House," from the album of the same name together with Gary Burton. The pianist also won the Grammy for instrumental composition for the song "Mozart Goes Dancing," also from "Hot House." Last year at the 54th Grammys, Chick also won two awards.
2013 Nominations (Bold names won award):
Best Improvised Jazz Solo
"Hot House" – Gary Burton & Chick Corea, soloists
Alice in Wonderland" – Chick Corea, soloist

Best Jazz Instrumental Album
Further Explorations – Chick Corea, Eddie Gomez & Paul Motian
Hot House – Chick Corea & Gary Burton

Best Instrumental Composition
"Mozart Goes Dancing" – Chick Corea, composer
Chick Corea - A prolific explorer of jazz and classical music; 2010 DownBeat Artist of the Year
A DownBeat Hall of Famer and NEA Jazz Master, 20-time Grammy winner, and undisputed keyboard virtuoso, Chick Corea has attained living legend status after four decades of unparalleled creativity and an artistic output that is simply staggering.
From straight ahead to avant-garde, bebop to fusion, children's songs to chamber music, along with some far-reaching forays into symphonic works, Chick has touched an astonishing number of musical bases in his illustrious career while maintaining a standard of excellence that is awe-inspiring. A tirelessly creative spirit, Chick continues to forge ahead, continually reinventing himself in the process.
For more information about Chick Corea: http://www.chickcorea.com/
Renowned Pianist-Composer Chick Corea Wins Two Grammys