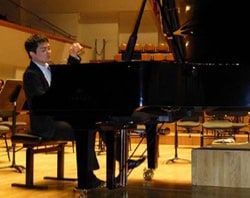 The dress rehearsal before the final concerto.
European based Japanese pianist Tomoaki Yoshida, performing on a Yamaha CFX concert grand piano, has won the first prize in the 18th International Piano Competition in Valencia, Spain. The competition is also called the "Iturbi Award" in honor of Valencia's famous native, the legendary concert pianist José Iturbi.
The event is organized by the City of Valencia every two years, and Tomoaki's prizes include; a cash award of 18,000 euros, the publication of a CD, a concert with the Orchestra of Valencia, and several solo recitals in Spain and Italy.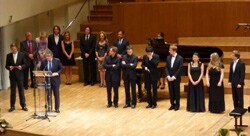 The announcement at the awards ceremony.
Tomoaki's artistry was recognized by the international jury, and he triumphed over 38 other pianists selected to participate in the competition.
A choice of pianos by Yamaha, Steinway, and Kawai were offered. Tomoaki has credited Yamaha's CFX, and especially master piano technician Takurou Hanada, as helping contribute to his victory. But, of course, it was Tomoaki's superb musicality which convinced the jury to award him the gold.
Tomoaki on the street with some fans.
Yamaha has over a century of experience producing grand pianos, but the CFX is the direct result of an ambitious 19 year development project. Yamaha used their unique blend of traditional craftsmanship coupled with high tech engineering to analyze virtually every element of the piano. They learned how each detail—no matter how small—affects the total sound.
Using this knowledge combined with the musical expertise of some of the greatest pianists in the world, Yamaha created this series which is revolutionizing the world of high quality concert grands. The CF Series represents a pinnacle in the evolution of concert grand pianos, and since their launch in 2010 many top prize winners at prestigious international piano competitions have chosen to perform on the CFX.
For information on the competition, please visit: http://www.pianoiturbi.com