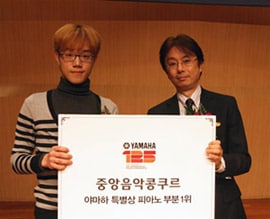 Yamaha manager Tetsuya Kitsuda presenting Hyung-Rok Choi with a special Yamaha Award.
The Joongang Music Competition was established in 1975 with a goal of contributing to the development of young Korean musicians in celebration of the 10th anniversary of the newspaper Joongang Ilbo. It is Korea's best national music competition and is considered a gateway for young talented musicians on their way to becoming world-class artists.
One of Korea's most important pianist and professor, Dae-Jin Kim, was discovered through this competition, and winning it is considered a major step towards developing a career as a top level professional musician.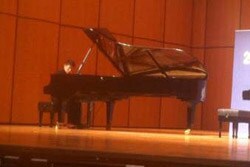 The CFX on stage in the competition.
The piano division of 39th 'JoongAng Music Concours' was held from March 18th to 20th sponsored by JoongAng Ilbo, one of Korea's major news corporations. The competition is considered the most important national music competition in Korea, the winner selected to perform on Yamaha's CFX concert grand piano.
Competing against 77 other pianists, 20 year old Hyung-Rok Choi was awarded the top prize. The contestants were offered the choice of a Yamaha CFX or the old traditional brand concert piano, and 67% of them chose Yamaha in the first round. By the second round the percentage was up to 82%, and at the end of the competition 5 of the 7 finalists played Yamaha. Of the top 3 prize winners, 2 played CFX including of course the gold prize winner.
Last year's gold prizewinner, So-Hyang In, also selected a CFX for her victory so the reputation of the CFX is becoming very well established in Korea!
For more information about the CFX: http://www.yamaha.co.jp/english/product/piano/premiumpianos/