Dallas City Performance Hall Selects CFX
Dallas City Performance Hall Selects CFX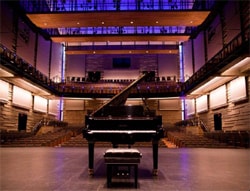 The Dallas City Performance Hall, a new high profile arts center in Texas in the United States, has selected the Yamaha CFX Concert Grand Piano for its state-ofthe-art 750-seat performance space. Their rigorous evaluation process included live auditions of several pianos before a panel of V.I.P. music experts, as well as a careful assessment of their needs by partner dealer, Metroplex Piano. Metroplex Piano was chosen as being best able to provide a high level of service and maintenance support for the instrument in its new home.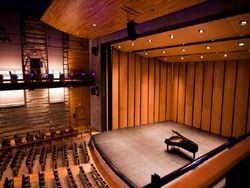 Dallas City Performance Hall was designed by one of the world's leading architecture firms, and opened in September 2012. The evaluation committee's mandate was to find a grand piano that matched the majesty of this exciting new venue.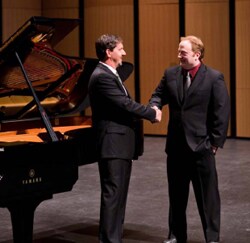 Darren Speir (left) congratulates Russell Dyer on the delivery of the new CFX Concert Grand
"Dallas City Performance Hall was made possible by the people of this city and region via public money raised through a bond issue. As such, our mindset was to acquire the best possible concert grand piano for our magnificent facility without bias or the influence of special interests," said Russell Dyer, general manager, Dallas City Performance Hall. "We could not be more thrilled with our Yamaha CFX Concert Grand Piano. The feedback from visiting artists and audiences has been overwhelmingly positive.
Darren Speir is the owner of Metroplex Piano, as well as a registered piano technician (RPT), so he takes personal pride in his company's role in the selection of the Yamaha CFX by this important new arts institution in his community.
"We have always been very proud to represent Yamaha in the Dallas/Fort Worth area, and find it very gratifying to have our management team along with our, piano technicians and support teams recognized as key assets by the esteemed Dallas City Performance Hall selection committee," said Speir.
"We applaud their decision to purchase the Yamaha CFX, which is widely admired for its vibrant and lively sound, responsiveness and exceptional build quality."
Dallas City Performance Hall Selects CFX