Hiromi Gives CFX Debut in San Francisco
Hiromi Gives CFX Debut in San Francisco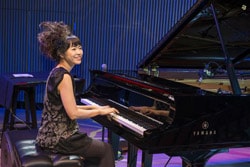 Hiromi rehearsing on the new CFX in the Robert N. Miner Auditorium.
A mesmerizing pianist and composer, Hiromi gave a series of electrifying performances at the recently opened SFJAZZ Center. Her sold-out concerts ran from April 4th to 7th and she performed with her trio featuring bassist Anthony Jackson and drummer Simon Phillips.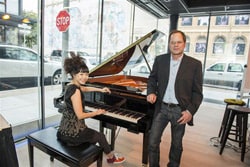 Hiromi is trying out the high tech Disklavier hybrid piano in the Joe Henderson Lounge with Randall Kline, the founder and Executive/Artistic Director of SFJAZZ
Hiromi had the distinction of being the first artist ever to perform on the Robert N. MinerAuditorium's newly purchased Yamaha CFX Concert Grand Piano, one of the finest instruments in the world. In addition to the CFX, the Center has also acquired one of Yamaha's Disklaviers for the Joe Henderson lounge.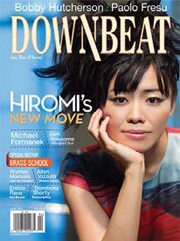 An interview with Hiromi was the featured article of the April 2013 edition of Downbeat. And Her portrait graced the cover of this important Jazz magazine.
Artistic Director Randall Kline said; "SFJAZZ is thrilled to have these two beautiful Yamaha pianos at the SFJAZZ Center. These state-of-the-art pianos will give all of the artists that play here the ability to express themselves and make their art in the best way possible."
Designed by award-winning architect Mark Cavagnero, the SFJAZZ Center is the first concert hall of its type in the United States. The freestanding performance venue offers flexible seating and staging and was built specifically for jazz performances, bringing an outstanding cultural experience to the San Francisco arts community.
Hiromi Gives CFX Debut in San Francisco