Yamaha Restores Glenn Gould's Piano in Celebration of His 80th
Yamaha Restores Glenn Gould's Piano in Celebration of His 80th
September 20th, 2012 Toronto - In celebration of Glenn Gould's 80th birthday, Yamaha Canada Music Inc. has restored Glenn Gould's CFII Yamaha Concert Grand Piano, which has been on display at Roy Thomson Hall for years. This is the very Yamaha piano Gould recorded his last four piano albums, including the Grammy award winning 1981 Bach's Goldberg Variations.
The process of restoring Gould's piano has been a meticulous one for all of the piano technicians involved, as the utmost care was necessary when in taking apart and moving pieces around. Paul Gilchrist, the lead technician on the project, made sure to include Glenn Gould`s piano technician, Verne Edquist, on the project to ensure the sound and touch replicated that of the Gould days. "I'm impressed," praised Edquist, "this piano is as ready as it would be for Glenn…he would have loved to play on it. "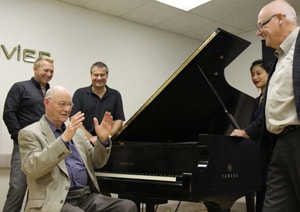 Edquist reminisced about his years working with Glenn Gould, mentioning some of the idiosyncrasies that Gould was well known for. "I would describe him [Gould] as an enigma wrapped in mystery," Edquist said fondly. Rob Barg, Vice President of Corporate Planning for Yamaha also remembers the day Glenn Gould came into Yamaha headquarters to purchase a grand piano. "It was very interesting," remarked Barg, "Glenn came in with his signature cap, long coat and gloves and pulled out his famous stool from the back of his Green Lincoln to try our Yamaha grands."
The CFII Yamaha piano will be transferred to Toronto's Convocation Hall, where Dreamers Renegades Visionaries: The Glenn Gould Variations event will be taking place. Inspired by the audacious, curious, clever, witty, innovative and iconic Glenn Gould, Dreamers Renegades Visionaries: The Glenn Gould Variations is a two day festival of new work, new interpretations and new collaborations from artists, thinkers and creators from all over the world. Starting on September 22nd, international artists such as Lang Lang, Uri Caine, Chris Donnelly, Chilly Gonzales and Kimiko Ishizaka will be presenting and performing throughout the event.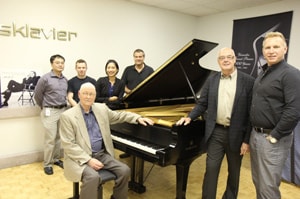 Born in Toronto, Canada, on September 25, 1932, Glenn Gould has been hailed internationally as one of the great musicians of the 20th century, and as a visionary thinker and multi-media artist who foresaw the profound impact of technology on culture and society. Initially acclaimed as a pianist of prodigious talent, Gould had a remarkable career that included recording, television, film, writing and producing radio documentaries, and composing and writing scholarly and critical work.
Yamaha Restores Glenn Gould's Piano in Celebration of His 80th