Yamaha Piano Tech Tour 2012
Yamaha Piano Tech Tour 2012
September 27, 2012 Toronto - With the annual Yamaha Tech Tour underway, one of the most recent stops for Yamaha Technical Consultants was British Columbia. Since its inception in 1986, Yamaha Canada has hand-picked Canada's top piano technicians, many who have trained at Yamaha's Piano Technical Academy in Japan, to tour around the country and service Yamaha performance and teaching pianos.
The Technical Tour is one reason why Yamaha has dominated the studios and practice rooms of universities and conservatories across the country. Large educational institutions such as University of Toronto, Queen University and Vancouver Academy have continued to purchase pianos, reinforcing the high quality and beautiful sound Yamaha pianos are well known for, in addition to the care and support Yamaha provides post purchase.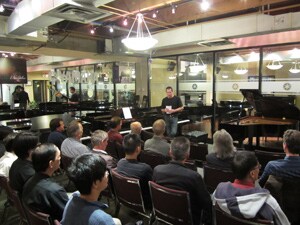 While in Vancouver, the technicians visited several institutions such as University of British Columbia, Vancouver Symphony School and Trinity Western University. In the evening, Jim Welter, Sales and Marketing Manager of Yamaha Canada, had the pleasure of attending the Piano Technician's Guild meeting, where the British Columbia's south chapter of piano technicians gathered to update members on new techniques, technology, and share best practices. "I continued to be amazed at the level of technical detail and skill involved in properly servicing a piano," commented Jim, "it's great to see this industry still learning new methods and developing new ways to ensure all Yamaha pianos are at its best."
The Yamaha Tech Tour carries on to Alberta and Saskatchewan, where the technicians continue to impart valuable knowledge and top service to Yamaha performance and institutional pianos in the area.
Yamaha Piano Tech Tour 2012