CFX Triumph in Hamamatsu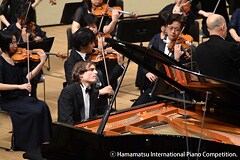 Rashkovskiy playing the CFX during his final concerto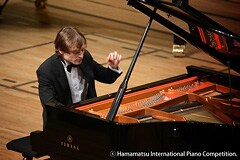 Rashkovskiy performed on the CFX throughout the competition
73 young pianists representing Russia, Ukraine, Poland, China, Korea, Japan, Taiwan, US, Australia, Italy, Finland, Moldova, Kazakhstan, Georgia, Singapore, UK and Canada gathered to compete at the 8th triennial Hamamatsu International Piano Competition held November 9 to 26th in Hamamatsu Japan. These top-level contestants were selected from 280 DVD auditions and their ages ranged from 15 to 30 years of age.
After 4 rounds of the most demanding piano repertoire, Russian pianist, Ilya Rashkovskiy, emerged victorious as Gold Prize winner. In addition to the first prize, Ilya also won the Mayor of Sapporo Award and the Audience Prize.
The other winners were 2nd place Nozomi Nakagiri (Japan), 3rd place Takashi Sato (Japan), 4th place Anna Tcybuleva (Russia), 5th place Joon Kim (Korea), and 6th place Kei Takumi (Japan). Takumi also won the best performance of the commissioned work, composed by Shinichiro Ikebe.
Rashkovskiy, Tcybuleva, and Takumi's choice of piano for the entire competition was the acclaimed Yamaha CFX concert grand. Nakagiri and Sato also chose to play CFX in some stages of the competition, and Sato was awarded the Chamber Music Prize for his Mozart played on the CFX.
Of the three piano brands offered to the competitors, Yamaha CFX was the favorite choice with 40 out of the 73 first round pianists choosing this instrument.
Congratulations to all finalists and especially Ilya Rashkovskiy!