Canadian Thomas Yu Ties for First Place in The 2012 International Amateur Piano Competition in Manchester, U.K.
Canadian Thomas Yu Ties for First Place in The 2012 International Amateur Piano Competition in Manchester, U.K.
Presented by Pianist Magazine, Yamaha, and Chetham's School of Music.
On Wednesday 22 August, Saskatoon's Thomas Yu, a periodontist currently residing in Calgary, ties for First Place with pianist Robert Finlay, a retired electrical engineer from Boston, in the 2012 International Amateur Piano Competition, presented jointly by U.K.'s Pianist Magazine, Yamaha, and Chethams's School of Music.
From a selection of top amateur pianists (as defined by individuals whose main source of professional income is not piano performance or piano teaching) in the world, six finalists were chosen to perform in the final round, using Yamaha's critically acclaimed CFX concert grand piano. The jury consisted of Noriko Ogawa, Michael Roll, Murray McLachlan, Yamaha UK Managing Director Mike Ketley and Pianist magazine editor Erica Worth. The other finalists were Martin Evans, Peter Morgan, Nuno Maulide, and Deirbhile Brennan.
The prizes include a feature in Pianist magazine with their winning performances recorded for Pianist's covermount CD, a recital at Yamaha Artist Services Recital Room in London, plus a concerto performance with the Manchester Camerata Chamber Orchestra in 2013. As 'Audience Favourite Prize' winner, Yu receives a selection of sheet music donated by Schott Music.
'It is hard to put into words what this means. It is a dream for all amateurs to be able to play on a stage with a magnificent Yamaha CFX concert grand piano. It doesn't get better than this.' - Thomas Yu
ABOUT THOMAS YU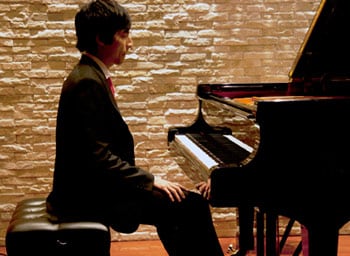 Canadian pianist, Thomas Yu, is one of the most versatile artists performing today. He has appeared as a guest soloist in such prestigious venues including Carnegie Hall (New York), Theatre du Chatelet, Salle Gaveau and Salle Cortot (Paris), Bösendorfer Hall (Vienna), Forte de Copacabana (Rio de Janeiro), Chopin Music Academy (Warsaw), Hakuju Hall (Tokyo), Glenn Gould Studio (Toronto), National Arts Centre (Ottawa) and the Chan Centre for Performing Arts (Vancouver). He continues to delight audiences across four continents while maintaining a full-time career as a periodontist.
As an amateur pianist, Yu has won several prizes including the 2010 Bradshaw & Buono International Piano Competition (New York), the 2009 Bösendorfer International Piano Competition for Amateurs (Vienna), as well as the 2006 International Competition for Outstanding Piano Amateurs (Paris), where he took first prize along with the Press Award and Audience Award. Yu is also a winner of several national competitions, including the Canadian Music Competition and the Canadian Federation of Music Teacher's Association Piano Competition. In addition to his musical pursuits, Dr. Yu obtained his DMD with Great Distinction from the University of Saskatchewan. He then completed a General Practitioner Residency at Mount Sinai Hospital in Toronto before obtaining his Master Degree in Periodontics at the University of Toronto. He now owns a private practice in Calgary and teaches at the Foothills Medical Hospital.
Yu has been featured on CBC TV, Bravo!, TV5 and France 2 television. He has also recorded with CBC Radio, Classical 96.3FM and Radio France and Radio Classique. Yu has received accolades from the Governor General of Canada, Lietuenant Governor of Saskatchewan as well as the Mayor of Toronto. To celebrate their 100th anniversary, the University of Saskatchewan named Yu as one of the school's top 100 most influential alumni. Photographer Tony Hauser has also included him in his book, The Power of Passion, which features prominent Canadians such as Adrienne Clarkson, Richard Bradshaw, Stephen Lewis, Pinkas Zuckerman and David Suzuki.
During his dental training, Thomas concurrently took private piano lessons in during the evenings and weekends. A pupil of Bonnie Nicholson for several years, Yu spent six years as a private student at the Glenn Gould School of Music in Toronto with esteemed pedagogue, Marc Durand. Yu has also worked with Leon Fleisher, Julian Martin, Robin Harrison and the late Marek Jablonski. As a laureate of the 2nd Canadian Chopin Competition, Yu also competed in the 15th International Chopin Competition in Warsaw, Poland.
Thomas Yu is proud owner of a Yamaha C2 grand piano, a U1 upright piano, and an N3 AvantGrand.
Canadian Thomas Yu Ties for First Place in The 2012 International Amateur Piano Competition in Manchester, U.K.