Biography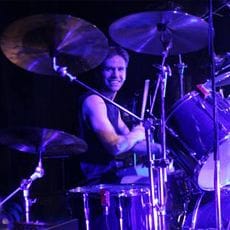 Yanic Bercier is recognized as one of Canada's top heavy metal drummers. Acclaimed for his double bass drumming speed and accuracy, in particular, Yanic has energized the music that he has accompanied since 1989. Mostly renowned for his work with the Canadian heavy metal band Quo Vadis, he has recorded as a session drummer for other bands in Canada and the US, such as The Coalition and Empyreal Dominion.
In Modern Drummer Magazine's words about Yanic's playing in Quo Vadis, "This guy can play, as his blinding chop infestations and shifting time signatures on 'In Contempt' and 'To The Bitter End' demonstrate. (August 2005 issue). Yanic adds, "I enjoy playing drums with Quo Vadis. It's an intense, emotional experience. Since the band was formed in 1992, the music and the musicians have enabled me to push my limits as a drummer." In 2001, the band received the Canadian metal album of the year award (Chart Attack). In addition, Quo Vadis was nominated for the Best band in category "Power (Pure force, tightness, energy)" award in 2004 (MIMI), and for the Top 5 metal albums of the year award in both 2000 and 2001 (CIMA). Quo Vadis has toured Canada and has performed in festivals in Europe.
For his first 15 years of drumming, Yanic taught himself to play by listening to the music of his favorite bands. In the summer of 2004, he changed his approach to learning. He traveled to Los Angeles, to further develop his skills by working with Bobby Jarzombek (Rob Halford, Spastic Ink, Demons and Wizards, Riot). In early 2005, Yanic began working regularly with drummer Keith Brown, Professor in the Faculty of Music at the University of Tennessee in Knoxville. In addition to his musical education, Yanic completed his Bachelor degree in Engineering Physics in 1998, his Master's degree in Medical Physics in 2000, and his Ph.D. degree in Physics in 2002.
Yanic has been playing YAMAHA drums since 1998. "I remember the first time I played on a Yamaha kit. I was at a music store in Montreal and I tried the Maple and the Birch Custom Absolute models. It was love at first sight! My current setup includes an 8 piece double bass Maple Custom kit. It sounds great!"