Biography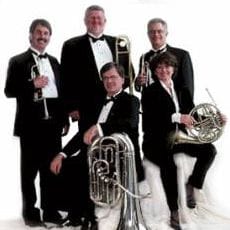 True North Brass burst on to the Canadian scene in 1997, and has since solidified its reputation as one of Canada's most exciting ensembles. True North's membership includes two outstanding composer/arrangers who create the ensemble's fresh and unique programming. Proudly Canadian in focus and expression, True North Brass has been welcomed not only in Canada but in China and throughout North America.
True North Brass has released three critically acclaimed CD recordings on the Opening Day label. Its newest recording, A True North Christmas was the most frequently played disc on Canadian classical radio stations throughout the 2001 holiday season. The group was also featured in CBC's Christmas television music special, on the Opening Night program. True North Brass were featured guest artists at the International Brass Symposium in Atlanta, Georgia in March 2000, chosen from the elite of the international brass world. They accompanied Prime Minister Chretien's 1998 trade mission to China, performing recitals in Beijing and Wuhan and directing masterclasses at the Beijing Conservatory. The ensemble has also performed masterclasses and recitals at the Boston and New England Conservatories and toured British Columbia, Ontario, Tennessee, Connecticut, Virginia, Texas, New Hampshire, Alabama, and Florida. True North Brass was featured at the Ottawa Chamber Music Festival in 1999, 2001, and opened the festival in 2002. They continue to perform extensively across Canada and the United States.
The members of True North Brass are Yamaha Artists associated with Yamaha Canada.
Richard Sandals & Shawn Spicer (trumpets), Joan Watson (horn), Alastair Kay (trombone), Scott Irvine (tuba)